PGA TOUR Life A Dream Come True For Conners
Details

Category: Inside Golf
Published: 2020-01-16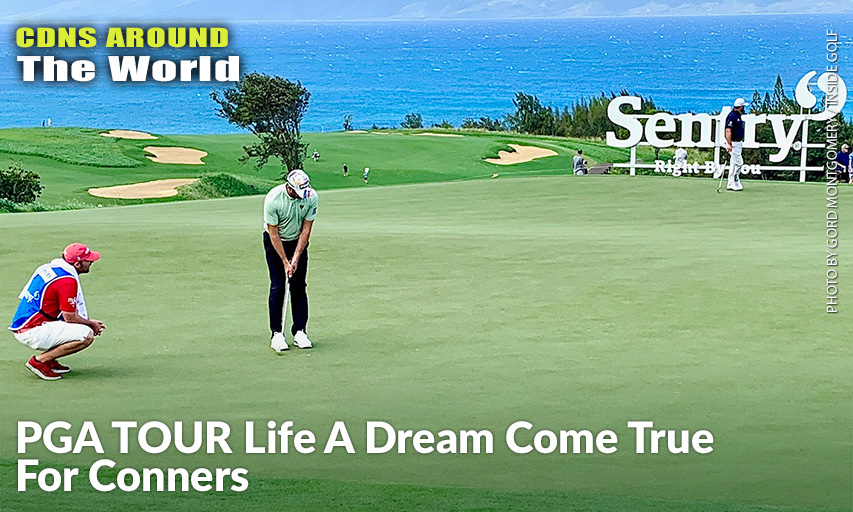 By GORD MONTGOMERY, Inside Golf
MAUI, Hawaii — It's a long drive from Monday qualifying play to the Tournament of Champions on the PGA TOUR, but for Corey Conners, it was a dream drive come true.
Conners, from Listowel, ONT., was the only Canadian to tee it up at the spectacular Kapalua Plantation Course on Maui in the season opening event that only allows winners from the previous season to participate. As such, the graduate of the Golf Canada elite stream was one of 34 players challenging the demanding par-73 track.
As to his entry into the winner's circle on the best golf tour in the world, Conners said for him it was a matter of being patient and waiting for good things to happen.
Conners noted he'd been playing well leading up to that momentous weekend but just hadn't seen the reward for his efforts with spots in tournaments. As it turned out, the payoff for capturing the Monday qualifier in a six-person playoff and then winning in Texas was huge as he gained exempt status for the remainder of last year, including a spot in The Masters, plus guaranteed tee times in 2020. That win in Texas marked the first time a Monday qualifier had won a PGATOURevent since Arjun Atwal turned the trick in 2010. Before that, it had been 24 years since the feat happened.
"It was huge. I had a really good start to the year before that Monday qualifier and then I ended up winning the Valero (Texas Open)."
"That's awesome," he continued about his victory and what it meant. "You're always unsure of your schedule (without status) and it's always a battle of not knowing where you're going to be. I was playing well but not in the field in some events. It was a weird position to be in," but once he was given the opportunity to play whenever he wanted, he took full advantage of that opportunity. By the end of the 2019 wrap-around season, Conners had finished 28th on the money list, appearing in 28 events and pocketed US $2,919,864,00.
On top of that win, and cash, Conners vaulted up the World Golf Rankings list, rising over 200 spots in all. Of that, he said, "Winning is the ultimate goal but as for the World Rankings, I've always believed I was a top player in the world. To climb up the rankings, it proves to myself that I belong. It definitely helps the confidence a little bit."
In reflecting on his rise and the help that Golf Canada lent him along this journey, Conners said he, and the other Canadian players on the PGA TOUR and the LPGA Tour, benefited greatly from that early mentoring.
"It's very exciting to be a part of that group. There are as many Canadians on tour now as there ever has been. It's very exciting they have such good programs in place. It's fun to be looked up to by kids," adding that he came from "humble beginnings," and that youngsters across Canada can aspire to follow in his footsteps with hard work.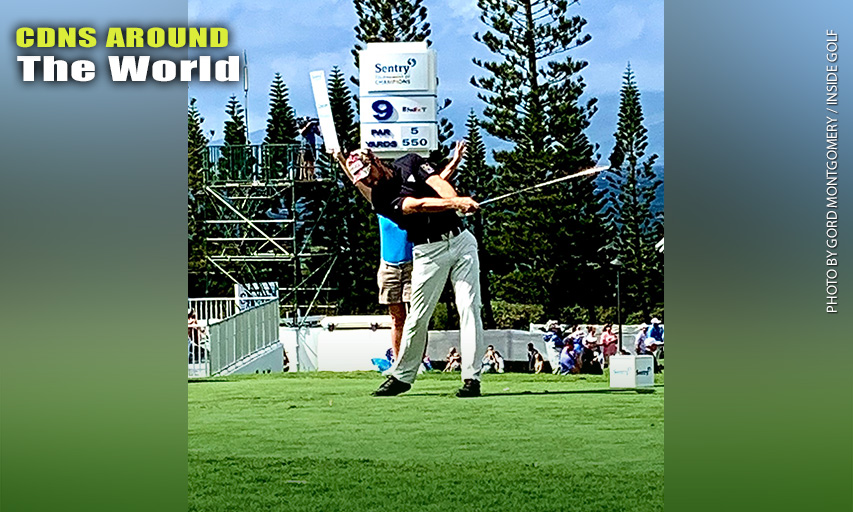 Conners Drives Off The Tee On The Daunting Par-5 Ninth Hole At The Plantation Course On Maui.
About his beginnings, Conners said he grew up playing on a small town track and reflecting on his past brings joy.
"It's always fun to look back on that. It was a beautiful place to grow up," he noted of the town that now has a population of around 7,500. There he had access to the local golf course where his dad was once the club president, and where Corey likely played thousands of holes during his younger days, sharpening his game. That led him to a college stint at Kent State before turning pro and playing in the minor leagues of golf before making the big time.
"I worked at the club and all the people there are really supportive. It was fun growing up with that set-up. It's a great course and I always enjoy getting back there when I (and his wife Malory, who is also from Listowel) can."
Speaking of support, there was plenty of that on Maui, especially on the third day as Conners approached the 18th green. As he and his playing partner strode down the fairway toward the putting surface, an impromptu version of O' Canada broke out. Asked if he'd heard that, Conners broke into a big smile.
"Yeah! That makes you proud for sure. There were a lot of Canadians here, for sure. It seems everywhere we go on tour there are a lot of Canadians. Since I'm the only Canadian here, I guess I kind of won that by default that they were cheering for me," he said of the sing-song. "But it was pretty special! There were a lot of fans out there and that put a smile on my face!"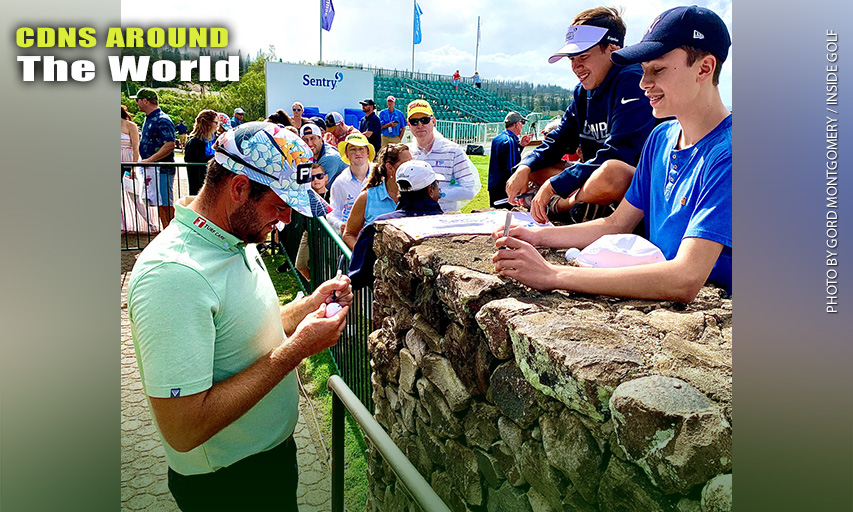 Conners Was More Than Gracious After A Long Day Of Play, Taking Time To Sign Autographs For Young Fans In The Kids' Zone.
Speaking to his play, and approach to the Tournament of Champions, Conners noted, "The fairways were really soft so you didn't get much roll but the greens were really firm. That really showed in the practice rounds. You had to be really careful with your approach shots because if you fly it too far onto the greens you have almost an impossible putt. It's definitely a challenge but a fun challenge. I think the course is playing easier with the softer conditions. It can play shorter but the greens have softened up a bit so you get a ton of bounce. A couple of greens you couldn't even hold if you hit it onto them Monday and Tuesday."
As it turned out, he wasn't able to solve the mystery's of The Plantation but walked away with the knowledge he'd like to play it again as a winner on the PGA TOUR. As for which event he'd like to win, he isn't fussy.
"It really doesn't matter. Winning any event would be really special. Seeing Mike (Weir) win The Masters when I was a younger really motivated me so winning there would be extra special. And, maybe the Canadian Open because it's been a long time since a Canadian has won that so I definitely have my heart set on that for the summer."
Especially since his final few words reflected how he, and likely the other Canadians on the PGA TOUR feel every time they tee it up in a competition, no matter where it is.
"I always want to do well and perform for the fans."
After placing in a tie for 19th at the Tournament of Champions, Conners kept up his good play by finishing in a T12 meaning that with that sort of play, his second career win may not be all that far away.