PLYR Line Becomes A 3-Year 'Overnight Success' In Golf Clothing World
Details

Category: Inside Golf
Published: 2020-02-01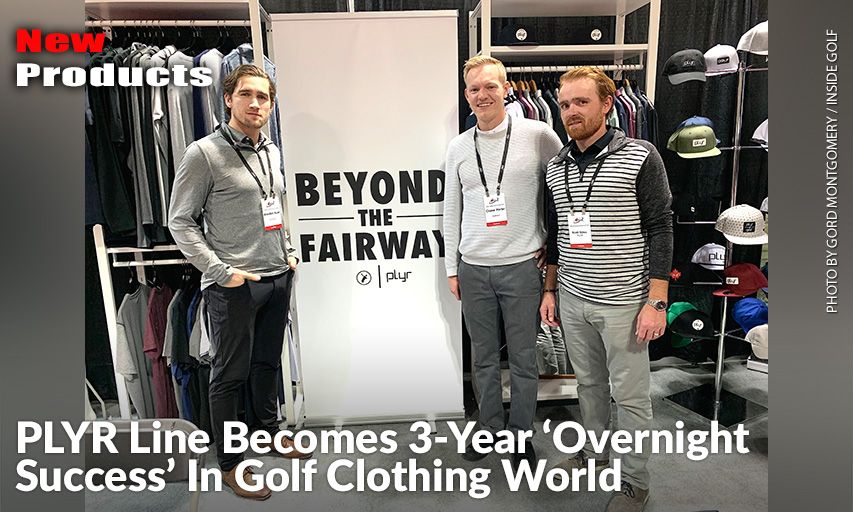 By GORD MONTGOMERY, Inside Golf
CALGARY, Alberta — The small Saskatchewan clothing company, PLYR, could be classed as an overnight success — even though it took them three years to achieve that status.
Based out of Saskatoon, the company dove head-first into the millennial lineup of golfers looking to appeal to their wardrobe desires. And, from all indications at the annual PGA of Alberta Buying Show, they've succeeded, big-time.
"It's been a lot of hard work that started with tee shirts, hoodies and hats," explained co-owner Chase Porter, who along with Brandon Kuse brought this entity to life. "We saw that those guys (Millennials) just wanted to come out and have fun on the golf course," and not necessarily conform to the dress standard as set down by the old-guard. "We wanted to go to a little more casual line."
The PLYR line has done just that, separating itself from its predecessors by presenting a cool line of apparel that is appropriate for both on- and off-course wear. That's a big reason the brand has found success, along with the hard work the co-founders have put in.
"We definitely target those in the 20, 30, 40 age range, as well as youth," continued Porter speaking to finding their niche in the competitive golf wear industry. "We've now partnered with the Maple Leaf Junior Tour. We sponsor long drive and closest to the pin at every event they have across Canada as well as hosting an event in each territory. We like to support junior golf because we realize without them there's not the next generation of golfers."
While PLYR is chasing a younger demographic of golfer, and their money, one of their biggest focuses is on making sure those  hitting the links are having fun while out there. So to help meet that demand, PLYR is active in the industry with tournament sponsorship for the 'older' crowd. The company sponsors a couple of young adult-oriented tournaments in Alberta and Saskatchewan with a specific policy.
"These are just fun golf tournaments," said Porter. "We want people to go out there, drink beer, listen to music, because those are the people we're trying to hit with our brand. We want it to be more than just golf."
In becoming that vaunted overnight success, although it's taken three years, Porter said the company sees a bright future ahead.
"In 2019 we had about 75 courses right across Canada," carrying their line. "Obviously, Alberta and Saskatchewan are our two strongest territories and we focus on them a lot. It's been awesome.
"We saw the need for the golf brand and then came up with the name. Looking back, three years later it was the best thing ever to come up with the name PLYR, because it's more a sports brand than a golf brand. We target golf courses but we want the product to be more than a golf brand, something that can be worn off the course as well."
PLYR also fits into the pricing structure of today's world where golf apparel costs can be somewhat overwhelming to young people. This brand meets the lower-cost-but-good-quality attire line that the targeted age groups are seeking.
"For the most part golf is expensive to play so we figure it a guy's going to spend his hard-earned money to play golf they're not going to be able to afford a hundred and fifty dollar pullover," Porter explained. "With our demographic,  in their 20s and 30s, who are new to their jobs, new to their careers, a house mortgage, all that stuff, we figure if we can get you in there for stuff that's affordable, that's what we're after."
PLYR has also morphed into golf accessories, which, "Just helped round out the brand," said Porter about head and putter covers as well as other such goods.
The brand new line of PLYR gear hits the web in March of 2020 so look them up online at plyrgolf.com to see what offerings they have as the company continues to build on its overnight success story.