U.S. Kids Golf Announces Release Of New Ultralight Series Clubs
Details

Category: Inside Golf
Published: 2020-02-01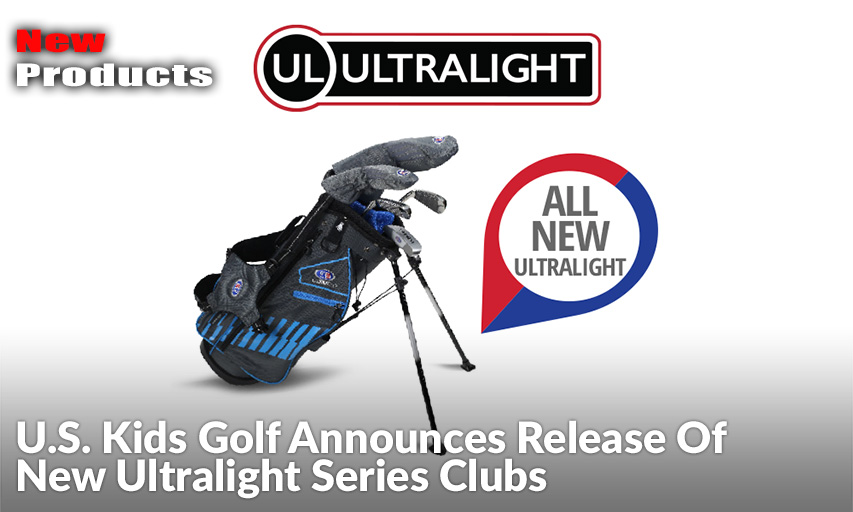 U.S. Kids Golf is excited to announce the new and improved version of its award-winning Ultralight line of clubs. The new line will debut at the 2020 PGA Merchandise Show and be available globally starting February 15, 2020.
"We've taken a very good line and through research and improved technologies and materials, made it even better," said Dan Van Horn, the President and Founder of U.S. Kids Golf. "This was three years of rigorous testing that examined every aspect of the club and its performance. The end result is going provide a great impact for our players."
Research included gathering data using Trackman technology on hundreds of young players around the world and analyzing how current Ultralight, competitor products, and even multiple prototypes performed for their swings.
Josh Kinchen, Senior Director of Product Development for U.S. Kids Golf, says players will see an immediate improvement when they play. "I've never been more excited for a product than I am for our 2020 Ultralight line of clubs," he explained. "Players are going to love the newly refined lines, enhanced soles for better turf interaction, higher launch angles, more optimized spin, and of course, the increased distance. These are true game changers for the junior golf market."
Ultralight, the best-selling clubs for young players over the past 20 years, comes in nine different sizes and is renowned for featuring lighter weight heads, more flexible shafts, optimized loft and lie angles, and consistent performance throughout each set, as well as from set to set as players grow. Golf Digest and Golf magazine have both cited Ultralight as the best set for beginning to intermediate players over the past two years.
---
About U.S. Kids Golf
U.S. Kids Golf is the world's leading organization for growing, promoting, and enhancing golf among youth and families. Founded in 1997, U.S. Kids Golf offers equipment in three distinct lines of clubs in up to ten sizes. The U.S. Kids Foundation hosts more than 1600 tournaments globally – including the U.S. Kids Golf World Championship held annually in Pinehurst, NC, and its Coaches Institute, which includes over 1500 members around the world. The Foundation also owns and operates Longleaf Golf & Family Club in Southern Pines, NC, a "Living Laboratory" of golf's best practices and newest ideas to make golf a better game for everyone. In 2018, U.S. Kids Golf was recognized by the National Golf Foundation as one of the "Top 100 Businesses in Golf" based on influence, innovation, and social good, among other criteria.
Connect with U.S. Kids Golf:
Website: www.uskidsgolf.com
Facebook: www.facebook.com/USKidsGolf
Twitter: www.twitter.com/USKidsGolf
Instagram: www.instagram.com/u.s.kidsgolf/