Speaker Lineup Released For The 2020 PGA of BC Spring Education Seminar
Details

Category: Inside Golf
Published: 2020-02-06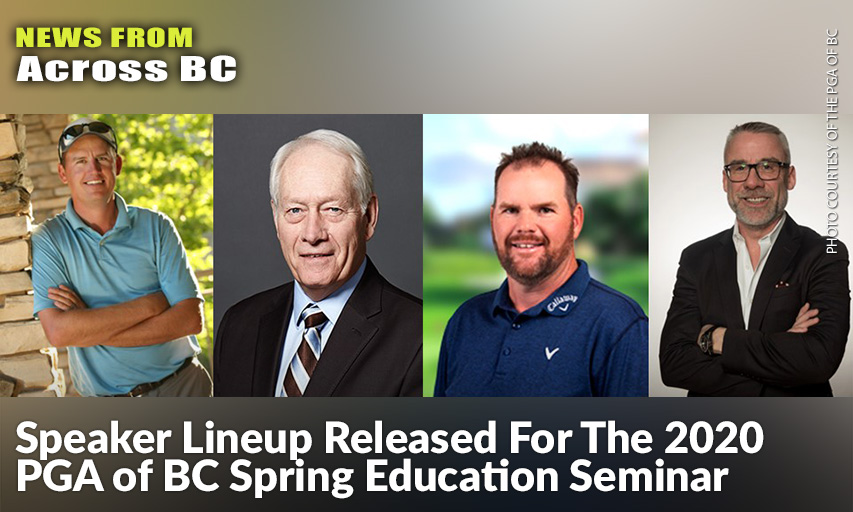 By THE PGA OF BC
RICHMOND, British Columbia — Acclaimed instructors and leaders from the club-management and business sectors will be among the featured speakers at the 2020 PGA of BC Spring Education Seminar.
Jeff Smith, PGA Tour coach and founder of online instruction platform Course Kings, will open the seminar when it returns to Tsawwassen Springs on February 10. Will Robins, an award-winning PGA Professional and developer of the RGX coach-training program, will close out the schedule on February 11.
As well, the Association is proud to be welcoming Global Golf Advisors director George Pinches and longtime auto-industry executive and business coach Glen Daman of 10th Degree Consulting Inc. as presenters for the PGA of BC's signature professional-development event.
The Spring Education Seminar has become one of the country's most highly regarded educational gatherings for Golf Professionals, evidenced by year-to-year growth that resulted in a record total of 183 attendees in 2019. This year's speaker lineup once again makes it a can't-miss event for PGA of BC members.
The schedule for the two-day event will be as follows:
DAY 1 - MONDAY, FEBRUARY 10
9:45 a.m. – Introductory remarks: Donald Miyazaki; Executive Director, PGA of BC
10:00 a.m. – Jeff Smith; Tour Coach & Instructor, TPC Summerlin; Founder, Course Kings
12:00 p.m. – Lunch
12:45 p.m. – Jeff Smith (continued)
2:00 p.m. – George Pinches; Director, Global Golf Advisors
4:30 p.m. – PGA of British Columbia Annual General Meeting
DAY 2 - TUESDAY, FEBRUARY 11
8:30 a.m. – Glen Daman; Owner, 10th Degree Consulting Inc.
11:30 a.m. – Lunch
12:15 p.m. – Will Robins, PGA; CEO, Robins Golf Logistix (RGX)
3:00 p.m. – Closing remarks; Donald Miyazaki
**Schedule subject to change
Click here to access the event page and learn more about each speaker and the content of their presentations.
The Spring Education Seminar will once again represent a crucial opportunity for PGA of BC members to obtain points toward the Professional Development Program Order of Merit presented by Sunice & Bobby Jones. Members will receive eight (8) PDP points for each day they attend and sign in at registration. Attendees at last year's Spring Education Seminar included 91 of the PGA of BC members who ranked among the Top 100 Golf Professionals of 2019.
The registration fee for PGA of BC members is $129 (plus GST), while non-members can attend for $199 (plus GST) with a reference from a Class "A" member. Lunch service for both days of the event is included in the registration fee. Registration will be open until Jan. 31 at 4 p.m. PT; click here to sign up or find the registration link on the event info page.
Members requiring accommodations for the event are reminded that reduced rates are available through our Preferred Partners at Accent Inns. Rooms at the Accent Inn Vancouver Airport, just a 20-minute drive from the seminar venue, start at just $102 per night when using the PGA of BC's corporate code. See the event page for full details.
Professionals are also reminded of the newly created PGA of BC Event Subsidy Grant, which will offer $300 towards the costs of participating in an Association event or championship to five members in 2020. The PGA of BC encourages Apprentice Professionals and those who have not attended the event in the past due to the significance of travel or other barriers to participation to apply. Click here for more information and to submit an application.
We look forward to welcoming you to Tsawwassen Springs!