Maui Offers Up A Sweet New Reason To Visit The Island
Details

Category: Inside Golf
Published: 2020-02-10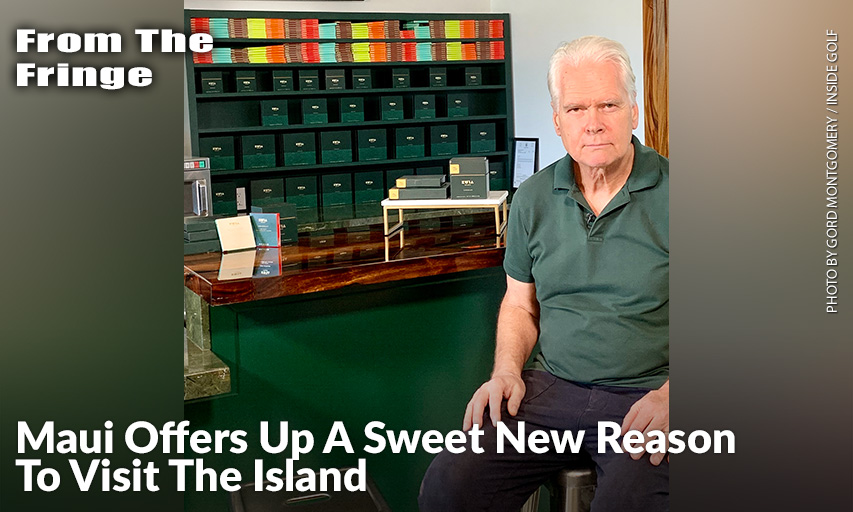 By GORD MONTGOMERY, Inside Golf
LAHAINA, Maui — If you needed another sweet reason to get out of the western Canada winter cold and head to the beautiful island of Maui, take a taste of this — some of the best chocolate anywhere in the world.
A few years back an islander decided he wanted to do more with the cacao (ca-kay-oh) he was growing on his farm. So, like any industrious sole, Gunars Valkirs did what anyone in their right mind would do. He opened a chocolate factory.
And, oh what a wonderful thing this is! Why his Kuia Estate chocolate is so good, he probably had Willie Wonka lining up at the door of his Lahaina-based factory to sample the wares.
The factory, which has yet to open its doors to the public but which does fill mail-order requests, opened in October of 2019 although they do sell to several of the area's restaurants. Valkirs, who retired from the bio-medical field and moved to Maui a number of years ago, bought his farm for something to do. From there he decided to take the giant leap into tasty treat manufacturing, which he did with great success.
Since he only has 20 acres of cacao planted on Maui at present, Kuia Estate chocolate must import much of their beans at present. It comes mainly from Ecuador but the hope is to have this business eventually become a "Grown in Maui, Made in Maui," enterprise. The island trees were first planted in 2015 and it "Takes about three years to bear fruit," said Valkirs. As for right now, the beans the Maui-based company receive from elsewhere are deemed as the
best of that lot.
Interestingly enough, there are few places in the U.S. where cacao can be grown, as it doesn't like temperatures below 60 degrees Fahrenheit. That means it is
even somewhat tough to grow on Maui, given its mountainous areas. Fortunately for Valkirs, he found a school that was renting out some of its land, so he jumped on that fortuitous event and began his farming days.
Since opening, Kuia Estate has already become the largest chocolate factory in Hawaii and given the numbers presented by the CEO/Owner, it's easy to see why.
"We currently produce 25 metric tons a year, as we build inventory for our wholesale business," explained Valkirs about the product production that he personally has a hand in each and every day the factory is in operation.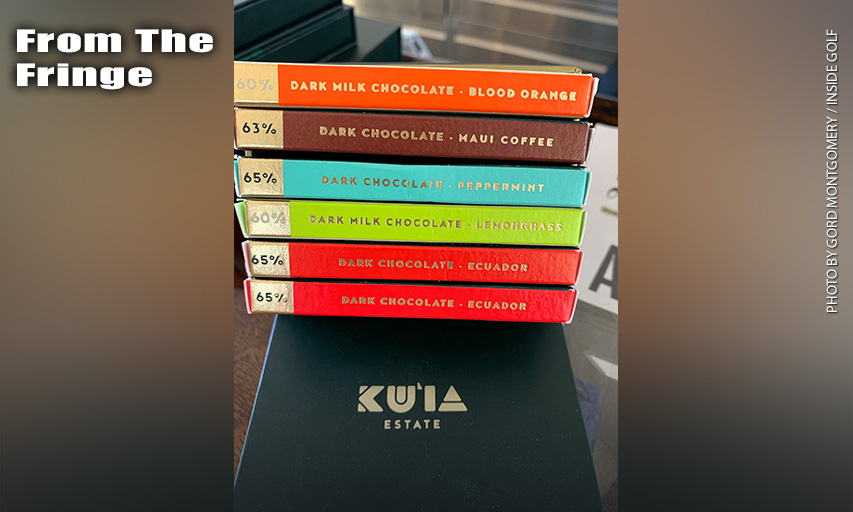 The Deliciousness Of This Chocolate Has To Be Tasted To Believe, No Matter Which Flavour You May Favour.
While this is a for-profit business, that end of the enterprise has an interesting twist. All profits made are donated back to island charities, a special way of giving back to an area that has become his home.
"The reason for starting this is not because I needed the money. It's because I wanted to give back to the community," said Valkirs. "In the last 11 years my family foundation called the Aloha Foundation, has given back about $250,000 a year," with the high hope of turning even more back as time goes on. "Rather than solicit money for charity, I felt it was better to start a for-profit business and donate that money back to the community."
This dark chocolate comes in a variety of unexpected flavour varieties, ranging from blood orange, to lemongrass to peppermint and coffee as well as dark milk chocolate. Needless to say, this stuff is to die for. And there is a proper way to eat this goodie, and no, we don't mean by the handful!
Valkirs explained the best way to savour this taste treat is to chew a square, then let it "melt in your mouth," releasing all the deliciousness stored inside the square. The reasoning for that, according to the head honcho is that the human body is the ideal temperature to properly break down chocolate.
Of course, great care is taken in the production of this sweet delicacy.
"At every stage, we try to do everything five to 10 percent better than anyone else. When you have all those improvements, all of a sudden you're twice as good. Roasting is a very important step and that's where flavour is developed."
In explaining the difference between their dark chocolate, which has sugar added to it, and their dark milk chocolate, which has both sugar and milk added, Valkirs explained, "Our milk chocolate has 60 percent cacao which is twice as high as the average milk chocolate."
And again, trust us here: this chocolate is well worth the extra bit it costs. The flavours are delectable and the melt-in-your-mouth component is second to none anywhere. It is expected the factory will soon be open to public visitation, so if you're in Maui and looking for a sweet spot to explore, the Kuia Estate chocolate factory is well worth the time.
Your taste buds will thank you for that.