Seen At The PGA Of Alberta Show: Day One
Details

Category: PGA of Canada
Published: 2018-10-17
Things were hopping as the PGA of Alberta members streamed into Northlands Expo Centre Tuesday, Oct. 16th for the start of their annual buying show.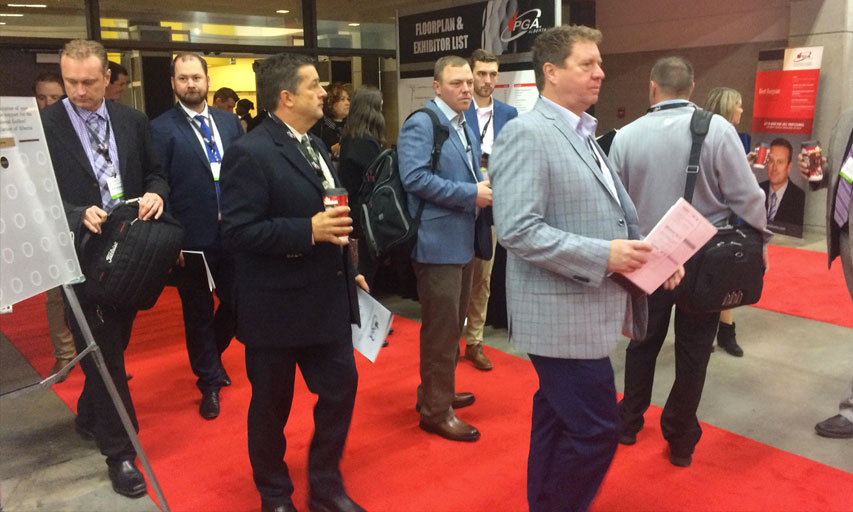 There were more than a few new exhibitors as well as some very innovative products from some established companies...
THE PGA OF CANADA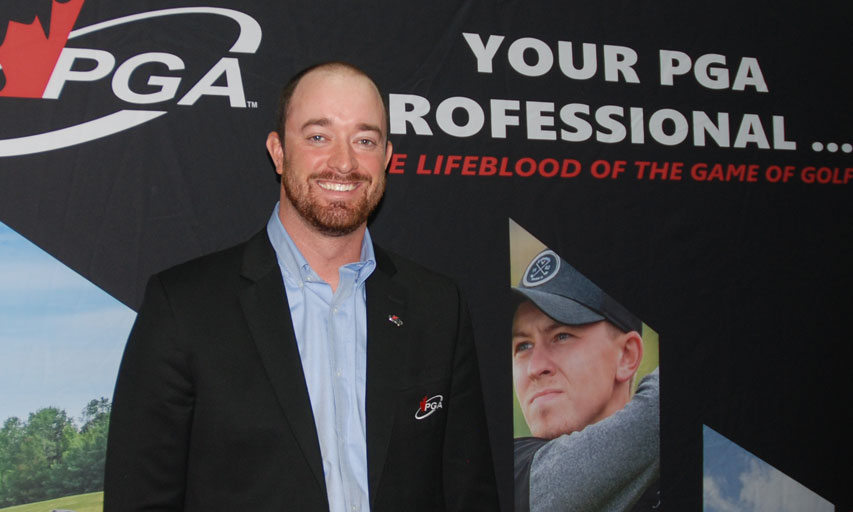 One of the new exhibitors was the PGA of Canada who were on hand to explain their new educational program set to be unveiled in January.
Managing Director of Education Matt Allen (shown above) explained how the new system will allow new members to focus their training in specific areas based on their chosen career path.
"Our training program has been restructured to better support prospective members looking to join the association. Individuals will have streams where they can choose whereas right we have a mandate where you must take these ten courses over six years… Now you can focus on the areas where you are interested in, teaching /coaching, the retail side and so on."
The length of time the apprentice program will take is also being reduced so that it can be completed in under four years. This will in turn likley reduce costs as well.
CLUB CAR'S NEW "TEMPO WALK" ANYTIME CADDIE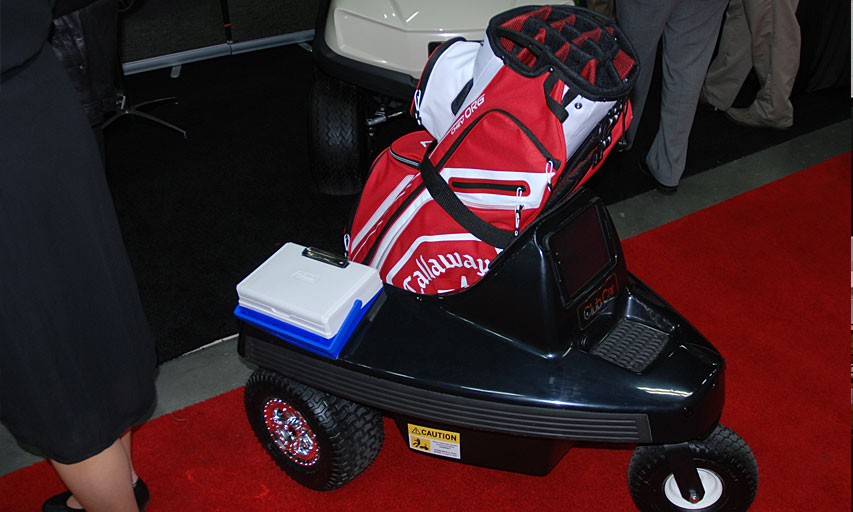 This ingenious bag/beer carrier from Club Car may be the next (R)evolution in golf. Visualize a small three-wheel vehicle that follows right behind you carrying your stix and brews. Just 95 lbs., the "Tempo Walk" electric golf bag carrier to also includes a touch screen GPS for accurate yardage and a cooler for your suds. Powered by lithium batteries it can go for 36 holes. To start they will only be available for rental at courses that can boast full Club Car golf car fleets. Click HERE to find out more
BILL CARRINGTON COLLECTS AUTOGRAPHS FOR FRIEND "BILLY MAC"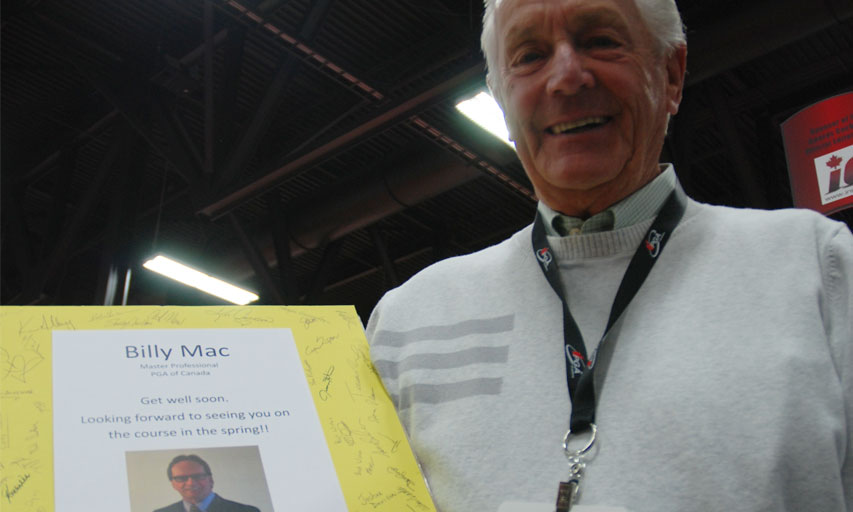 Lifetime member Bill Carrington was asking one-and-all to sign a poster to be given to "Billy Mac" (Bill McDougall), a PGA of Canada Master Professional who is currently in hospital and unable to attend the show. On his website http://www.bmcdougallgolf.com/, his family has posted a notice where they say "If you'd like to send Bill your well-wishes, don't hesitate to text or email him -- he loves hearing from friends and having visitors at the hospital." He can be emailed at This email address is being protected from spambots. You need JavaScript enabled to view it.
A HOT PRODUCT (AND A COLD ONE)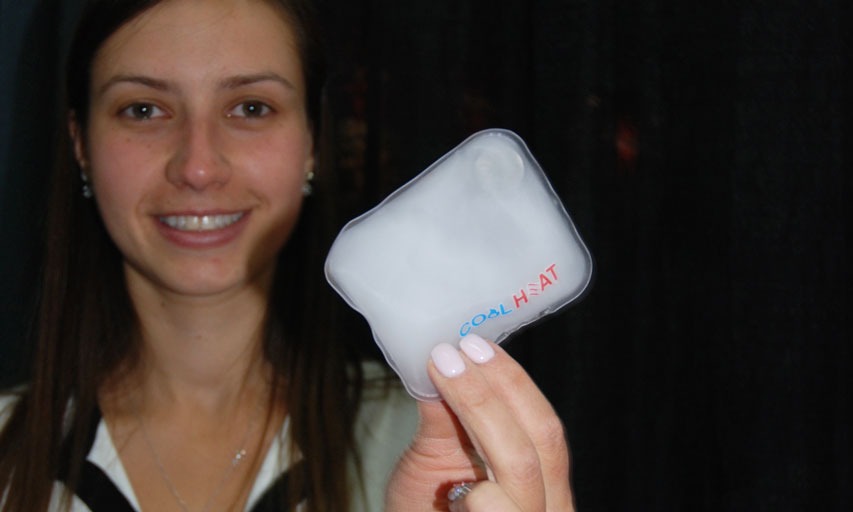 It's worth a stop at booth 1010 and let Victoria (shown above) show you their re-usable CoolHEAT heating pads… perfect for putting in your golf bag for those cold rounds. Just click the little disk in the corner, give it a squish and your hands will be warm for up to two hours. After the round just put it in boiling water for two minutes and keep 'til needed.
YAMAHA'S NEW QUIET RIDE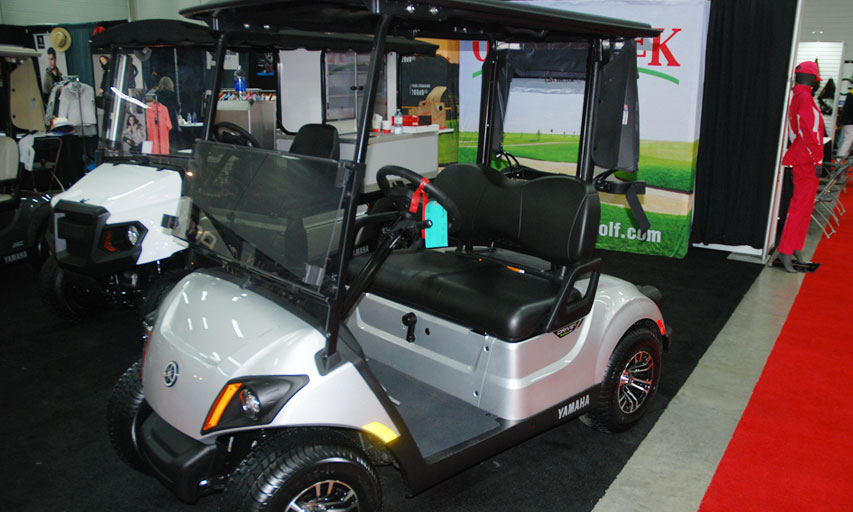 Speaking to Oakcreek's Allan Brooker, it was interesting to hear that their new Drive2 with QuieTech EFI gas powered golf car is almost as quiet as their electric. By encasing the entire motor in foam and having the air intake to the front right tire, they have reduced the noise to only 1.6 decibels higher than their battery-powered option. Also, a surprise was that these cars only use around one litre of gas per round. Click HERE to find out more
ITEMS PUT IN THE HOT/NEW PRODUCTS DISPLAY
There were some really innovative products put up for show at the New Products Booth right by the entrance. Here are a couple to start. We will review the majority in part two of the Show Review tomorrow...