Redwoods Golf Course Is Raising Money For The BC Wildfire Victims
Details

Category: Inside Golf
Published: 2017-07-25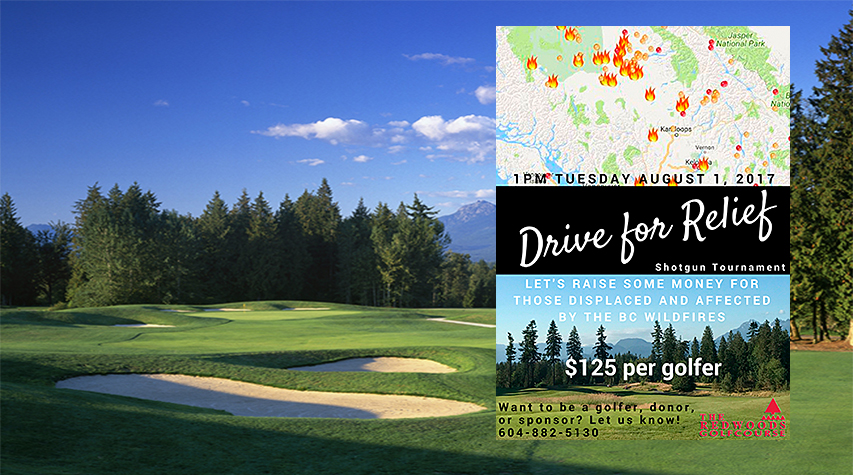 FOR IMMEDIATE RELEASE
This year's weather has been wild; record breaking snowfall over winter, enormous amounts of rain and flooding through spring, and now a summer fire season that is one for the BC history books.
People from all over the province, and country, are being affected by the fires in the interior and northern BC—whether you're from there, vacation there, or have friends and family there, we all are connected to the people and places that are currently under evacuation, or that have been destroyed by fires in the last few weeks.

In light of the wildfires, Redwoods is using their knowledge, resources, and connections in the industry and community to do one of the things they do best: hosting a golf tournament to raise money for those displaced by the BC Wildfires.
Redwoods is donating the golf course on August 1st for the Drive for Relief Shotgun Tournament. Costing $125 per person, golfers receive a ticket to a tailgate party prior to the round, 18 holes of golf with a power cart, followed by a Redwoods buffet dinner, silent auction, and live music. Every penny from the golfing fee and all of the day's events will be going directly towards those affected by the BC wildfires.

The Redwoods Golf Professionals are going to be at the practice facilities from 11:30am – 12:30pm on the day of the tournament. They will be giving out golf tips when people make a cash donation to the fundraiser. More information on the fundraiser is available on the Redwoods Golf Course website: www.redwoods-golf.com.

Redwoods employees are going the extra mile and volunteering to donate one day's pay to the fundraiser. Managing Director Doug Hawley mentioned that "the great team over at Darnell and Company have also pledged a day's pay to the fundraiser. We are challenging other businesses in the community to approach their employees and ask them to donate as well. We would love to have more join us in this endeavor."
Donations can be made individually or on behalf of a business HERE.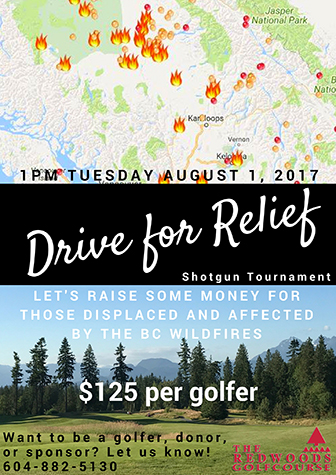 Not a golfer? No problem—there are other ways that businesses and individuals in the community can participate in the Drive for Relief event. Attend the BBQ AAA steak dinner in the marquis tent for only $50 where you can enjoy the beautiful golf course surroundings and live music as you eat a delicious buffet dinner, sip on a cocktail, and peruse the silent auction that will be set up on the newly renovated wedding ceremony site. Or, sponsor a hole for $250 and have a sign displayed all day on the course. In addition, any items for the silent auction can be dropped off at the Redwoods golf shop any day leading up to the event on August 1st.

Managing Director Hawley is pleased with the support that Redwoods has received already since launching the event last Tuesday: "Sponsorships are selling, auction items are being offered, and donations are rolling in. We actually just started a Red Cross page for cash donations on Thursday and we already have over $5000 donated. Let's keep it coming—the more the better!"

Important Links:

Website: https://www.redwoods-golf.com/
Auction donations or enquiries: This email address is being protected from spambots. You need JavaScript enabled to view it.
Cash donations: https://secure.redcross.ca/registrant/donate.aspx?eventid=226343&langpref=en-CA
Golf, sponsorship, or dinner registration: https://redwoods-golf-course.golfems2.com/event/redwoods-drive-relief
Facebook: https://www.facebook.com/redwoodsgolfcourse/
Darnell & Company Lawyers & Mediators: https://www.langleylaw.ca/
Live Music by the Whiskey Jays: https://thewhiskeyjays.wixsite.com/officialsite

Jenna White
Marketing and Sales Coordinator -Redwoods Golf Course
T: 604-882-5130 ext 360