Shaughnessy Golf & Country Club Team Wins Jack McLaughlin Memorial PGA of BC Pro-Junior Championship
Details

Category: Inside Golf
Published: 2017-07-26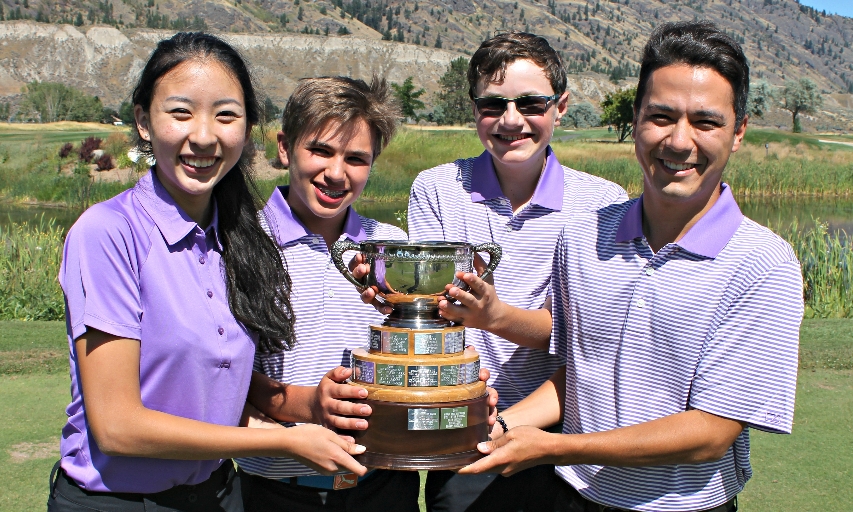 (From Left) Hannah Wang, Jake Gaglardi, Luke Parolin, And Professional Branden Stewart Hoist The Trophy After Winning The 2017 Jack McLaughlin Memorial PGA of BC Pro-Junior Championship Presented By PING At Rivershore Golf Links. (Photo/PGA of BC)
KAMLOOPS, British Columbia (PGA of British Columbia) — The team from Shaughnessy Golf & Country Club led by Professional Branden Stewart captured the Jack McLaughlin Memorial PGA of BC Pro-Junior Championship presented by PING, held Monday at Rivershore Golf Links.
The Pro-Junior Championship featured teams of one Professional and three juniors from their facility competing against other squads in 18 holes of two-net best-ball play, a format that allows players of all ability levels to contribute to their team's success.
Stewart and his trio of junior teammates – Jake Gaglardi, Hannah Wang and Luke Parolin – combined for a 15-under-par total to take top spot in the event.
"We had a fun day out there," said Stewart. "There was a lot of encouraging going on, especially from Jake. I thought he really worked hard out there to make sure everyone was comfortable before their shots, so I would say Jake was the MVP today for our team."
Each junior member of the winning team took home the top prize – a PING G Driver. The triumph was the second in the past five years by a team from Shaughnessy, which also had a team led by Head Professional Alan Palmer win the tournament in 2013.
The team from Cranbrook Golf Club comprised of Head Professional Paul Whittingham and juniors Jonace Johnson, Aaron Grist and Kaelen Whittingham finished second at 14-under. Seymour Golf & Country Club's team of Professional Colin Lavers, Bryan Lee, Niklas Jaakkola and Manu Gandhi recorded a score of 13-under to place third.
Professionals in the field Monday also competed for a $2,000 prize purse that was split evenly for each birdie and eagle on their card, with eagles counting for double the amount. Salmon Arm Golf Club Head Professional Jesse Crowe had the biggest payday, making six birdies and an eagle during his round to earn nearly $400.
The tournament is named in memory of Jack McLaughlin, who was the longtime Head Professional at Shaughnessy and was one of Canada's biggest advocates for junior golf until he passed away in 1991. The former PGA of BC President developed the Junior-Junior instruction program for youth aged 11 and under, which introduced thousands of Canadian youth to the sport. The Association's Junior Golf Leader of the Year Award is also named in honour of McLaughlin at the provincial and national levels.
Stewart said his club's connection to McLaughlin made Monday's victory extra special for his team.
"These guys are going to be able to back and say to all the members and say they took part in the Jack McLaughlin (Memorial) and took one home for Shaughnessy," he said.
Click here to view full results.
---
ABOUT PING
PING designs, manufactures and markets a complete line of golf equipment including metal woods, irons, putters and golf bags. The family-owned company was founded in 1959 in the garage of the late Karsten Solheim, a mechanical engineer with an extensive background in the aerospace and computer industries. His frustration with his putting inspired him to design his own putter, which created a "pinging" sound when striking a golf ball. This sound was the source of the name now synonymous with innovation, quality and service throughout the world of golf. Solheim and his company are credited with numerous innovations that became industry standards, including perimeter weighting, custom fitting and the use of investment casting in the manufacturing of golf clubs. His insistence on adhering to strict engineering principles and tight manufacturing tolerances raised the level of product performance and quality throughout the golf industry. Solheim is the only person to be inducted into the World Golf Hall of Fame as a golf club manufacturer. Today, the Phoenix-based company is under the direction of Solheim's youngest son, John A. Solheim. PING game-improvement products can be found in more than 70 countries. For more information, visit www.ping.com.
ABOUT PGA OF BC
The Professional Golfers' Association of British Columbia is an association comprised of nearly 700 golf professionals who work at and operate golf courses, driving ranges and other facilities across the province. Its mandate is to promote and advance the game of golf, serving the needs of both its membership and the golf public through professional and junior golf development programs and high-calibre competitive events. The Zone Office is located in Richmond, BC.