Brown Drives Off With MJT Ford Series At Predator Ridge
Details

Category: Inside Golf
Published: 2017-07-29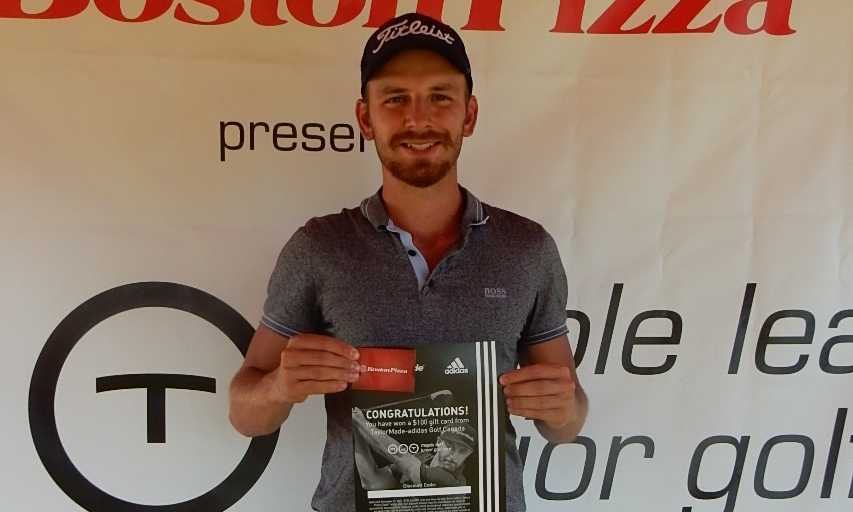 Marcus Brown (Photo/MJT)
Vernon, BC - (July 26, 2017) – A wait-listed field of 91 junior golfers teed off in the Maple Leaf Junior Golf Tour's MJT Ford Series at Predator Ridge Golf Resort in Vernon, BC, July 24 and 25, battling for division titles and shortlisted spots on MJT Team West in the International Team Challenge Matches (ITC) presented by Freedom 55 Financial at Royal Niagara Golf Club in Niagara Falls this September. A highlight of the event was an ace on the fourth hole by Haley Hewer of Penticton on day two, although this was unluckily not on the specific contest hole to win a 2017 Ford Focus sponsored by Ford of Canada and Watkin Motors!
Following the MJT Ford Series tournament, a free clinic to introduce young kids to golf ran July 26, resulting in a great turnout of over 150 young people overall participating in MJT/Ford-sponsored golf events in Vernon these past three days.
Conditions during the tournament were very hot, course conditions were outstanding, and as darkness fell on day two, MJT veteran Marcus Brown, 21, of Surrey, BC, triumphed as the Low Overall and MJT Collegiate Men'schampion with excellent scores on that challenging layout of 68, 74 (142). "The course and Resort were an absolute pleasure," he said. "I was throwing darts all day with the irons and it feels fantastic to win. The organizers always put on a classy event."  
A sterling performance from 17-year-old Brandon Chai of Vernon, (75, 75=150) secured him the MJT Junior BoysHoselton sculpture trophy, his first MJT win this season. "My mental game was definitely the best part," Chai said afterwards. "After the front nine I was down by five to Ely Overennay, but I stayed patient and was able to pull it back for the win." Overennay, 17, of Castlegar, BC, placed second in the division with scores of 75, 77 (152), and secured a shortlisted spot on MJT Team West to the ITC in Niagara Falls together with Chai.      
It took a playoff to determine the MJT Juvenile Boys winner after both Cole Bowering, 15, of Vancouver, BC (77, 75=152) and MJT newcomer, Cody Bailey, 16, of Prince George, BC (74, 78=152) tied for the lead after edging outJackson Jacob, 15, of Fort Langley, BC (75, 78=153). Bailey birdied the third playoff hole to win, saying, "I feel great! This is my first time playing on the tour and it was a lot of fun – everything was very good today, just a lot of pressure.  I want to move on in golf and get better and I think this is the best way."           
Kelowna's Kyle Mayner, 14, racked up his second MJT Bantam Boys title of the season after firing rock solid rounds of 79, 75 (154) to hold off Jordan Allaire, 14, of Coquitlam, BC, by four strokes. "All of those countless hours of practice finally paid off – it is truly an honour to win, a rewarding experience," Mayner stated. "I made plenty of short putts, and my lag putts were on point. Also, my mental game helped me be successful. The course was not easy as you must stay focused."
Another Kelowna winner came through in the MJT Peewee Boys division, where 12-year-old Cooper Humphreysnailed a four stroke victory down over Vernon's Ryan Vest with scores of 75, 79 (154), and in the MJT Girls U15division, 11-year-old Bonnie Zhai of Surrey, shot 88, 85 (173) to win the title by 11 strokes over Langley's Annalise Stolzenberg.
Leah John, 17, of Vancouver, captured the MJT Girls 15-18 Hoselton sculpture trophy with a two stroke victory over Kelowna's Emma Sabbagh, 17, after a great final round (82, 74=156), and is now shortlisted for the girls spot on MJT Team West. "I feel so fortunate and grateful to have not only scored well but to have met new friends," John said. "This association does a really great job on focusing on what golf is all about – meeting people, challenging yourself, having fun and enjoying beautiful courses."
Hole-in-one star Haley Hewer, 20, was the MJT Collegiate Women's division winner with her stellar rounds of 86, 76 (162), holding off Summerland's Rachelle Nielsen (84, 80=164) and Vancouver's Bethany Ma (85, 83=168). Hewer said after the final round, "My tee shots were very accurate today. I am very proud of myself battling back and finishing strong."   
Full results of all players and overall event highlights are posted on the MJT website, which also shows winners of the Miura 'Respect the Game' Award, PLYR Long Drive, PLYR Closest-to-the-Pin and Golf Town Performance Awards.
The next event on the Maple Leaf Junior Golf Tour in the province is the Odlum Brown Classic – PGA of BC Junior Championship at Northview Golf Club in Surrey, August 8-10, a major-ranked event with Golf Canada, World Amateur Golf Rankings (WAGR) and more. For more information or to register, please visit  www.maplejt.com or call 1-877-859-4653.
---
About Ford
Ford of Canada employs over 23,000 talented individuals in the fields of finance, sales and marketing, information technology, manufacturing and engineering, and human resources. This diverse workforce is responsible for the manufacturing and assembly operations that bring 320,000 vehicles and 425,000 engines to market. At Ford we are proud to be Canada's longest-established automaker and remain committed to building a strong future in Canada. www.ford.ca
About the MJT
The non-profit Maple Leaf Junior Golf Tour presented by Boston Pizza is Canada's number one-played Junior Golf Tour as well as the only national junior tour run exclusively by PGA of Canada Professionals and the 'Road to College Golf' in Canada. The organization is presented nationally by Boston Pizza and supported by valued Premier, Tournament and Product Partners. The MJT hosts more than 70 events across Canada, including free Ford Go Golf Junior Clinics, the MJT Mini Tour for 7-12 year olds, the Collegiate Tour for 19-23 year olds, and multi-day events for competitive players aged 11 to 18 which are also qualifiers for international competitions. The program offers annual awards, scholarships, and frequent player incentives to help reward player's performance and participation throughout each season. MJT alumni include many Professional Tour players and PGA of Canada Professionals, as well as Canadian Amateur, National and Provincial Junior Champions. The MJT aims to develop champions, in golf and in life, promoting the game from grassroots through to provincial, national, university and professional level. For more information on the Maple Leaf Junior Golf Tour, please visit www.maplejt.com