Community Spirit The Heart Of Myrtle Point Golf Course
Details

Category: Inside Golf
Published: 2017-08-02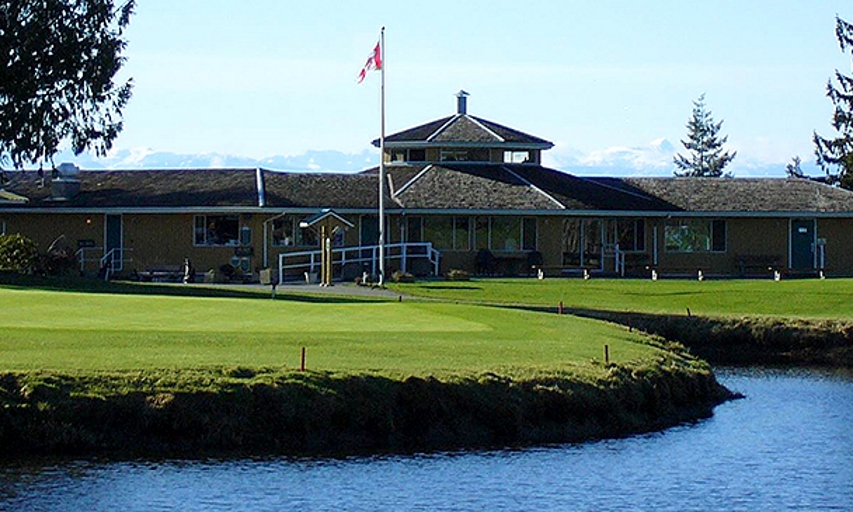 The Members Make The Difference At One Of British Columbia's Hidden Golfing Gems, Myrtle Point GC In Powell River. (Photo/Myrtle Point Golf Club)
POWELL RIVER, British Columbia (Brad Ziemer/British Columbia Golf) — It began as a labour of love. More than a quarter-century later, nothing much has changed at Myrtle Point Golf Course. The fact is Myrtle Point would never have been built without a huge contribution from volunteers.
That same community spirit helps keep the course in the wonderful shape it was in when it recently played host to the B.C. Senior Men's Championship.
That is especially evident on Tuesdays, which is the day a team of about 15 or 20 members spend half the day doing odd jobs around the course. "We joke that we work for a bowl of soup and half a sandwich," says Chuck MacBey, an original Myrtle Point member.
"We are basically doing things you couldn't afford to pay staff to do. We do the driving range, pick up balls, fill the divots, sand and seed, throw some fertilizer down. We have a member who has helped do a lot of the drainage. The money comes from the 50/50 on men's night. A lot of times the guy who wins says give it to the volunteers. They can buy sand and seed and whatever else they need."
Myrtle Point was designed by Les Furber, but his team had the help of an army of volunteers who did a lot of the grunt work. More than 17,000 hours of volunteer labour went into building Myrtle Point, which opened in 1991.
Many companies in the Powell River area contributed in other ways. "If say, on a Friday they were needing an extra excavator, well it just happened to be in the mill working Monday to Friday," MacBey says. "Friday night it found its way here with an operator and miraculously it got back to the mill Monday morning when it was supposed to be there."
Myrtle Point is one of those hidden gems on a rich British Columbia golf landscape. Many of the more than 100 players who teed it up at the senior men's tourney had never seen it before and the course drew considerable praise for its design, condition and welcoming atmosphere. "It's a beautiful course," said Doug Roxburgh, who captured his third senior men's title at Myrtle Point. "It is in great shape and is a pleasure to play."
The course runs on a shoestring budget. The grounds grew is comprised of just five full-time and thee part-time employees in peak season. Most courses have at least double that number. Just two full-time employees work on the grounds crew during the off-season. So the members pitch in and try to help out. "There are members who carry pruners in their golf bag and do some trimming during their rounds," says Len Gibbs, another Myrtle Point member.
"I think it promotes pride. If you see an old divot laying on the fairway here you pick it up. You don't walk by it." Dan Dupuis is a former Myrtle Point pro who now works as a realtor in the Powell River area. He has seen first-hand how much work volunteers do to keep the course in pristine condition.
"We have a great bunch of volunteers here," Dupuis says. "They have done a lot of great work with this golf course. It wouldn't be where it's at without the extra work that they do. Some of the guys are ex-loggers and fallers and they help to keep the trees trimmed. They do the stuff that the regular maintenance guys can't get to."
Myrtle Point GC Members Erected This Rock Wall On Pond Fronting The Par 3 Sixth Hole At The Club. (Photo/Brad Ziemer)
The clubhouse is getting a much needed new roof later this month and several members have volunteered to remove the old weathered cedar shingles. "We have already got a dozen guys who are going to be up on the roof peeling off the old shingles and we've got a contractor coming in to do the rest of it," MacBey says. "You don't even ask these people to do it. They just take it upon themselves. Guys were saying it's going to be dangerous and then someone else says we'll borrow some safety harnesses from this company in town. It will get done."
Members recently completed a project on the par 3 sixth hole, where they erected a beautiful rock wall behind a pond that fronts the green. You have probably figured out by now that Myrtle Point has great members. But they could use more of them. Membership has dropped over the years to about 225. "We are an aging population and it's not unusual to come out here and find the flag at half-staff," says Gibbs.
MacBey jokes that the course's white tees take a beating because few members are up to tackling the longer blue tees anymore. The course welcomes public play and would love to see more tourists drop in to play a round or two. Come to think of it, there's a great Sunshine Coast golf trip to be had with stops at Sunshine Coast Golf & Country Club, Blue Ocean Golf Club in Sechelt, Pender Harbour Golf Club and Myrtle Point.
MacBey, a retired banker, has helped the club benefit from some of the money distributed by Powell River Community Forest, an independent corporation set up by the City of Powell River. It is a for-profit forest company, but 100 per cent of its profits are returned to the community.
MacBey sits on the company's board of directors."Our driving range got $57,000, which went for drainage and just improving it," MacBey said. "The golf balls would disappear and you would never find them." A grant from Powell River Community Forest is also covering most of the expenses for the new clubhouse roof.
The club has learned to stretch its dollars and there's no better example of that than the 'new' carpet in the clubhouse. There's a funny story that goes along with that. The carpet was acquired by a Myrtle Point member who also happens to belong to Vancouver Golf Club in Coquitlam. He heard VGC was replacing some of its carpet and asked if he could have the old carpet. It was recently installed in the Myrtle Point clubhouse.
At the recent B.C. Senior Men's tourney, one of the competitors was Paul Batchelor of New Westminster, who happens to play out of Vancouver Golf Club. When Batchelor walked into the Myrtle Point clubhouse, one of the members asked him how he liked their new carpet.
"That was amazing," Batchelor says. "They really are an engaging group there. It's really remarkable given the budget they have and the amount of staff. They really take it personally, which is great. They love their golf course."