By The Numbers
By The Numbers: 5 Significant Shots On 17th Hole At British Open
Details

Category: By The Numbers
Published: 2016-01-06
Doug Ferguson (AP)
GULLANE, Scotland -- Some of the most significant moments in recent history of the British Open at Muirfield have come on the 17th hole.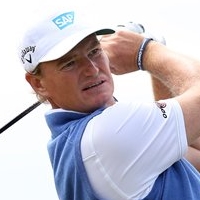 Ernie Els recovered from a mini-collapse with a birdie that put him into a playoff he won in 2002. Jack Nicklaus took the outright lead in 1966 by reaching the par 5 in two shots for a birdie that carried him to his first claret jug. It's where Lee Trevino chipped in for par, which ultimately denied Nicklaus a shot at the third leg of the Grand Slam and demoralized Tony Jacklin.
Image Caption : In 2002, Ernie Els Recovered From A Mini-Collapse With A Birdie That Put Him Into A Playoff He Won. (AP Photo/Scott Heppell)
But it's not just Muirfield.
The closing holes, with the exception of St. Andrews and newly configured Royal Liverpool, are so tough that Opens often are won with a par. It's the penultimate hole that has decided so many championships over the years. And because the 17th hole presents a birdie chance, it could become pivotal on Sunday.
Here are five key moments from the 17th hole in the British Open: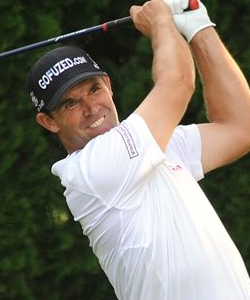 5. HARRINGTON'S 5-WOOD AT BIRKDALE
Nothing ever came easily for Padraig Harrington in his two Open titles, even though he won his second straight in 2008 at Royal Birkdale by four shots.
First, the Irishman had to rally past 53-year-old Greg Norman, which he did on the 12th hole when Norman missed a par putt. Then it was Ian Poulter making a late run and getting into the clubhouse at 7-over 287, which looked like it might be enough to at least force a playoff, given the wind-swept conditions off the Lancashire coast.
Image Caption : Padraig Harrington, Here At The 2013 Travelers Championship. (AP Photo/Fred Beckham)
Harrington had a two-shot lead standing in the 17th fairway when he played a 5-wood that bounded onto the green and up the ridge to the back pin, finally settling some 4 feet away for an eagle that gave him a four-shot lead and wrapped up the title.
"It's one of the few times I think I've ever heard my caddie say, 'Good shot,' to me before the ball is finished," Harrington said.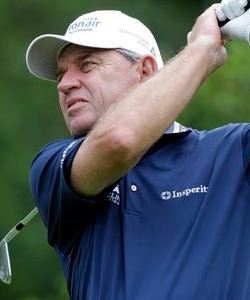 4. PRICE'S PUTT AT TURNBERRY
Nick Price had reason to believe he wasn't meant to have his name on the claret jug. He lost a three-shot lead with six holes to play in 1982 at Royal Troon as Tom Watson won his fourth British Open. He finished one shot behind Seve Ballesteros in 1988 at Royal Lytham. And late Sunday afternoon at Turnberry in 1994, Price was two shots behind Jesper Parnevik and running out of holes.
Image Caption : Nick Price, Here At The 2013 Encompass Championship (AP Photo/Nam Y. Huh)
He got some help from the Swede when Parnevik didn't bother looking at the scoreboard and, thinking he needed birdie on the 18th, attacked the flag and made bogey. Along with not knowing the score, Parnevik didn't interpret the cheer.
Behind him on the 17th, Price rolled a 50-foot eagle putt toward the hole, stomping his foot to urge it toward the cup, and galloping toward the hole when it dropped for an eagle. In a remarkable turnaround, Price went from a two-shot deficit to a one-shot lead, and he made par on the 18th to win the coveted jug.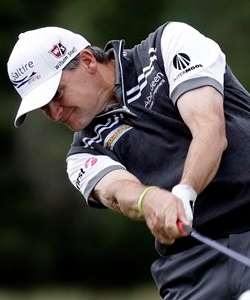 3. LAWRIE AT CARNOUSTIE
Carnoustie in 1999 is best remembered from the follies of Jean Van de Velde, who had a three-shot lead playing the 18th hole and had to make an 8-foot par putt for a triple bogey to get into a playoff. But there were great shots that followed that were worth remembering, none more important than Paul Lawrie at the par-4 17th.
Image Caption : Paul Lawrie, Here At The 2013 U.S. Men's Open (AP Photo/Morry Gash)
Lawrie wound up setting a major championship record by coming from 10 shots behind on the final day to win -- with loads of help from Van de Velde, of course.
The four-hole playoff among Lawrie, Van de Velde and former Open champion Justin Leonard turned on the 17th hole.
Both players opened with a pair of bogeys and were tied for the lead. Lawrie then hit a 4-iron into 12 feet on the 17th for a birdie to take the lead. Leonard hit into the Barry Burn on the 18th for the second time that day, and the Open effectively was over when Lawrie's 3-iron cleared the burn. That it ended up 3 feet for another birdie only changed the playoff score. The winning shot turned out to be that 4-iron on the 17th, and Scotland had its first Open champion on a Scottish links in 68 years.
2. TREVINO'S MAGIC AT MUIRFIELD
One shot by Lee Trevino changed the fortunes of two players in 1972 at Muirfield.
Lee Trevino was going for his second straight Open, and he needed his full bag of tricks, chipping in three times during the week. The turning point came on the 17th hole.
Jack Nicklaus, going for the third leg of the Grand Slam, was six shots behind going into the last day and closed with a 66 to get into the clubhouse at 5-under 279. Behind him were Trevino and Jacklin, who were tied for the lead at 6 under on the par 5. Trevino was in big trouble. His fourth shot went through the back of the green, up a slope of mild rough. Jacklin had a 20-foot birdie putt, and looked like he would at least have a one-shot lead playing the final hole.
Playing quickly, Trevino chipped in for a par. Nicklaus in the scoring area couldn't believe what he heard. And it must have rattled Jacklin, for he not only missed his birdie putt, but he pulled the 3-footer for par to fall one shot behind. Trevino made par on the last for the title, denying Nicklaus the Grand Slam. Jacklin was so shattered that he never contended in another major.
1. BOBBY JONES AT ROYAL LYTHAM
Of all the great shots on the 17th hole in British Open history, only one of them was deemed worthy of a plaque.
Bobby Jones in 1926 became the first player to win the U.S. Open and British Open in the same year, a feat that began at Royal Lytham & St. Annes. Al Watrous had a two shot lead with five holes remaining, and Jones couldn't afford to make a mistake. He birdied the 15th, but found big trouble with a hooked tee shot on the 16th. His ball came to rest on a sandy lie, 175 yards from a green that was tucked behind the dunes.
What followed was a remarkable shot in a career filled with them. Jones made clean contact and put the ball 20 feet from the flag. Watrous, visibly shaken by the great recovery, three-putted for bogey. Jones got his par, made one last par on the 18th to play the final five holes in 1 under and captured his first British Open.