From The Fringe
Strut Your Stuff In A Duggies Buggy
Details

Category: From The Fringe
Published: 2016-01-08
by Gord Montgomery - If you're looking to replace the 'get up and go' that's 'got up and gone' from your personal golf cart, then Duggies Buggies is saying, "Bring it on."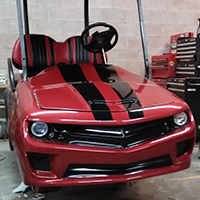 Doug  Williams, a Lethbridge, AB entrepreneur has found that you don't need a TV show like Fast and Loud or American Restoration to put a smile on vehicle owners' faces by fixing up their ride.
Williams, who began this career early in life, notes that people today want a ride, be it a car or a Club Car, that stands out. So, he's happy to oblige whatever creative vision a customer puts on his plate in the way of 'mulliganizing' a golf cart..
Image Caption : Whatever Your Vision For A Special Golf Cart, Duggies Buggies Can Make It A Reality - Image Courtesy Duggies Buggies
"This started with me wanting my own golf cart, I built one and somebody wanted it, so it kind of snowballed from there," he said of how this business idea blossomed. 
That original ride wasn't over the top tricked-out but it was different than the usual humdrum golf ride, so it caught peoples' attention.
"The first version, I just put some paint on it, got it running, put a lift kit on it, nice tires and wheels, changed out the seats. Nothing too spectacular," Williams recalled. "Now, we've got one in the shop right now that has a Camaro front end on it. It's a nice car."
From doing piecemeal cart work when he could step away from his former full-time job, this has now become his career. That changeover though, Williams noted, didn't come without some questioning from friends.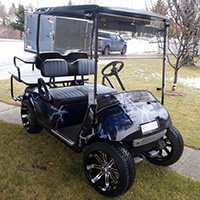 "I found there was a little bit of a niche for good used carts that have had something really unique done to them, making them into something really cool. I do replace the engines on some.
It's endless what you can do to these and it's nothing to have them do over 20 miles per hour."
One thing that must be realized here, Williams continued, is that the carts he renovates aren't just for touring 18 holes of golf.
Image Caption : Custom Wheels, Paint, Accessories. Duggies Buggies Are Very Detail Oriented - Image Courtesy Duggies Buggies
Rather, he's seen his creations in places like outdoor recreational spots, gated communities, and used by businesses who want to flaunt their colours in a special way.
"A lot of my carts go to campgrounds and resorts for people to boot around on.
I've got one here that's actually more of a hunting buggy — it's got a winch on it, a rifle rack and a cargo box on the back, wrapped in camo. It's a pretty unique unit."
Williams said the time to turn around a cart takes anywhere from "a couple of days to a good couple of months depending on what they want done. We're detail oriented. We're very finicky. They have my name on it, so they won't go out until they're perfect."
In regard to street legalities, Williams said Duggies Buggies can be modified in that manner, if that's the owner's desire.
"It's a grey area. There are some smaller communities that will let you scoot around on them, like the smaller resorts, those types of places. I know down in the States there are quite a few places where if you put brake lights and signal lights on them, you can drive them around. It's kind of an iffy deal around here, but for campgrounds and that, they're very welcome."
If you're wondering how one grows a business like this into a full-time gig, much like his friends did as he tossed the original idea around, don't lose any sleep over the success  of Duggies Buggies.
"Well, I'm still growing," Willaims said proudly. "I've moved out of my garage and I'm now in a 2,200 square foot facility with lots of carts here," with a customer base ranging from Vancouver Island to Manitoba as well as south of the border, so things are indeed running smoothly.
"It's more than I would have imagined. When I started in the garage I had a couple of friends that just chuckled and said, 'Golf carts? Really?' And now they're just going 'Really!?' "
Yes, really. After all, it takes a special talent to cycle a humdrum golf cart into a ride with pride and that is exactly what Duggies Buggies does every day.
For more information on the cart wizard, go to the company's website at duggiesbuggies.com or call Doug Williams at 403-715-3581.
About the writer: Gord Montgomery is a retired sports editor of two weekly newspapers in the Edmonton area and is a member of the Golf Journalists Association of Canada. He is now in  his eighth year with Inside Golf. He can be reached at This email address is being protected from spambots. You need JavaScript enabled to view it.. He's also on Twitter at @gordinsidegolf.