BC Golf Hall of Famers Phil & Patty Jonas Moving To Saskatchewan
Details

Category: Inside Golf
Published: 2020-08-20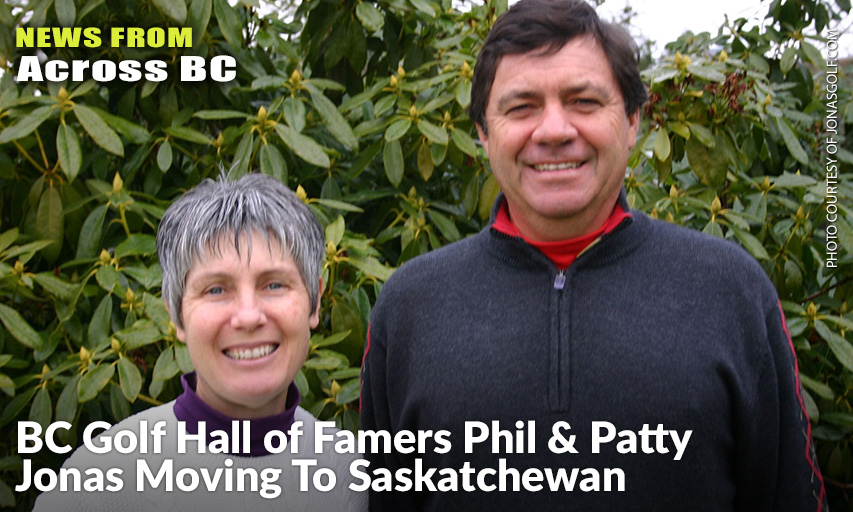 By BRAD ZIEMER, British Columbia Golf
Taking a page from Burton Cummings and the Guess Who, Phil and Patty Jonas are Runnin' Back To Saskatoon.
The two B.C. Golf Hall of Fame members are taking lots of great British Columbia memories with them as they begin the next chapter of their golfing lives on the Prairies.
Patty is already there, doing some teaching at Saskatoon Golf & Country Club, and Phil will join her at the end of September as he winds down their teaching academy at Hazelmere Golf Course in Surrey.
The move was prompted in large part by Patty's desire to spend time with her elderly parents, who live in Saskatoon. "Her whole family is there," Phil says. "She wants to be with her parents in their last few years."
Both accomplished players, Phil and Patty entered the B.C. Golf Hall of Fame together in the fall of 2019. They met back in the mid-1980s when both were on golf scholarships at Lamar University in Beaumont, Tex.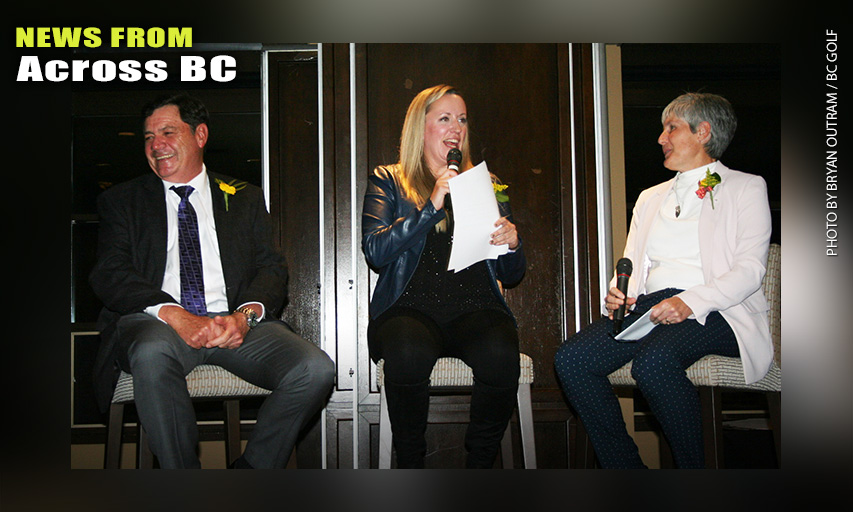 Phil And Patty Jonas Along With MC Karen Surman From TSN 1040 During Their 2018 BC Golf Hall of Fame Induction.
Phil has played professionally literally all over the world. He grew up in South Africa where he was one of the world's top junior players.
He competed on the PGA TOUR after finishing his collegiate career at Lamar, where he was a two-time all-American, and was a fixture on the old Canadian Tour (now the Mackenzie Tour-PGA Tour Canada circuit).
He won the Peru Open twice and beat a field that included the likes of Ernie Els, John Daly, Retief Goosen, Tom Lehman and David Feherty when he won the 1990 Goodyear Classic Championship on the South African Tour. He has won multiple PGA of BC and PGA of Canada titles and competed on the European Senior Tour.
Patty, who was a competitive swimmer before she first touched a golf club at age 14, won the B.C. Women's Amateur Championship in 1984 and 1985. She won a NCAA tournament while at Lamar and after turning pro earned several other wins, including three PGA of BC championships.
Her competitive career was put on hold when life got busy with their two children, Emma, now 22, and Patrick, now 19. Both are now on basketball scholarships in college.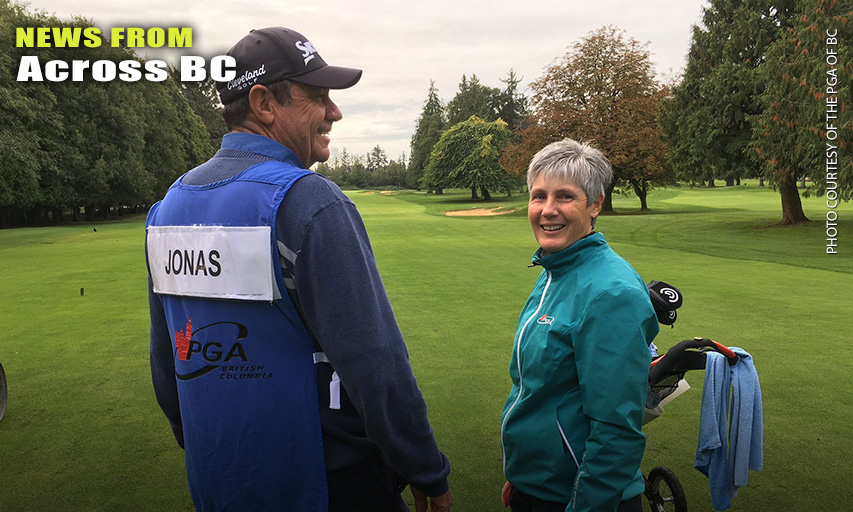 Husband Phil Caddied For Wife Patty At A Recent PGA of BC Championship Event.
Phil acknowledges there is lots he is going to miss about British Columbia after living here for the past 31 years. "I made a lot of friends," he says.
"I have a lot of contacts. I think I am going to miss the fact that if I ever need something I know a lot of people. And that is through golf. If I need tires, I know where to go.
"I am going to miss my students, for sure. I have really enjoyed teaching and with a lot of my students we have a good chat while I am teaching. There's one student that I have had since day one in 2003 when I started teaching."
He is also going to miss his professional colleagues and is looking forward to playing in one last PGA of BC Championship later this month at Crown Isle Golf Club in Courtenay.
He also plans to tee it up at the PGA of BC Club Professional Championship in late September at Nicklaus North in Whistler. "I would say the biggest thing I am going to miss are the tournaments," he says.
"My favourite tour is the G&G Tour, the Lower Mainland Assistants Tour. The events are on Mondays and you play with other pros. All the pros who play in those tournaments are good guys. It's just a great day. Those things I will definitely miss, but I know there are going to be new things happening in Saskatoon that I am going to like.
"Golf has been great because it's given me everything, really. And it will continue to do that because I like playing golf with people and it doesn't matter how good or bad they are. I'll go out and play with people and hopefully I will impress them. It seems to always end up working out well."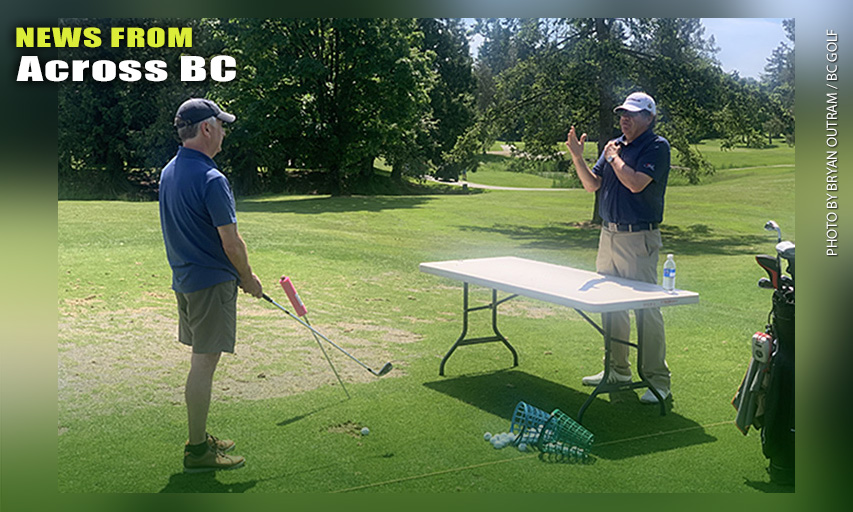 Phil Jonas Has Become Used To Physical Distancing With His Students In BC While Teaching At Hazelmere Due To Covid-19. Moving To Saskatchewan Will Put A Little More Distance Then He May Care For From Them And Many Colleagues.
Donald Miyazaki, executive director of the PGA of British Columbia, said Phil called him recently to deliver the news about their move. "I was very surprised when I heard the news," Miyazaki said.
"Phil and Patty both joined the association as players and quickly became popular figures in the teaching side of things. They are both well-liked individuals and highly respected. They have both made a big impact on the game here in B.C."
Phil says he and Patty owe a debt of gratitude to Mike Stuart, president of Hazelmere, who convinced him to set up shop on the club's range. They made countless friends among Hazelmere's members over the years.
Longtime McCleery pro Muncie Booth also helped Phil get into teaching and was Patty's first boss when she broke into the business at Chilliwack Golf Club.
Phil and Patty are hoping to try and replicate what they had at Hazelmere at Saskatoon Golf & Country Club, a highly regarded private course. It has what Phil describes as a fantastic practice and teaching area spread over 40 acres.
"It is an unbelievable facility really," Jonas says. "There's a huge double-ended range and three holes (a par 3, a par 4 and a par 5) for practising and playing lessons."
McLaren Taylor, general manager of Saskatoon G&CC, is happy to have them. "Patty brings something new for our lady members," Taylor says. "I know the ladies are excited about getting some instruction from a female golf professional. And Phil is obviously quite well known in the Canadian golf community."
Phil says Patty is already flourishing in her new surroundings at Saskatoon G&CC. "They seem to be pretty excited that she is there," he says. "She is going to do well. I think I may have to work a little harder to do well. That's also a good thing for me. It sort of became easy in the last few years.
"The teaching wasn't easy and it's always nice to see people improve, but recently I have not necessarily had to work hard in terms of promoting yourself or making sure your website is up to date. People were just coming, it wasn't hard and I think I am going to have to do a better job of that. So that's good because you always need to challenge yourself in some way or the other."
One challenge he knows he'll face is the Prairie winter and a much shorter golf season. "I am not entirely unfamiliar with Saskatoon," he says. "I have visited every year and I have been there for two or three Christmases." He then added with a laugh, "it's not that warm, you know."
From South Africa to Saskatoon. You just never know where life and the game of golf will take you.