Golf In Alberta Sees An Uptick In Young Golfers In Pandemic Year
Details

Category: Inside Golf
Published: 2020-09-03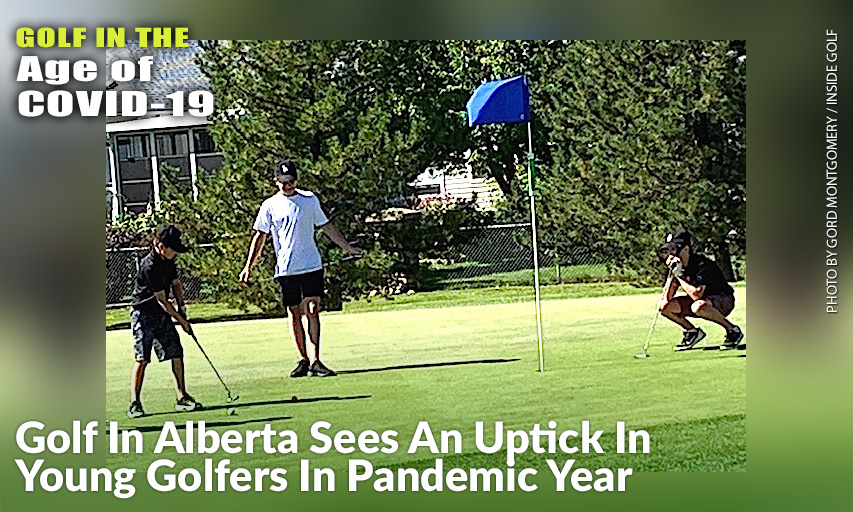 By GORD MONTGOMERY, Inside Golf
EDMONTON, Alberta — If there is anything positive to come out of the global pandemic known as COVID-19, it's perhaps the increase in the number of rounds of golf being played. And more importantly perhaps are the number of youngsters coming into the game.
That latter element is best illustrated by the boom in kids teeing it up on a golf tour designed for them that ran this past summer, the McLennan Ross Alberta Junior Tour. The head honcho of that circuit, Dunc Mills, said in a phone interview that he was delighted by the number of kids taking part, both those that had played tour events before as well as new players coming on-stream. And even better was the number of really young golfers that appeared on his tee sheets.
"It was a big upswing. The obvious answer to why is the COVID situation. I think the kids just didn't have much else to do," considering golf was essentially the only sport that for much of the summer was an open entity. "Lots of families weren't going on vacations. People were staying close to home so that left more kids around. And it wasn't just kids. You know how hard it is to get on a golf course these days. It was crazy!"
In reflection, Mills said a lot of the new kids he saw on tour this year were different sport athletes who came to play golf because, in reality, there was little else to do. "There were two kids at RedTail Landing (in Edmonton) who were around 16. They weren't raw beginners but I'd never seen them before. I was talking to them …. and they told me they were baseball players and couldn't play ball this year, so they wanted to come and play some golf tournaments."
As to the youngest age group the tour hosts, with a birth date in the year 2006, Mills noted they showed up in droves, especially on the girls' side of the ledger. "The boys of this age have always been split up into three groups (because of large numbers) but the girls over the years, traditionally, were only one flight because there weren't enough of them for more. This year we had a couple of tournaments where they got divided into age groups with 20, 22 kids. That had never happened before."
To further illustrate that, Mills noted that in 2019 they had 30 different girls earn event points on the tour's Order of Merit. This year that number jumped to 46.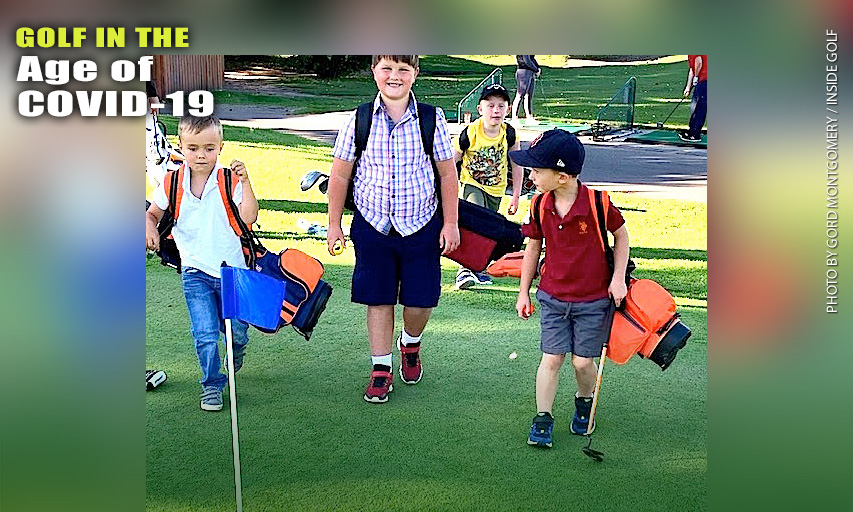 While These Guys In A Lesson Program At The Links At Spruce Grove May Still Be A Bit Young To Get Out On The Big Course, They Were All Ready To Go In The Practice Area, Sharpening Their Games For The Future.
It wasn't just the McLennan Ross tour that saw a big uptick in kids teeing it up at local golf establishments. At The Links at Spruce Grove, head pro Veeraphon (Vee) Thephasouvanh noted his track had seen a dramatic rise in youngsters in the spring and summer of 2020.
"I would say it's mainly from all other sports being cancelled," he began about his take on why this boom happened. "And, the cost is pretty good for our junior season pass. And probably, parents seeing that golf is a safe place for their kids to be."
Mills cautioned that while he saw more first-time players on the tour this past season he didn't necessarily see a whack of youngsters just starting out in the game.
"These kids, I think, have played golf before. There were lots of kids I'd never seen before shooting decent numbers, so they'd obviously played golf but are just now getting their feet wet," in tournament action.
Mills feels that playing a key role in the tour's growth in 2020 was the fact it was taken under the umbrella of Alberta Golf for the first time. In all, there were 24 events scattered across Alberta with only "two or three," not reaching maximum capacity. The 25th season of the McLennan Ross Alberta Junior Tour wound up with a championship weekend at the famed Wolf Creek Golf Resort.
Mills did point out that while participation in the tour had waned a bit over the past few years, it blossomed again this year, in part because of the pandemic but also due to the spotlight the provincial body placed on it.
"I don't think there's any question about that," he replied in relation to Alberta Golf boosting those  participation numbers this past year given their website exposure.
Of course the big thing with a boom like this is whether or not the kids stick to playing golf, or go back to their other first-love sports in the future. Mills knows that's a tenuous balancing point but he hopes this year's participation spurs an interest that grows with the youngsters.
"I had a lot of parents tell me this was their kids' first year of trying and that they really want to keep going," which for the sport of golf is good news in what has been a bad news year.