Geiger Radiates, Lee Drives Away With Title In MJT Ford Series At Chilliwack
Details

Category: Inside Golf
Published: 2020-09-11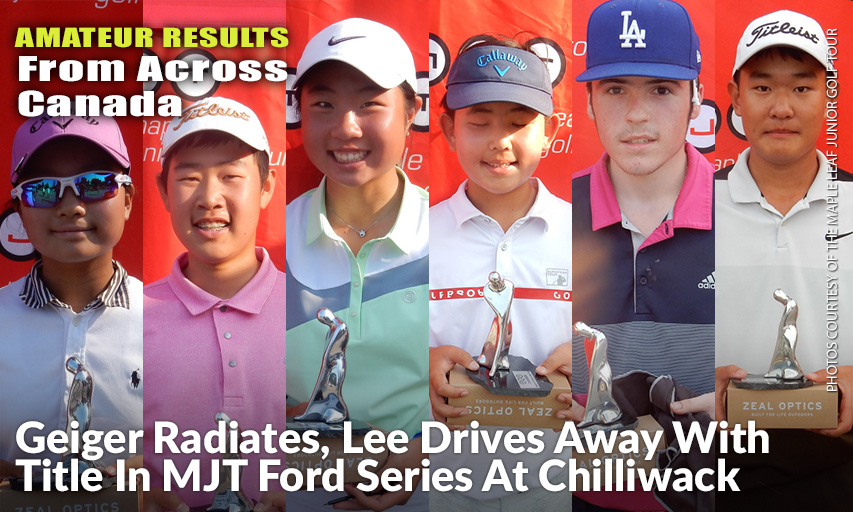 CHILLIWACK, British Columbia — The Maple Leaf Junior Golf Tour returned to Chilliwack, BC, on September 3 and 4, to host two junior golf events — a MJT Ford Series Tournament and the Chilliwack Ford Go Golf! Free Junior Clinic — both at Chilliwack Golf and Country Club.  Elite young players competed for titles in six divisions in the Tournament, as well as for the chance to win a car from Chilliwack Ford with a hole-in-one, while the clinic gave kids between the ages of six and twelve a chance to learn the game of golf for free.
Warm temperatures and gusty winds did not counter the performance of Riley Geiger, 19, who radiated talent at Chilliwack Golf and Country Club, blazing his way around the course with scores of  68 and 70 (138) to win the MJT Junior Boys title by four shots. This was the first MJT win of the 2020 season for the Langley, BC, player. "The key to my victory was my mindset," commented Geiger. "I stayed patient and worried about myself and made smart decisions with my shots."
Another star performance by MJT veteran champion Erin Lee secured the MJT Girls 15-19 title in style after the 15-year-old athlete from Langley fired 74-71 to win by two shots. Lee saw herself tied for the lead at the beginning of her second round, which she started off perfectly, making eagle on the par-5 first hole followed by two more birdies during the round. "I stayed patient through the round," commented Lee. "I waited for my putts to drop and they did."
16-year-old Danny Im, of Langley, BC, did it again at Chilliwack Golf and Country Club in the MJT Juvenile Boys Division. Im, who picked up a win in the MJT Odlum Brown Classic at Chilliwack just a few weeks ago, returned to the podium after firing excellent rounds of 71 and 69 (140). "My focus was on my short putting," commented Im, who dropped nine birdies over 36 holes.
Surrey, BC's Ha Young Chang also returned to the MJT winner's circle in the Girls U15 Division. The talented 12-year-old junior golfer fired great rounds of 79 and 75 (154) to win the title by four shots. "It feels like all the practice I've done has paid off," commented Chang when asked about the significance of her victory. "My key was to focus on each shot."
13-year-old Ryan Liang, of Vancouver, BC, fired a brilliant opening round of 67 and followed that up with a 78 (145) on day two to win the MJT Bantam Boys title by four strokes. Liang, who is no stranger to the top of the MJT leaderboards, made an eagle and eight birdies total to earn his ninth MJT victory since beginning to compete back in 2015.
The MJT Peewee Boys Division saw Richmond, BC, golfer Alex Zhang surge from behind to win the Hoselton trophy. After an opening round of 75, Zhang sat two shots back of the lead. Zhang then made six birdies and an eagle in his second round to shoot an outstanding 69 (144), winning the division by two shots. "The MJT is very fun and competitive," mentioned Zhang. "It feels great to bounce back after the first day."
Full results from the event can be viewed here. The next stop in BC is the wait-listed MJT Fall Series at Golden Eagle Golf Club in Pitt Meadows on September 18 and 19. More information can be found at www.maplejt.com.
---
About Ford
Ford of Canada employs over 23,000 talented individuals in the fields of finance, sales and marketing, information technology, manufacturing and engineering, and human resources. This diverse workforce is responsible for the manufacturing and assembly operations that bring 320,000 vehicles and 425,000 engines to market. At Ford we are proud to be Canada's longest-established automaker and remain committed to building a strong future in Canada. www.ford.ca.
About the MJT
The non-profit Maple Leaf Junior Golf Tour is Canada's number one-played Junior Golf Tour as well as the only national junior tour run exclusively by PGA of Canada Professionals and the 'Road to College Golf' in Canada. The organization is supported by valued Premier, Tournament and Product Partners. The MJT hosts close to 90 events across Canada, including free Ford Go Golf Junior Clinics, the MJT Mini Tour for 12U and multi-day events for competitive players aged 11-19 which also offer qualifiers for international tournaments. The program has annual awards, scholarships and incentives to help reward performance and participation throughout each season. MJT alumni include many Professional Tour players and PGA of Canada Professionals, as well as Canadian Amateur, National and Provincial Junior Champions. The MJT aims to develop champions, in golf and in life, promoting the game from grassroots through to the provincial, national, university and professional levels.