Clapp Claims Club Professional Championship In Playoff
Details

Category: Inside Golf
Published: 2020-09-24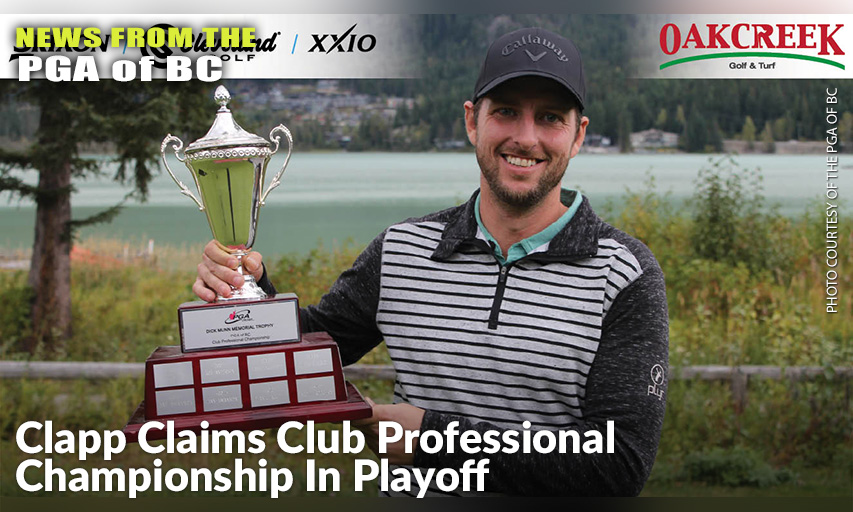 WHISTLER, British Columbia — Brad Clapp outlasted Dave Zibrik in a playoff at Nicklaus North Golf Course to win the 2020 Srixon/Cleveland Golf/XXIO PGA of BC Club Professional Championship presented by Oakcreek Golf & Turf LP.
After both players were tied at 5-under-par through two rounds of play, Clapp (Cultus Lake Golf Club) made par on the third extra hole – the 18th at Nicklaus North – to claim the title over Zibrik (Point Grey Golf & Country Club).
The Club Professional Championship is a 36-hole, individual stroke-play tournament open to all Head, Executive and Head Teaching Professionals within the PGA of BC membership. With the victory, Clapp claimed the winner's share of $2,700 from a purse of nearly $15,000 and will have his name etched on the Dick Munn Memorial Trophy for the first time.
"I just had a good look at the names on that trophy and it's pretty cool to add mine to it, too," said the 33-year-old, a past winner on the Mackenzie Tour. "It's a big accomplishment."
Clapp followed his first-round 66 with an even-par 71 to finish at 5-under, while Zibrik made a clutch birdie putt on the final green to back up [a first round] 68 with a final-round 69 and force the playoff. Starting on Nicklaus North's 16th hole, both players parred the first two extra holes, but Zibrik's tee shot on the third found the penalty area down the left side to give Clapp the advantage.
Combined with his PGA of BC Championship and Assistants' Championship wins in 2012, Clapp becomes just the third player in the Association's history to win the Triple Crown of individual stroke-play championships, joining Philip Jonas (Philip Jonas Golf Academy) and Doug Morgan (Richmond Country Club).
Last month, Clapp was the first-round leader at the PGA of BC Championship at Crown Isle Resort & Golf Community before falling to the runner-up spot in the final round. He said Tuesday's closing 18 holes felt much like the one at that event, just with a different outcome.
"Today I didn't feel I had my best, which was the same as the final round at Crown Isle, just not being in my top shape from not being able to play," said Clapp. "The last time I'd touched a club was at Crown Isle before coming to this event. You're going to expect bad shots, it's just I was lucky enough that my bad shots today didn't cost me as much as at Crown Isle."
Zibrik, who won a Club Professional Championship of his own in 2016, has now finished as the tournament's runner-up for three straight years. Despite the string of second-place results, the 36-year-old left Whistler feeling good about his performance.
"Brad's such a good player. He's won on bigger stages than this and he played really well," said Zibrik. "For as little golf and practice as I've had with the season that we've had, to play a couple of good rounds of golf felt pretty good. Nothing to be upset about."
Zibrik added that the 36th-hole birdie that forced the playoff was "up there" among the best pressure putts he's made in competition.
"That was a cool feeling," said Zibrik, who pocketed $2,000 for second place. "I three-putted 17 and thought I'd put myself out of it, then I hit a mediocre sand wedge into 18 to have about a 15-footer with some left-to-right swing. That's a putt that looks pretty good to my eye, so I figured I'd put a good roll on it and see what happens, and it went in."
Defending champion Mark Kitts (Shadow Ridge Golf Club) and Brian McDonald (Fairview Mountain Golf Club) each shot back-to-back rounds of 69 to finish at 4-under-par, sharing third place and taking home $1,275 apiece. Kyle German (Bald Eagle Golf Club) shot a final-round 68 to finish fifth at 3-under, earning $900.
CLICK HERE to view final results.
After a bogey-free opening round of 65, Jonas faded to a tie for seventh at 1-under-par while playing his final PGA of BC championship event, as he and wife Patty are moving their academy to Saskatoon Golf & Country Club. Though he came up short of winning an eighth PGA of BC title, Jonas certainly went out with the highest of respect from his peers.
"I wasn't even done putting out, but I wanted to applaud him when he putted out to finish his round today for what he's done in this Association," said Clapp, who played alongside Jonas in Tuesday's final group. "We talk about these trophies that I'm slowly collecting, but Phil's been doing that forever, right? We're losing a great member of our Association; Saskatchewan is getting a great member as well. I don't think it's the last we'll see of him, but I'm sure going to miss seeing him at all of these events."
With the tournament being open only to Club Professionals leading operations at the PGA of BC's nearly 200 affiliated facilities, the field of 45 players represented a group that has been on the front lines dealing with industry challenges related to COVID-19 and a major surge in golf interest throughout the province in 2020, with rounds played in British Columbia up as much as 40 per cent compared to 2019.
"Being here competing is like half-being away (from the club)," laughed Zibrik. "You're never completely unplugged … but this is the perfect way to cap off what's been, for us, an historically insane season."
---
About Srixon/Cleveland Golf/XXIO
Based in Huntington Beach, Calif., Cleveland® Golf, Srixon®, and XXIO® are all part of the SUMITOMO RUBBER INDUSTRIES, LTD. family and each brand enjoys a strong presence on competitive tours worldwide. Their professional staffs include players such as Graeme McDowell, Keegan Bradley, Hideki Matsuyama, Inbee Park, Nasa Hataoka, Minjee Lee, as well as many others. Cleveland® Golf, founded in 1979, is a leading equipment manufacturer specializing in short game technologies and solutions that benefit all golfers. Srixon®, with more than 80 years of golf ball manufacturing experience, is committed to producing the highest quality, technically innovative golf balls which offer maximum performance to golfers of all levels of ability. XXIO®, with its longstanding tradition of premium golf clubs in Japan, brings the No. 1 golf brand in Japan to America. Cleveland® Golf, Srixon®, and XXIO® remain steadfastly committed to providing "Tour proven, premium golf equipment to passionate golfers seeking to improve their performance while enhancing their experience playing the game of golf. Visit Srixon, Cleveland Golf & XXIO online to learn more.
About Oakcreek Golf & Turf LP
Oakcreek Golf & Turf LP is Western Canada's full-service distributor of Toro Commercial Turf Care Equipment, Toro Golf Irrigation Equipment and Yamaha Golf Cars, plus all additional related products. It proudly offers the very best quality products and professional service and support to golf courses, municipal parks, independent landscapers and private clients. Oakcreek Golf & Turf LP has been in business since 1969 and currently employs approximately 100 people throughout the year at its six locations throughout Western Canada. For more information, visit www.oakcreekgolf.com.