Ziemer's B.C. Golf Notes: Hadwin Among The Winged Foot Wounded; Allenby's Great Winged Foot Memories; Taylor Tees It Up With Pettersson, Stecher
Details

Category: Inside Golf
Published: 2020-09-24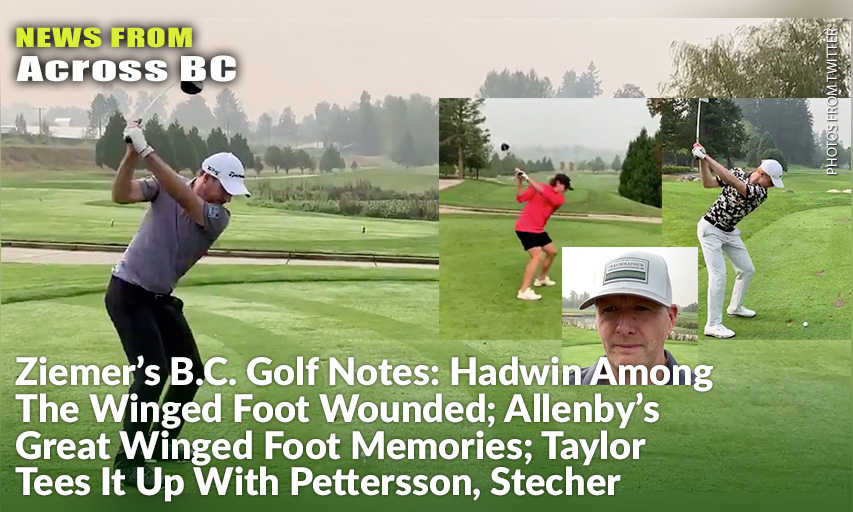 By BRAD ZIEMER, British Columbia Golf
Adam Hadwin sets the bar high when it comes to his expectations and it's safe to say he didn't meet them at the U.S. Open. Of course, the Abbotsford product had plenty of company. Winged Foot punished the field at the 120th playing of the U.S. Open with winner Bryson DeChambeau the only player to finish under par.
Hadwin did survive the 36-hole cut but couldn't get much going on the weekend as he closed with a 10-over 80 and finished in 54th place at 19-over par.
Hadwin, who failed to make a birdie [in the final round], did earn $26,224 for his troubles. Four Canadians teed it up at Winged Foot, with Hadwin and Korn Ferry Tour regular Taylor Pendrith of Richmond Hill, Ont., making the cut.
The big-hitting Pendrith closed strong with an even-par 70 and finished tied for 23rd in his U.S. Open debut. Pendrith, who not long ago was toiling on the Mackenzie Tour, earned the biggest cheque of his young professional golfing life, $101,797.
HE SHOOTS, HE SCORES
Abbotsford's Nick Taylor did not get into the U.S. Open, which doesn't seem right given his big win at the AT&T Pebble Beach Pro-Am earlier this year. But Taylor has enjoyed some down time at his Abbotsford home the past three weeks.
He snuck in some golf and recently teed it up at Northview Golf Club's Ridge Course in Surrey with a pair of Canucks, Elias Pettersson and Troy Stecher, and Sportsnet's Dan Murphy.
Taylor had this to say about the two Canucks' golf games: "They're both pretty good players," Taylor said. "They both have different actions at it. Elias has a nice setup and a pretty good swing. He was picking my brain a little bit about golf and we were talking about their bubble experience versus mine. It was a fun day."
Taylor eagled the 18th hole and added seven or eight birdies, so it's safe to say he impressed his playing partners.
Taylor, his wife Andie and their son Charlie will head to their Phoenix-area home. Taylor will return to the PGA TOUR at the Sanderson Farms Championship in Jackson, Miss. That's the event where Taylor earned his first PGA TOUR victory in 2014.
GOOD TIMES
The U.S. Open brought back some Winged Foot memories for James Allenby. The Langley native played in the 2004 U.S. Amateur Championship at Winged Foot. Allenby, who was attending the University of Texas-El Paso at the time, had to survive a playoff to qualify for match play.
"It was a huge playoff, something like 15 guys for five spots," Allenby said. "I birdied the first playoff hole to get in."
Allenby, who won his first-round match before falling in the second round, called his one and only U.S. Amateur experience a great one. "I just remember the fairways being so narrow and the rough being so thick, basically exactly the same as it looks on TV right now," Allenby said. "It was an amazing experience. It was so neat."
CARIBBEAN CALLING
The PGA TOUR is at the Dominican Republic for the Corales Puntacana Resort & Club Championship. Merritt's Roger Sloan is in the field, which also includes fellow Canadians Mackenzie Hughes, Corey Conners, David Hearn, Graham DeLaet and Michael Gligic.
HOME STRETCH
Only three events remain on the 2020 calendar for the Korn Ferry Tour, which heads to Kansas for the Wichita Open. Surrey's Adam Svensson and Stuart Macdonald of Vancouver are both in the field. Svensson currently stands 43rd on the Korn Ferry Tour points list, while Macdonald is 114th.
THREE-WAY TIE
Tony Gill of Surrey, Luke Bogdan of Ledgeview Golf Club and Kevin Stinson of Cheam Mountain Golf Course all shot three-under 69s to share first place at the Vancouver Golf Tour's Pagoda Ridge Open. They each earned $600. The VGT Tour Championship goes September 25 at Meadow Gardens Golf Club.
HELPING HAND
Donna Thompson won the 2004 B.C. Senior Women's Championship at her home course, Sunshine Coast Golf & Country Club. Thompson volunteered as a starter when the B.C. Senior Men's Championship was held at Sunshine Coast.
Like so many others, Thompson says she has spent considerable time on the course this year. "I don't think I have ever played this much golf," she said. "I've been playing three times a week."
After winning that 2004 championship, Thompson was part of the team representing B.C. at the Canadian Senior Women's Championship. "We won that and I figured it was a good time for me to end my competitive career," Thompson said with a laugh. "You might as well go out on top."
Thompson's late husband, Alvie, was a legendary pro who had a terrific playing career and influenced so many young professionals while working at both Marine Drive and McCleery golf clubs. Alvie Thompson, who was inducted into both the B.C. Golf Hall of Fame and PGA of Canada Hall of Fame, died in 2017.