Is Power Cart Golf A Good Walk Spoiled?
Details

Category: Inside Golf
Published: 2020-10-01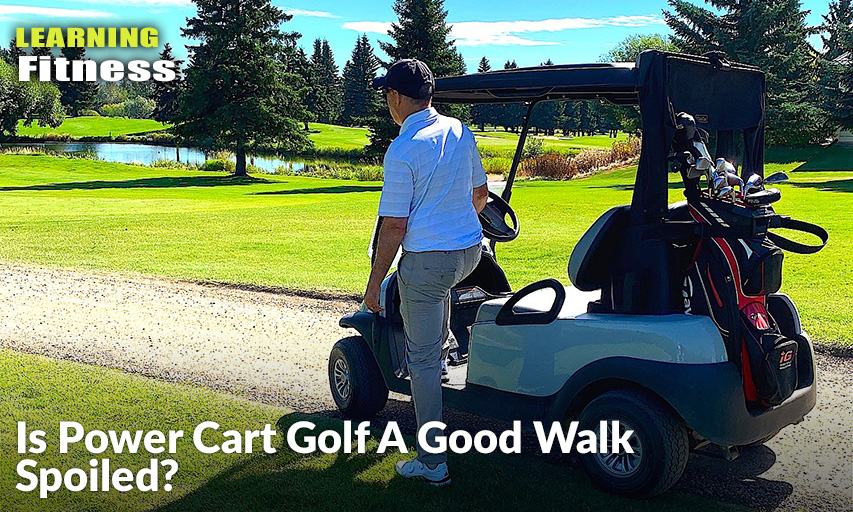 By GORD MONTGOMERY, Inside Golf
SPRUCE GROVE, Alberta — Some guy, who was a better writer than I and much more famous, supposedly once noted, "Golf is a good walk spoiled." Well, regardless of whether or not it was Mark Twain who coined this famous phrase - some now say it was a guy named Harry Leon Willis - I tend to disagree. Or more to the point, to me at least, is that power cart golf is a good walk spoiled.
It seems that few people choose to walk 18 holes of golf anymore, and while it's hard to track down any statistical info on this subject, a rough guess from my own walking-instead-of-riding experiences would tend to suggest that between 70 and 80 per cent of players prefer riding over walking. Why? Well, there are likely several explanations.
One, is often green fees are priced at a cart-included rate, so why not ride? As an example of that, a special at The Links at Spruce Grove, where I tee it up a few times a month, offers 18 holes riding for just over $51 for anyone aged 65-and-over. The walking rate is just under $50, so why wouldn't you ride?
Other reasons for riding include courses that aren't walkable because of their terrain or the distance between the last green you putted out on and the next tee box. Then of course there's likely one of the most obvious reasons — laziness. After all, it is easier to ride than walk around a golf course. But is it as enjoyable to sit and motor onto your next shot?
This concept of riding instead of walking leads to the age-old question of whether or not golf is actually a sport and whether golfers are athletes. And of course, whether golfing is really exercising. Here, I suggest both sentiments are correct because when one ambles about  a golf layout, they're putting on some pretty good miles (or kilometres if you prefer) over an 18-hole stretch.
Some information from the World Golf Foundation suggests that one walks around five miles (8.05km) and one burns somewhere in the area of 2,000 calories over an 18-hole journey. At the same time, this site notes you burn around 1,300 calories using a power cart although it doesn't given an estimate of walking distance.
All that being said, I wondered how much walking does one do when you take a power cart as you move from shot to shot as opposed to simply walking?
So I headed off to do some research (yes, folks, this really is work!) at the Stony Plain Golf Course which I play often. I most often walk this layout but because of my research, I also carted it to take those numbers into account. My intent was to find out if by carting around do you get the benefit of a good walk?
So, using my good ol' iPhone, I began charting how many steps I took and the kilometres covered in a round of golf walking; and then how much I put on riding/walking at the same course. Now the latter was a bit harder to do because of where to stash the phone in order to keep track of this vital data without butt dialling someone, which truthfully did happen. Sorry about that, Mike!
As it was, the course at Stony Plain offers the ability to basically drive right up to your ball on almost every hole - other than of course when you hit it in the water or onto the railroad tracks! As such, you don't get quite as many steps in as you would on a course where some of the fairways are deemed non-driveable for carts. As well, I didn't have to expend too much energy searching in trees for wayward shots, where a cart just wouldn't cut the mustard.
So, all that being said, here's what I came up with for a Good Walk Spoiled via a golf cart:
When I walked, pushing a 3-wheel cart, I took a total of 13,824 steps which was 8.1kms. This included the steps/distance from when I arrived the course parking lot; loading my clubs; heading into the pro shop to check in; wandering around the first tee area talking to the starter and playing partners; and then finally, the trek around the course itself and back to my vehicle.
When I used a power cart, it was based on the same premise of starting from when I first stepped out of my car until I finished the round and stowed my gear in the trunk. The totals here were surprisingly different: 5,572 steps and only 3.2 kms of walking. While that is a fair distance to put on, given the rest periods in between steps it was actually, in my opinion, a good walk spoiled.
I duplicated this amazing amount of work at The Links at Spruce Grove, a somewhat longer course than Stony. The Links also includes a couple of longer walks between holes. Via foot, from my car onwards, I took a total of 14,382 steps until the clubs were safely back in the car. As for riding, the step count again started at the car, minus the walk back to the car after the round. In all, I took just over 7,300 steps, equal to 4.3 kilometres.
So, Mr. Twain, whether or not you're responsible for that old, oft-used quote about a good walk spoiled, while I disagree with your overall thought, I do agree that when you take a power cart for a round of golf that really does cut into what is an essential part of the game of golf and to me at least, spoils a really good walk.
At the same time, I do understand that power cart rentals are part of a course's income, so I don't begrudge anyone from using a cart. It's just that I prefer walking, when it's possible.
---
About the Writer
Gord Montgomery is a member in good standing of the Golf Journalists Association of Canada. He is now in his 12th year of writing for Inside Golf.
He can be reached at This email address is being protected from spambots. You need JavaScript enabled to view it.. He's also on Twitter at @Gordinsidegolf and on Instagram at gordinsidegolf2.