Wilson Proves He's Pro Ready
Details

Category: Inside Golf
Published: 2021-02-03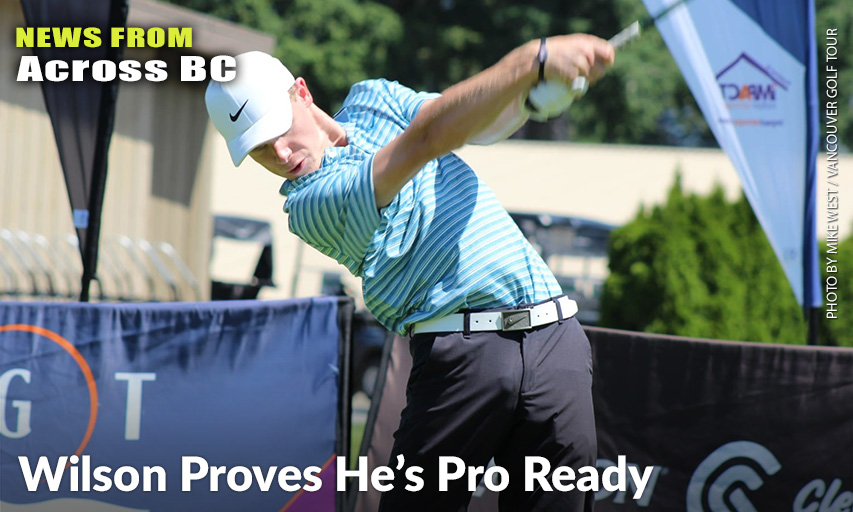 By GORD MONTGOMERY, Inside Golf
VANCOUVER, British Columbia — While some nerves and trepidation are the expected norm for most young professionals on their first day in a new work environment, that was anything but the case for Cole Wilson.
You see, the 20-year-old who was putting peg-in-ground in his initial professional golf tournament showed he's ready for that level of play, after a tie for first in a Vancouver Golf Tour (VGT) event.
And while he said it would have been nice to win in a playoff, that isn't the case on the VGT, so Wilson, from Kelowna, was more than happy to split first-place prize money with Ziggy Nathu, as both carded 2-under-par 70s on what was anything but a pleasant day on the course weather-wise.
With temps just above freezing and some snow showers, Wilson, who classes himself as somewhat of a 'mudder', toured the course with one birdie, one bogey and an eagle on his 17th hole of the day. That, for a short while, vaulted him into first place alone. But Nathu came back with a bird on his final hole, to forge the tie.
"It was definitely a good way to start my pro career, that's for sure," Wilson said in a phone interview.
How He Got Here
Wilson was a high-level athlete as an amateur, not only in golf but a number of other sports. He actually began chasing a professional hockey career but changed his mind after moving from Alberta to B.C., in 2013. When he took up golf on a more formal basis, things morphed quickly as he earned a scholarship to a U.S. school and then played for half a year in Canada's
USports loop. The decision to turn pro came after several good showings, as an amateur, on the VGT.
 "The last tournament (of several) I played in was a combination of amateurs and pros and I was able to win the amateur field by I think, four or five strokes," Wilson recalled. "I saw that playing on the Vancouver Golf Tour, my scores as an am, I was finishing in top-10, top-15 in the pro division. That really gave me a boost of confidence. That kind of set my mind to going pro soon."
"I figured I was ready to get to the next level, physically, strength-wise and attitude-wise," after watching PGA TOUR player Nick Taylor for a few holes in the same event where he finished four back of Taylor and five behind the event winner over 36 holes.
In five years of competitive amateur golf, having decided against chasing that professional hockey career even after being recognized as an elite athlete early on in that sport, Wilson competed in 57 international golf tournaments plus a large number of Canadian competitions. He was the youngest player in both the 2019 Irish Men's Open Championship and the Southern California Open (a pro event which he qualified for as an 18-year-old amateur). During the amateur stage of his career, Wilson carded 13 wins and 13 top-five finishes.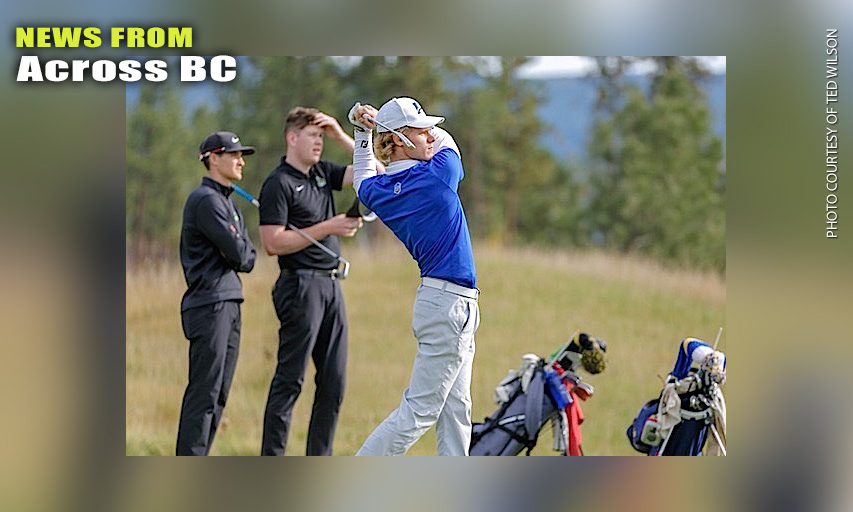 Cole Wilson Made His First Pro Event A Tie For First On The VGT.
Of course, pro golf is an entirely different game than the amateur end of things. Wilson knows that, so for now it's going to be a slow, and he hopes, steady climb up the professional ranks.
"You've got to start somewhere and the Vancouver Golf Tour is a great place to play. It's an introductory level to professional events. It gives you proper experience against guys who have actual status on PGA TOUR Canada. It's just having confidence to know my body, strength-wise and capability-wise, are already at the top level. Now it's just being able to combine that with learning how to score in a professional setting."
From those many amateur experiences he notes he takes away a lot of things which will help in the pro world. "It just boils down to confidence and having mental references," he began. "You have to experience, what people say, quote-unquote, choking in a final round and losing. That's not choking. You're building references, bookmarks, to know when you encounter those same situations how to deal with them."
The one thing that doesn't seem to faze this young gun are the challenges that lie ahead of him in the pro world of golf. Rather, he sees those as growth experiences and he welcomes them as they come. "It's about embracing those challenges and the opportunities that come with them. It's about growth. When I fail, I learn lessons and that's part of it. I'm going into this with the mentality of embracing it and I'm really looking forward to it."
After five or six events on the VGT, Wilson plans on heading south to look at earning status on the PGA TOUR Canada on the Gold Course at the Wigwam Resort in Phoenix, AZ.
The First Event 'Win'
As mentioned earlier, Wilson started his pro career in the best way possible, earning a share of first-place money on the VGT. The unsettled weather actually played into his hands and showed a maturity not often seen in young athletes in a new role.
"It was actually snowing on the front nine!" he proclaimed. "The first nine holes it was tough to get birdie putts to the hole. The greens were half white and they were sticky and it was plus-2 (degrees Celsius). Our back nine turned out to be five or six degrees but no wind the entire day. It put a premium on controlling your mindset and emotions," something Wilson excels at.
"The best way to put it, whenever people can make excuses with the weather, that's when I play my best. I know I can eliminate some of the competition because they're not mentally in it. I just get down and dirty and just get it done. Execute." 
As for the tie for first, Wilson saw Nathu drain a long putt for the tie as they were paired together. "He made a 20-footer for birdie to tie me, and I was inside him, but I actually burned the edge," of the cup to end up tied. "Fair play to him (Nathu) for having to do what he had to do to get it done."
Wilson said he wasn't disappointed to miss out on the outright win. "At the end of the day, I was happy. I controlled what I could and the 'uncontrollables' are how your competitor scores. This definitely shows I made a good decision to turn pro!"