2021's Newest Golf Products To Whet Your Appetite
Details

Category: Inside Golf
Published: 2021-02-23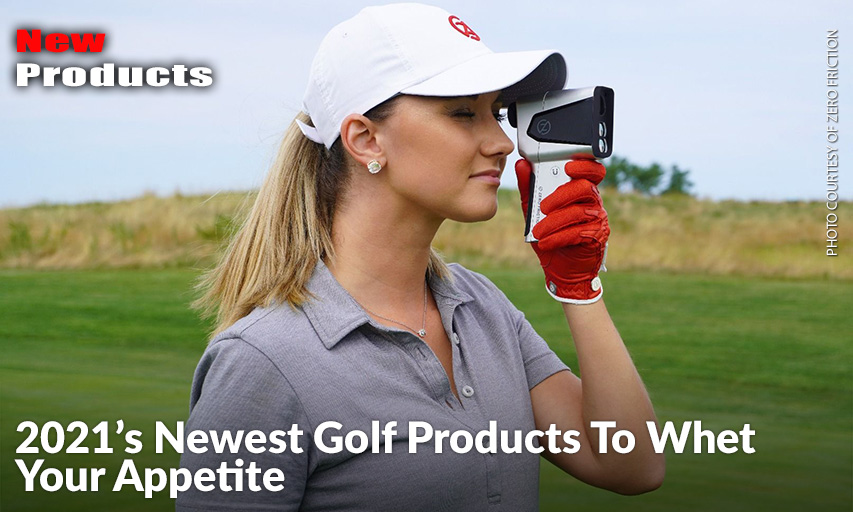 By DR. BARRY LOTZ, Inside Golf
As golf continues to thrive and more golfers pick up clubs, players are on the lookout for new products.
These products are really there for your game improvement and enjoyment. Have fun!
With the PGA of America announcing that distance-measuring devices are permissible at three of its major championships beginning this year, below are two products we highly recommend.
---
Zero Friction's Laser Pro SM Rangefinder with Slope and Magnet
$253.96 (on Amazon)
www.zerofriction.com
Zero Friction is widely known for its one-size compression fit gloves and the DistancePro™ GPS Glove. Zero Friction provides high-quality, technologically advanced products for golfers worldwide, including gloves, performance golf tees, balls, accessories, and now laser rangefinders.
As opposed to the more common and heavily marketed GPs distance finders which provide approximate distances only, a laser devise provides accurate and precise distances.
The well-deigned and aesthetically pleasing Zero Friction Laser Pro SM comes with a pistol shape rubber handle grip, making it very simple to get yardage for your next shot. Compared to competing range finders that one holds with your thumb and forefinger, the comfort and ease of use is way ahead of any similar product offering.  Simply aim and click, and the exact distance appears on an easy-to-read LCD display magnified 6X. The unit vibrates when locked on distance. BTW, the handle is magnetic so easy reach and placement are additional advantages.
Measurements can be in yards or meters, there are scan and pin lock modes, and an easy to read LCD magnify of 6x. Additionally, the unit weighs 6.5oz, 182g, operates with a CR2-3V battery and a carrying case included. Lastly, also included is the global Zero Friction app with over 36,000+ courses worldwide.
The Laser Pro SM includes slope functionalities, and a magnet that attaches to the golf cart for easy access. Slope technology takes into account any increase or decrease in elevation to the target (in degrees) when providing the distance to the target (slope adjusted distance = distance + height). For example, a target which is 156.8 yards away but 7 degrees uphill will actually play 176.8 yards – a difference of 20 yards and potentially a change of club.
When slope technology is active, the adjusted distance will be displayed alongside the elevation change (in degrees) below the crosshair. You will still see the normal distance to the target displayed above the crosshair, so you can compare the two. In the example below, the standard distance to the target is 96.7 yards but the adjusted distance taking the -3 degree drop into account is 91.5 yards. Our testing group found that it was very easy to lock onto flagsticks around 200+ yards.
According to John Iacono, Zero Friction Founder, "We wanted to be in the laser business, but didn't want to make another 'me-too' palm-held unit. What we really wanted was a pistol-style grip. It's simple to use. It's much easier to hold steady in your hand than a unit that sits in your palm. It vibrates when it locks in on the target. So we ended up with exactly what we wanted: A unique product with impressive technology that fits our brand."
---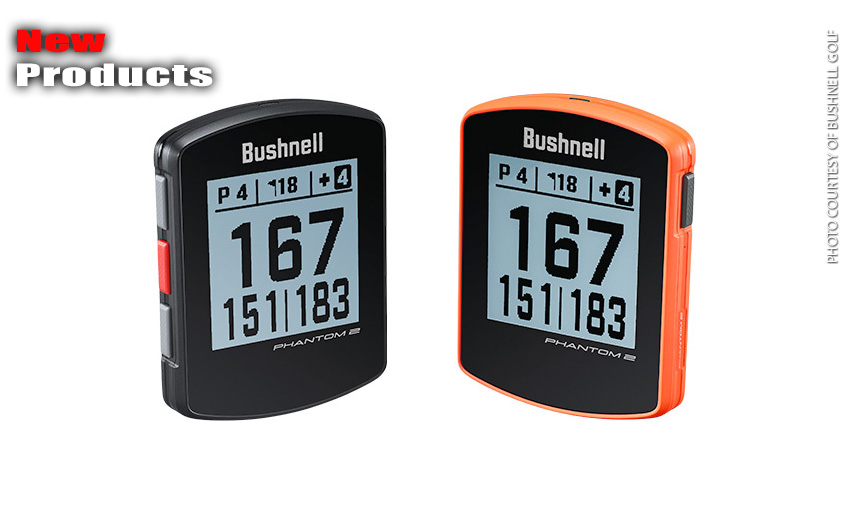 Bushnell Golf Phantom 2 GPS
$129.99
www.bushnellgolf.com
The Phantom 2 has evolved with numerous upgrades from its predecessor.
Introducing GreenView distances with movable pin placements for more accurate distances, the Phantom 2 now offers "Dynamic Green Mapping," to provide distance measurements based on a golfer's line of play.
The Bushnell Phantom 2 is preloaded with more than 38,000 courses – along with up to six hazard/layup distances per hole. The Phantom 2 has upgraded "BITE Technology," an integrated, high-powered magnet that allows golfers to easily attach the device directly on a cart bar, providing quick and easy yardage readings with 40% larger text.
Additional features include auto course and auto hole recognition, shot distance calculator and a battery life of eighteen-plus hours. "Bushnell Golf prides itself on providing easy to use distance measuring devices for golfers of all skill levels, and the Phantom 2 delivers the simplicity and convenience golfers are looking for in a measuring device," said William Flood, Global Product Manager at Bushnell Golf. "Phantom 2 provides golfers with the critical distance information they need, while offering the convenience and reliability they are accustomed to from Bushnell Golf GPS products." Bushnell Phantom 2 Page also integrates the Bushnell Golf Mobile App.
The Phantom 2 uses the app to provide all course updates and additional course information to arm golfers with the confidence needed to hit accurate shots into greens.
The Phantom 2 is offered in four colors –Gray Camo, Neon Orange, Bright Royal Blue and Black – and will be available at retail in late April.
---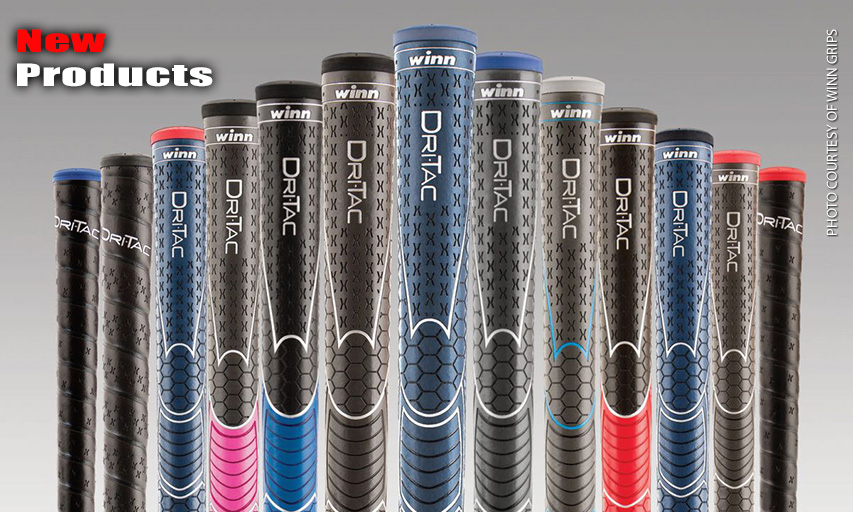 WINN Grips
www.winngrips.com
A better grip means a better game.
Winn was the first manufacturer to bring premium polymer golf grips to golfers. Their Winn Pro X and Jumbo Pistol Lite, have been developed by possibly the most advanced grip technology - WinnLite Technology.
Their USP (Unique Selling Proposition) is that lightweight compressed foam (EVA) is used instead of heavier rubber to produce the underlying portion of the grip (under listing) which in turn results in a 40-50% grip weight reduction.
This translates into enhanced club head feel for increased distance control. Additionally, these grips help stabilize your stroke by minimizing wrist movement.
Also setting Winn apart from its competitors, is both their Spiral Wrap and hybrid grip technology - Winn's original and still very popular wrapping methodology. As to the AVS single vertical seam construction, spiral wrap technology uses a long, narrow strip of polymer that is hand-wrapped onto the grip. This provides a unique contoured feel for ultimate tackiness and comfort. AVS Technology features no overlap of material and a virtually seamless appearance and feel!
Their Hybrid grip technology merges multiple grip materials to achieve a unique and improved feel in each hand on the grip. With DuraTech, Winn created the first ever rubber/polymer hybrid grip made with Winn's proprietary Elastom ETX rubber compound. They combined the best attributes of rubber (durability & responsiveness) and polymer (comfort & tackiness) to develop a grip, such that all our testing group felt that they had exceptional feel and performed better than their current grips of choice. The bottom line is that DuraTech is phenomenally durable, slip resistant and is an all-weather performance grip.
Standard, mid-size and oversize grips are available for both men and women in a variety of models – drivers, hybrids, irons and putters. Also available are 2-piece round putter grips.
If shock absorption is a concern, I suggest their ultra-soft Excel grips which absorb the most shock,followed closely by their Performance Comfort grips - Dri-Tac & Dri-Tac Wrap Lite. Also, their midsize and oversize grips, by virtue of their large size, provide more shock absorption than their standard size grips.
Winn now offers grips in 3 categories – Ultra Soft (Excel Series), Performance Comfort (Dri-Tac, Dri-Tac Wrap Lite) and Responsive (DuraTech, WInnPro). Their 'Responsive' grips have been reformulated over the past two years and are worthy of consideration if you prefer a more firm but still tacky feel.
There are so many different models, so visit your local club fitter and see what works best for you.
Prices range from $7+ for a single grip and around $100+ for 13 piece bundles/sets.
---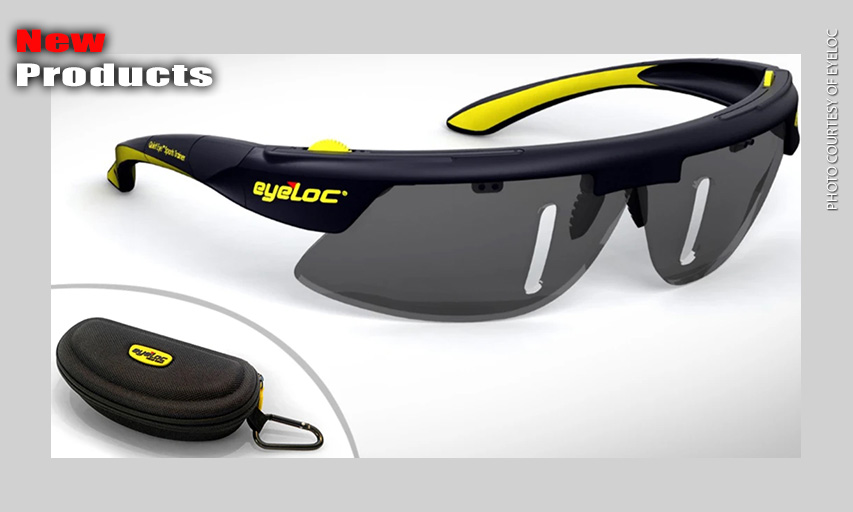 EyeLoc Quiet Eye Sports Glasses, Golf Training Aid
$49.95
www.eyeloc.com
One of the fundamentals of playing good golf is keeping a steady head position, and probably the easiest way to maintain proper positioning is keeping the proper eye focus—on the ball.
EyeLoc Quiet Golf Glasses are designed primarily to be used on the practice green, but can also be worn for practice purposes during non-competitive rounds. Similarly, indoor use on a putting mat or carpet is another option.
Many golf instructors use various techniques to keep their student's head in the proper alignment, but one of the more simple and useful tools we have found is the EyeLoc Quiet Golf Glasses—sunglasses with adjustable eye slits over each lens, designed as a training aid to keep players eyes locked on the ball.
By adjusting the patented sliding lenses, two vertical lines can be adjusted to your exact Pupillary Distance, showing one laser-sharp line over the ball. The slightest head or eye movement can be detected by the user during a swing or putt, because the ball will move outside of the visible line. The moveable lenses can be adjusted to provide a wider or narrower line for the ball.
These glasses are based on simple concepts that are vital to the golf swing and extremely easy to use for putting, chipping and even the full swing to keep your head steady and your eyes down. It is amazing how many putts you can make with a still head, and even though chipping and full swings require some movement in the backswing, these glasses help you get back to your proper alignment position on the downswing. You can also see what your head and eyes are doing throughout the swing.
"We are thrilled with the feedback we keep getting from most everyone who tries EyeLoc Quiet Golf Glasses," said Vinnie Lamorte, EyeLoc's inventor. "First words out of a first timer's mouth, 'WOW, I move my head that much?' Exciting to have invented such a simple training aid that can help so many golfers with that age old problem of keeping their head still. This is fun."
Feedback has been glowing from instructors that use EyeLoc Quiet Golf Classes, which can be purchased on-line and comes in a handy hard-shell case that clips to your golf bag—just like your regular sunglasses.
---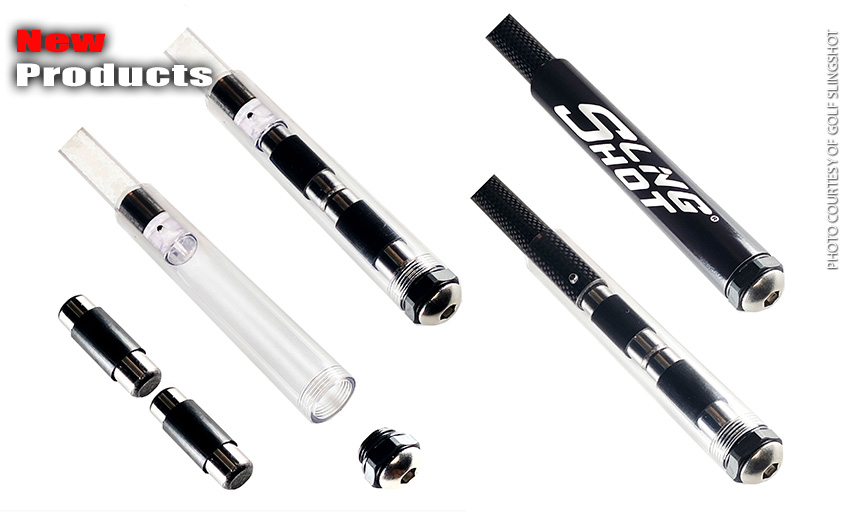 Golf Slingshot Swing Training Device
www.GolfSlingShot.com
The slingshot was introduced in November of 2020. It weighs 2 pounds and features a graphite shaft. Of the three similar products currently available, the GolfStickPro, (One club only), the SlingShot, and the Super Speed Golf training System (3 separate clubs), all with the same intensions of improving your tempo, increasing your ball speed, timing, flexibility and speed training, our group deemed the Slingshot to produce the best results.
Their main reason being that it is single club that adjusts to four different weights while providing audible, physical and visual feedback through-out your golf swing.
They also loved the aesthetics of the SlingShot over the two other models.
In a nutshell, the Golf SlingShot is designed to warm-up, condition and overspeed train with a single club that adjusts to (4) different weights while providing audible, physical and visual feedback through-out your golf swing.
The SlingShot will work with ANY overspeed training regimen that you choose.
The grip and barrel of the device act as the "Sling". An alloy steel bearing inside the barrel is the "Shot". The patent pending design releases the shot on a sudden burst of speed. If you swing SlingShot back erratically, the shot inside the barrel will "pop" before you get to the top of your swing.
This immediate feedback will help you hear, feel and see how to develop a "one piece take away". If you start your downswing by "casting" or releasing the club early, the shot inside the barrel will "pop" before the bottom of your swing.
Additionally, with the SlingShot, you hear, feel and see how to develop and hold lag with a smooth transition in your downswing, allowing you to "drop the club into the slot" for a consistent and powerful swing.
When your timing and swing sequence is good, the shot will "pop" at the bottom of your swing. Swing smarter, not harder! The Pro model works well at any swing speed but requires a smooth tempo. US and international patents pending.
The SlingShot will also help you from over swinging, hitting fat and thin shots, train you to avoid over the top swings (casting), and slicing and hooking.
Three models are available and all have the new upgrade from a weighted end cap to a CNC machined solid stainless steel billet cap:
All Star Model - 40" long, whip shaft, Polycarbonate barrel - $109
Pro Model - 45" long, whip shaft, Polycarbonate barrel - $139
Tour Model - 45" long, stiff shaft, Carbon fiber barrel - $189
---
About the Writer
Barry Lotz, J.D., Ph.D. is the director of the Professional Golf Teachers Association of America. He is a member of the Golf Writers Association of America, the California Golf Writers Association, and serves both as a Consultant and Mediator to the golf industry.
He is also the author of numerous books, including "333 Best Web Sites for Golfers" and "How to Build Business Relationships Through Golf," which is in the Top Ten Golf Business Book's best seller list. His latest book, "The Right Mind for Golf," is now in its 10th printing.
He currently works with 14 Tour Players on mental coaching and scoring techniques.
He can be reached at www.pgtaa.com or This email address is being protected from spambots. You need JavaScript enabled to view it..