New Season, New Owners, New Upgrades At Cattail Crossing Golf & Winter Club
Details

Category: Inside Golf
Published: 2021-03-10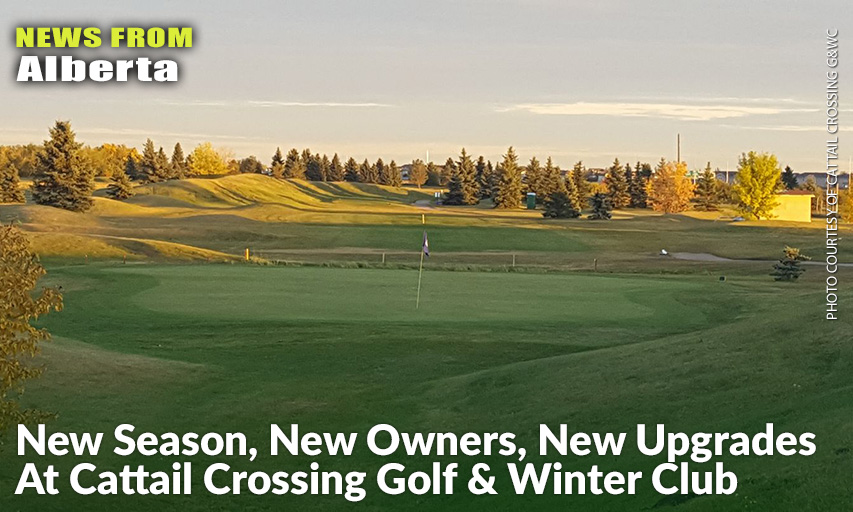 By GORD MONTGOMERY, Inside Golf
EDMONTON, Alberta — Every one involved with golf, whether as a player, a club professional, or a course owner, has high hopes come each spring. After all, it's a time for optimism and that's especially the case this year for the new operating/managing partners of the Cattail Crossing Golf & Winter Club (formerly Hunters Green Golf Club).
Speaking to taking over the operation on the northern end of Edmonton, co-owner Gord Schamehorn explained that plenty of work, and dollars, have gone into turning this 18-hole track into a year-round facility since it changed hands in November of 2020. Going forward, "the optics were right," and there was no hesitancy to put money into this project, he noted.
"Obviously, prior to COVID, golf was on a bit of decline so to answer your question about why anyone would want to get into the golf business, well, it's a passion," he proclaimed. "Passion for the game. I love the sport, the camaraderie it brings, the opportunity it brings tp play with friends and family. The Hunters Green course needed some work and we saw the opportunity for an underutilize hospitality centre that we've turned into two beautiful rooms, the Out of Bounds restaurant." To top that off, the former owner of The Hardware Grill in Edmonton has come on board as the executive chef at the club, meaning the food offerings will be top-notch.
As well, the new dining area will also offer a huge space for large gatherings, "once COVID goes away," Schamehorn commented. "That room backs onto a lake with huge patios. We're now set up for corporate tournament events, weddings, and we can cater to all sorts of events."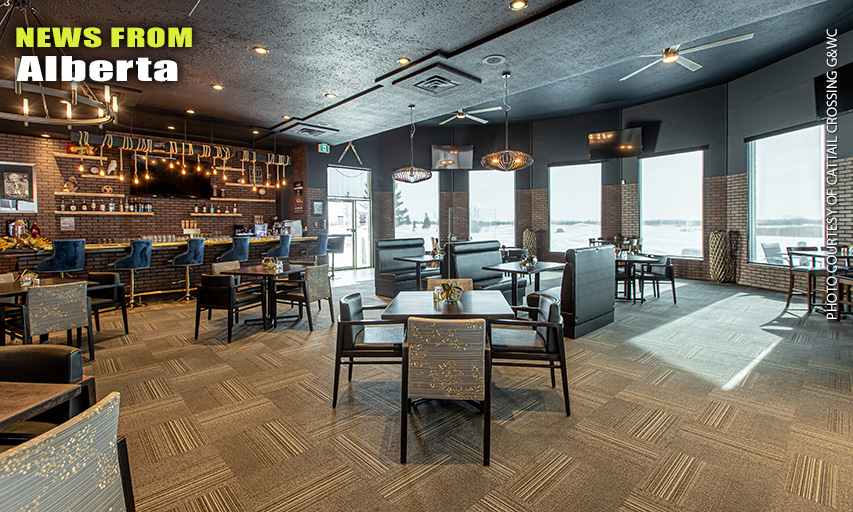 The New Ownership Group At Cattail Crossing Have Spent Lots To Bring The Out Of Bounds Restaurant, And A Larger Banquet Area Up To Their High Standards, With Hopes Of Hosting Tournaments Again This Year. The Eating Areas Are Year-Round Facilities.
In the renovation work, the pro shop was also brought up to speed and a space for simulator play has been added for cold-weather play indoors.
Outdoors, there has also been a lot of work done on the course, especially in some major problem areas.
"Where I think we're really going to shine is on the course itself," Schamehorn continued, getting down to why most people head to a golf course - to golf. "What's unique is that the partners that came to the table own a large landscaping company and also a directional drilling company. What we did was survey the whole course because for years there were considerable drainage problems where four holes were almost under water."
To alleviate that issue, catch basins were installed that lead to the course's aqua feeders, in this case a lake that is on the property as well as an area across a major roadway. "All the water now flows to those aqua feeders and we have remedied the drainage areas that hampered the course for many, many years."
He continued, "We've added tee boxes on just about every hole," both lengthening the course and then adding spots for kids to tee it up further down the fairways closer to the greens. "We're adding more trees and letting the fescue grasses grow to make it more challenging."
As well, the new ownership group has brought in a fleet of new power carts with GPS, so everyone can navigate their way around the track regardless of where the odd mishit shot may end up.
The former green sites remain, and Schamehorn pointed out that new bunkering will be added around some putting surfaces. "But since we took over the operation in November nothing could be done, but those will be coming."
As well, a member of the PGA of Alberta, Adam Pederson, has been added as the club's director of golf, a space that was vacant in the past. "We wanted to bring in a pro because it gives us the opportunity to have a teacher. One of our priorities is junior golf, a way to make the game stronger by reaching out to younger people. It's a credibility factor too, having a pro running your operation."
Another highlight the new ownership group has brought into play is the Kids' Club. While it's not a daycare, per se, it's a space kids can go and enjoy the game, or other sorts of games, while their parents are out beating up the grass. "Our guests and member will have the ability to book their kids into this. It will be staffed," and the kids will have access to their own driving range, putting green, and even lessons. There is a fee for the Kids' Club services but many parents will find it well worth the cost which will be "nominal," said Schamehorn.
To enhance business once the season gets underway, Cattail Crossing will be offering a special pricing event every night of the week. To begin with, there will be an introductory Spring Offer, which will run for about a month. After that, On Monday, it's Junior Nights with special rates; Tuesday is Uniform Night with special pricing for military, police, fire, first responders and front line workers; Wednesday is Wine and Ladies Night; Thursday is Men's League; Friday is referred to as Date Night, where "You can play nine (with power cart), dine and enjoy a bottle of wine for one-oh-nine ($109)," per couple; Saturday will be Glow in the Dark Night a couple of times a month or a Long Drive Contest for charity; and to wrap things up on Sunday, it's Industry Night.
With the pandemic now starting to wane, the excitement for the upcoming golf season is high, especially at Cattail Crossing, where the owners are looking to build on the momentum seen last year in the golf industry.
"We know golf had a resurgence last year and everything we've been told so far is that we're anticipating another busy year," said Schamehorn. "What we're really hopeful for, with the vaccines here and (pandemic) cases dropping is good news with tournaments. We are a very tournament-focused club. The hope is to get back to double shotguns with a banquet after," at a golf course that has gone above and beyond to show they mean business in the world of golf.
For more about Cattail Crossing Golf & Winter Club, go to their website www.cattailcrossing.ca or give them a call at 780-973-6686.