Tony Davis, Mortgage Broker With Vine Group – Mortgage Alliance Is VGT's Latest Official Sponsor
Details

Category: Inside Golf
Published: 2021-06-03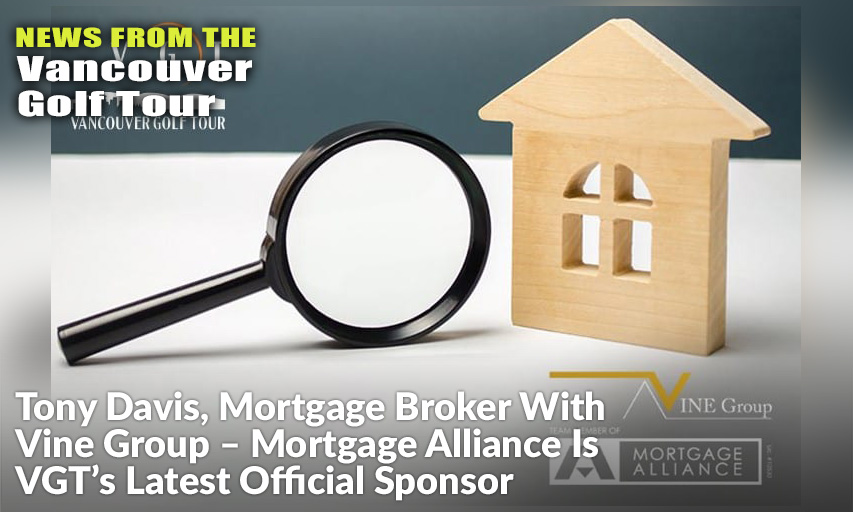 Vancouver Golf Tour (VGT) is proud to welcome Tony Davis, Mortgage Broker with Vine Group – Mortgage Alliance, as its latest OFFICIAL SPONSOR for the 2021 season. Through this sponsorship, Tony Davis will provide prizing for VGT Tournaments, sponsor a corporate team in a VGT Pro-Am event and provide onsite marketing and activation at VGT Tournaments and events as an official sponsor.
"We are so grateful having a well-known and trusted Mortgage Broker like Tony Davis of Vine Group – Mortgage Alliance supporting the Vancouver Golf Tour" stated VGT Commissioner Fraser Mulholland. "Tony will help us build a strong foundation for the long-term success of both our operations and provide thousands of golfers a solid platform to achieve success, which directly parallels what Tony does every day for his clients."
Tony Davis, Mortgage Broker with Vine Group – Mortgage Alliance, added: "I am proud to be involved with the VGT through an Official Sponsorship, and to be able to provide local golfers with an opportunity for top-level competition and to develop their game."
---
ABOUT TONY DAVIS, MORTGAGE BROKER
(VINE GROUP – MORTGAGE ALLIANCE)
Mortgage financing can be complex, and it helps to have a partner on your side to save time, money and alleviate stress throughout the multifaceted lending process.
Tony Davis, Mortgage Broker with Vine Group – Mortgage Alliance, brings financial solutions and advice on Residential and Commercial Financing.
Tony's #1 priority is to provide his clients with honest guidance that allows them to plan for today and build for tomorrow. He believes that every client deserves the best care and service when it comes to their financial needs and goals.
At Vine Group, we're in the People Business, we just happen to do mortgages.®
Tony Davis Vine Group – Mortgage Alliance
1032 Pacific Boulevard, Vancouver, BC V6Z 3A3
Email This email address is being protected from spambots. You need JavaScript enabled to view it.
https://www.vinegroup.ca/tony-davis
Ph. 604.831.3141
ABOUT VANCOUVER GOLF TOUR
The Vancouver Golf Tour (VGT) was developed in 2006 for BC's local Professionals and Amateurs (Handicap of 0-18) – giving them the opportunity for a high level of competition in a PGA Tour-like environment without the heavy expenses of travel. VGT's goal has always been to provide local players the opportunity to learn how to win while at the same time building their confidence to play on Worldwide Major Tours. For more info, visit vancouvergolftour.com.
Vancouver Golf Tour Media Contact
Fraser Mulholland, President & Commissioner
Email: This email address is being protected from spambots. You need JavaScript enabled to view it.
Web: vancouvergolftour.com
Twitter: @VancouverGolf
Facebook: /Vancouvergolftour
Instagram: @vancouvergolf
Ph: 604.980.4653