McIlroy On Board With Ban On Green Reading Books
Details

Category: Inside Golf
Published: 2021-06-23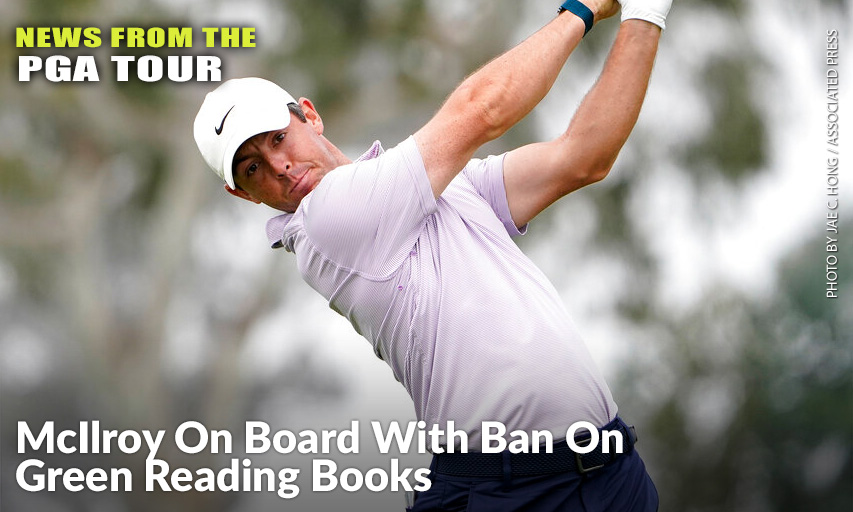 By TIM DAHLBERG, Associated Press
SAN DIEGO, California — Count Rory McIlroy in when it comes to banning the books players use to help them read greens — even though he uses one himself.
McIlroy, responding to reports the books carried by most players in their back pockets may be on their way out as early as this fall, said he believes reading the way greens break is a skill that should be part of the game. The books, he said, cut into the advantage good green readers have.
"I use a greens book and I'd like to get rid of them,'' McIlroy said. "If it's going to be available to us and it helps us, people are going to use it, but I think for the greater good of the game I'd like to see them be outlawed and for them not to be used anymore."
McIlroy's comments come in the wake of a report in Golfweek that the PGA TOUR's Player Advisory Council voted earlier this month to outlaw the books, a vote that will go to the full tour membership for final approval. McIlroy is chairman of the council and made clear his position is that the books should be taken out of the game at the highest level.
"It's not that it's an advantage really, it's just taking away a skill that takes time and practice to be mastered,'' McIlroy said. "I think reading greens is a real skill that some people are better at than others and it just nullifies that advantage that people have.''
The books have also come under criticism for contributing to slow play, something McIlroy said should also be taken into account by players.
"It might make practice rounds a little longer and you might have to do a little more work,'' he said. "But I think once we get to the tournament rounds it will speed up play and I think it will help the guys who have really done their homework, it will help them stand out a little bit more.''