Four Applicants Meet Rivershore PAT Target Scores
Details

Category: Inside Golf
Published: 2021-06-23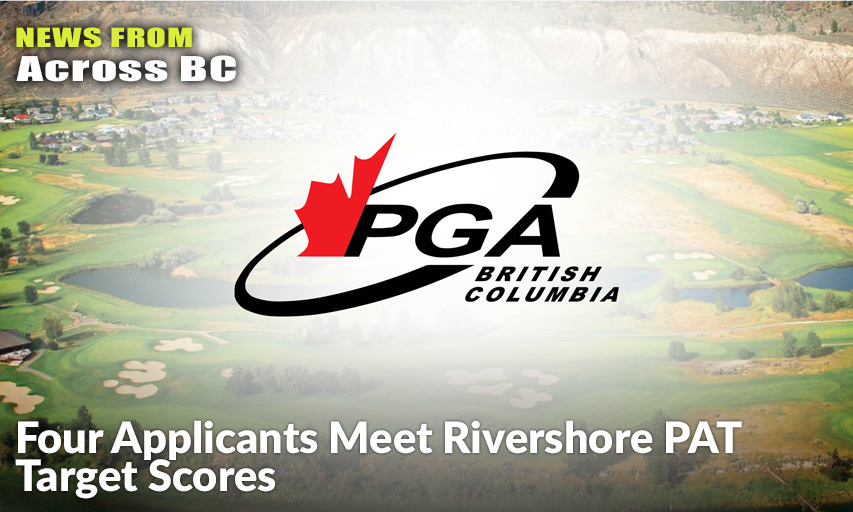 KAMLOOPS, British Columbia — Four participants in the PGA of BC Playing Ability Test (PAT) held at Rivershore Golf Links were successful in meeting their respective target scores.
Wednesday's PAT featured 21 men and women hopeful to achieve a predetermined score relative to the course rating based upon their age and gender, which is a prerequisite of becoming a PGA of Canada Professional.
Target scores based upon age and gender for the participants were as follows:
Men aged 49 & younger: 80
Women aged 49 & younger: 84
Congratulations to the following applicants who were successful in meeting their PAT target scores, listed alphabetically:
Curtis Cowx (The Redwoods Golf Course)
Sean Douglas (Cheam Mountain Golf Course)
Christopher Ro (Golf Town North Vancouver)
Winnie Yun (Fort Langley Golf Club)
By demonstrating their high standard of golf skills over 18 holes, each of the four successful applicants took an important step toward achieving membership as an Apprentice Professional within the PGA of Canada.
Click here to view final results.
As this event served a process in employment-related certification, the Association determined it to be a work-related function for the purpose of essential travel. However, Wednesday's PAT observed a number of precautions to safeguard participants, PGA of BC administration team members, and patrons and staff at Rivershore Golf Links due to continued public-health circumstances.
The PGA of BC will be administering up to three more PAT opportunities during the 2021 season, each to take place in a different region of the province. The next scheduled PAT is set for June 21 at Arbutus Ridge Golf Club, which has now reached capacity. Further PATs are planned for July 13 at Fairmont Hot Springs Resort and Sept. 7 at Belmont Golf Course.
Current and prospective applicants may visit www.pgaofcanada.com/join for full details on how to become a member of the PGA of Canada, or to find information and registration links for upcoming PATs.