MJT Mini Tour Resumes With Successful Musqueam Stop; Zhao Wins Playoff
Details

Category: Inside Golf
Published: 2021-06-23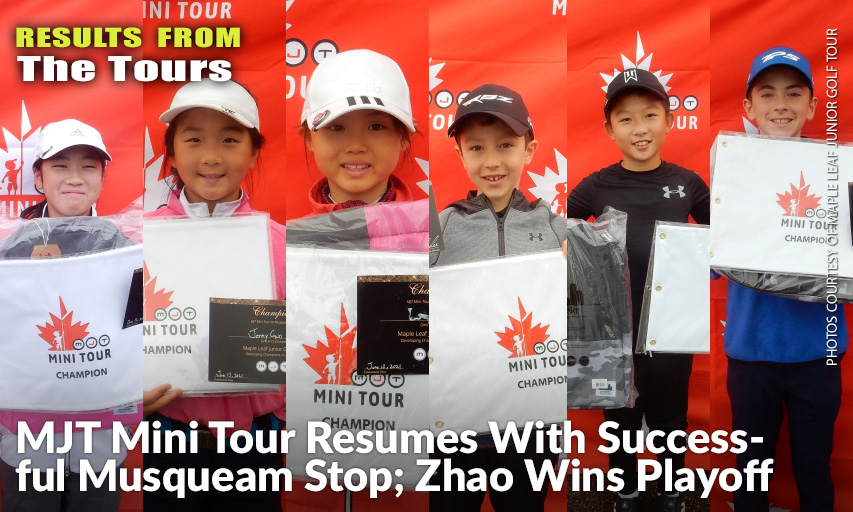 VANCOUVER, British Columbia — After almost two months with no golf competition due to COVID-19 restrictions in BC, the Maple Leaf Junior Golf Tour was able to safely resume its 23rd season on June 13th with the MJT Mini Tour at Musqueam Golf Course in Vancouver. "It's been a long pause here in BC," commented Sadiq Jiwa, MJT Marketing and Communications Manager. "We still have to follow guidelines to keep everyone healthy and safe, but it's amazing to have the kids back on the golf course competing against one another and playing the game they love."
Young golfers aged 12 and under played 18 holes of golf in rain and wind, competing for titles in six age divisions on Canada's number-one played junior golf tour. Excitement ran high in the MJT Boys 9-10 Division which needed extra holes to crown a winner between 10-year-olds Gordon Chen, of Port Moody, and Tiger Zhao, of Vancouver. With both players firing rounds of 64 on Musqueam's par 60 course to force a playoff, Zhao was the one who finally came out on top to take the winner's title. "I feel great to win again on the MJT Mini Tour," he commented, being no stranger to the top of the MJT leaderboards. "In the playoff, I made a 20-foot birdie putt and I chipped in. I had lots of fun and it was great to be back playing."
Cici Liang in the MJT Girls 11-12 Division shot the low score to win her division title. The 11-year-old golfer from Vancouver fired 62, making two birdies to win by six shots. "It was the first time that I won a tournament," commented Liang. "I enjoyed playing with my group and coming out with a win."
Also picking up his first career MJT Mini Tour victory was 12-year-old Troy Gadalla, of Vancouver, who recorded a score of 64 in the MJT Boys 11-12 Division, including making three birdies to win by two shots. "It feels really good to win this event because it's my first," commented Gadalla, who has been working hard through the break to improve his game. "It feels even better to get rewarded for my hard work." 12-year-old Jim Zhu, of Vancouver, shot 66 to take home second place.
The MJT Boys 8U Division saw a tight race at the top of the leaderboard with three players all finishing within one shot of each other. Emerging victorious with a chip-in on the 17th hole was seven-year-old Arthur Lawson. The Vancouver golfer is playing in his second season on the MJT Mini Tour and entered the winner's circle for the first time on Sunday. "The highlight of my tournament was chipping in on 17," commented Lawson, who shot 64. "I was fighting to win through very wet conditions." Eight-year-old Minxing Li, of Surrey, and seven-year-old Jayden Yang, of Vancouver, finished tied for second place just one shot behind.  
Edging out victory in the MJT Girls 9-10 Division was nine-year-old Jenny Guo, of West Vancouver. Guo picked up right where she left off prior to the pause in play, firing a 69 and earning her second consecutive MJT BC Mini Tour victory. "It feels very good come out with the win," commented Guo. "I felt excited with butterflies in my stomach." Finishing second with a score of 70 was 10-year-old Grace Guan, of Vancouver, and third place went to 10-year-old Kathleen Dunn, of Surrey, with a score of 71.
In her first-ever MJT Mini Tour event, the Girls 8U Division witnessed seven-year-old Lucy Li, of Vancouver, shoot a 74 to win her first MJT Mini Tour title. Li had a stellar start to her round and stayed consistent for the rest. "I was excited the day before because this was my first tournament," commented Li, who was anxiously waiting to make her MJT debut. "I feel glad to win, it was really great." Rounding out the division in second place was seven-year-old Laura Zhao, of Vancouver, who shot 76.
Full results can be viewed here. The 12U season continues June 27 with the MJT Mini Tour at Cultus Lake Golf Club in Cultus Lake, BC. Details for the event and the upcoming BC Mini Tour schedule can be found on the website at www.maplejt.com.
---
About the MJT
The non-profit Maple Leaf Junior Golf Tour is Canada's number one-played Junior Golf Tour as well as the only national junior tour run exclusively by PGA of Canada Professionals and the 'Road to College Golf' in Canada. The organization is supported by valued Premier, Tournament and Product Partners. The MJT hosts close to 90 events across Canada, including free Ford Go Golf Junior Clinics, the MJT Mini Tour for 12U and multi-day events for competitive players aged 11-19 which also offer qualifiers for international tournaments. The program has annual awards, scholarships and incentives to help reward performance and participation throughout each season. MJT alumni include many Professional Tour players and PGA of Canada Professionals, as well as Canadian Amateur, National and Provincial Junior Champions. The MJT aims to develop champions, in golf and in life, promoting the game from grassroots through to the provincial, national, university and professional levels.