Largest Field Yet For Pro-Assistant Championship
Details

Category: Inside Golf
Published: 2021-06-30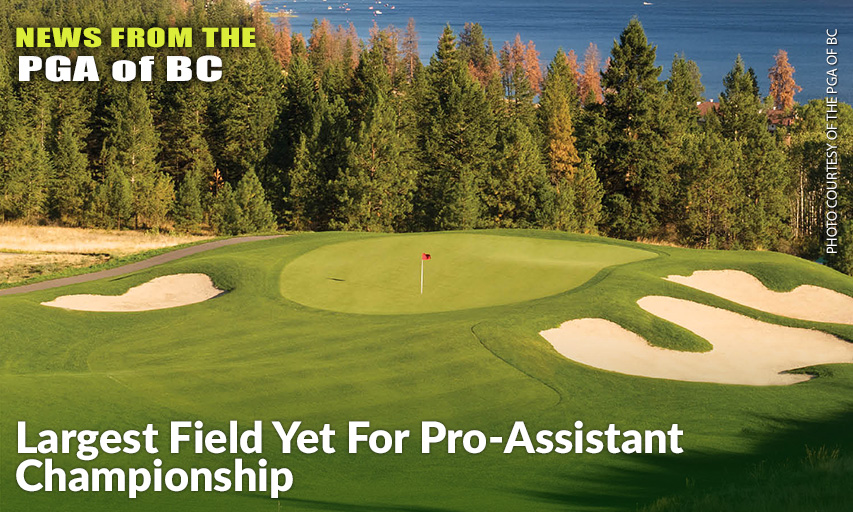 RICHMOND, British Columbia — When it tees off at Talking Rock Golf Course next week, the G&G Golf Company & Callaway Golf Pro-Assistant Championship will open the PGA of BC's tournament calendar for a second straight year. And while the annual team event is always a popular competition for PGA of BC Professionals, there's a heightened level of anticipation amongst the largest field the tournament has ever seen.
A total of 50 two-person squads – each comprised of one Club Professional (Head, Executive or Head Teaching Professional) and another PGA of BC member from the same facility – will take on the 36-hole event running Monday and Tuesday at the Chase resort. Teams play best-ball in Round 1 and a scramble format in Round 2.
"It's been such a long haul over the past year, not having as many travellers as we'd like due to restrictions, and obviously for us PGA of BC members not being able to see a lot of our peers at Association functions and events," said Talking Rock Executive Professional and General Manager Adam Blair. "So, it's exciting for the resort that we're getting to some form of normalcy and can welcome people back, showcase some of the changes that we've made and see a lot of friends and colleagues."
The capacity field means that teams will be playing for a piece of a purse exceeding $15,000, with the winning squad set to split a top prize of $2,600.
The pandemic forced the cancellation of early-season events in 2020, making the Pro-Assistant Championship the first tournament on the Association schedule. Although that competition at The Okanagan Golf Club looked quite a bit different than usual as the first PGA of BC event to be conducted under COVID-19 protocols, the result was a familiar one, as Fairview Mountain Golf Club's Brian McDonald and Rob Tadey picked up their second Pro-Assistant victory together.
"We're up to the challenge," McDonald said of he and Tadey defending their title against such a large field, which he's not surprised to see given the circumstances of the past 15 months. "Nobody has been able to travel recently or have an outlet, and obviously most Golf Professionals have been working really hard because the demand at their facilities has been up. The location of this event and the first-class golf course that it is… is a big draw and I think that's why the field is as full and as strong as it is."
Deep as the list of teams may be, it's no stretch to peg McDonald and Tadey as pre-tournament favourites given their history in the event. The duo first won the Pro-Assistant as a team together at their home facility in 2017, then posted back-to-back third-place finishes in between the two victories. Tadey rolled in birdie putts on the final two holes last year for the Fairview Mountain duo to beat out Northview Golf & Country Club's Greg Pool and Quinn Vilneff by two strokes.
"Rob and I do a pretty good job of not only playing our best, but bringing the best out of each other," said McDonald. "Even though we play as a team, we enjoy competing against each other and weirdly enough, that pushes us both to perform really well during this type of event because we're trying to beat each other first and foremost and the rest of the field secondly."
Though Tadey's putter was clutch down the stretch, it was a tee shot from McDonald on the back nine of the final round that became the key moment of last year's win. On the par-4 14th hole of the Quail Course, McDonald hit it to three feet for a tap-in eagle that closed the gap on the Northview duo.
"To hit that shot at that moment in time for me ranks up there, for sure, because Pool and Quinn were playing such good golf," he said. "It's not too often you pull a shot off like that when you really need it."
Talking Rock should be a friendly venue for the defending champs as well, especially as Tadey owns a share of the competitive course record – a 6-under 66 he posted a few years ago during an Interior PGA Tour event that was matched by Kevin Stinson (Cheam Mountain Golf Course) in the final round of the 2018 PGA of BC Championship.
"You're playing mountain golf so there's that risk-reward element," Blair said of the Graham Cooke and Wayne Carleton-designed layout. "But here, you can hit driver a lot, you can go after it a little bit, you can play the course. Everything is right out in front of you, nothing is tricked up or hidden that's going to bite you unexpectedly. There are opportunities out there if you're hitting it well and putting is at a premium here."
Blair agreed that McDonald and Tadey are "always scary" in this event, but he expects no shortage of contenders for the 2021 trophy, including the two other most recent Pro-Assistant champs.
"Alec Hubert and Ian Henson really play well here. They both play here a lot and are very familiar with the facility. I think they would definitely be a team to watch," Blair said of the 2019 winners from Kamloops Golf & Country Club. He also described 2018 winners James Presnail and Mark Kitts from Shadow Ridge Golf Club as "a formidable team," and picked out the Victoria Golf Club twosome of Lindsay Bernakevitch – a five-time PGA of BC tournament winner – and Mark Bicknell as another to keep an eye on.
"Mark played well here in the PGA of BC Championship a few years ago," said Blair, recalling Bicknell's third-place finish in 2018. "He loves this golf course, this is kind of his away-from-home getaway so when he needs a little break, he'll come out and see us and he knows the course well."
Meanwhile, Talking Rock will have two entries into the event for the very first time. Blair will team up with Lionel Taylor for the two days while Head Professional Nathan Grieve is partnering with Jeff Liddle, and Blair noted that in-house trash-talking between the two host teams has been well underway for some time.
The 100 players in the event will also be treated to a course in pristine condition.
"Superintendent Daryl Adama, him and his team are so excited to host this event," said Blair. "They love having PGA Professionals here and they love showing off their handiwork. The golf course is probably in some of the best shape I've ever seen it."
Serving as the host Professional is always exciting for Blair, but it's extra-special this time since he's in the first year of his term as PGA of BC President. He's the first sitting President to host a PGA of BC championship event in a decade.
"For me as President, it's exciting for me to be able to thank all of the Golf Professionals for their hard work and their dedication to our Association and the game of golf over the past year," said Blair. "I'm in a new role as GM of the resort as well so I'm excited to showcase not only the golf course to PGA of BC Professionals, but to host them in our rooms, for them to experience our food and beverage and spa, and we have a new patio that's opening right around that time. I hope we can take a little bit of the pressure of the season off and give them a couple of days to just unwind, enjoy themselves and relax for a bit."
Click here to view the tournament page with all event details and a list of confirmed competitors. Click here to view scoring once the tournament is underway.
 
PRO-ASSISTANT FAST FACTS
Talking Rock has quickly become a popular destination for the Pro-Assistant Championship, hosting for the third time since 2012. Fairview Mountain Golf Club, which has welcomed the tournament four times, is the only other facility to host more than twice.
 
In addition to the squads from Fairview Mountain, Kamloops and Shadow Ridge, 2008 and 2009 champions James Legault and Bryn Parry (Seymour Creek Golf Centre) will reunite this year for another run at the title. But the field will include several other past champions beyond those four duos. Russ Latimer and Tyrel Griffith (Black Mountain Golf Club) won the event together in 2014 but will lead separate teams as Club Professionals this year, partnering with Greg Forbes and Shane Pugliese, respectively for the Kelowna facility. Randy Smith, a 2007 champion for The Vancouver Golf Club, now serves as Head Professional at Sagebrush Golf Club and will tee off alongside Executive Professional Mark Strong. Kelowna Golf & Country Club's Rob Anderson took the title in 2010 with Ryan Matiushyk.

If any of these past champs went on to win, they'd be the first to capture Pro-Assistant titles with different partners, though Anderson has come close before by posting two runner-up finishes with 2021 partner Jamie Stevens in the past, including at Talking Rock in 2012.
 
The Fairview Mountain and Seymour Creek twosomes will both try to become the third team with a trio of Pro-Assistant crowns. Daryl Stubbs and David Bolton were the first to reach three titles (2001, 2003 & 2005), while Jeff Buder and Trevor Hay also scored a hat-trick of Pro-Assistant wins (2006, 2007, 2011).

"When I grew up in Kitimat, Dave Bolton was the big hero up there because he was going to the University of Portland and was sort of the golf star of the town," said McDonald. "It would be kinda neat to match his record."
 
The Fairview Mountain team is also trying to become the first to earn consecutive victories in the event since Legault and Parry went back-to-back in 2008 and 2009.
 
The gross scoring record of 121 has been achieved twice, most recently by Presnail and Kitts in their 2018 triumph. McDonald and Tadey own the low mark relative to par at 22-under, set in 2017.
 
This year's 50-team field surpasses the previous high of 49 squads from the 2005 Pro-Assistant Championship at Morgan Creek Golf Course.
 
Look back on all past editions of the event by visiting the Pro-Assistant Championship page in the PGA of BC Championship History hub. 
---
About G&G Golf Company
Based in Langley, BC, G&G Golf Company is a leading wholesale supplier to the Canadian golf and corporate promotional industries. Since Gord German founded the business in 1991, it has continued to evolve and to this day remains proudly family-owned, with daily operations being carried out by Brad and Jessica German. G&G offers over 20 top-quality brands, two national sales forces and a best-in-class customer-service team to support over 1,500 active accounts across Canada, the USA and Australia. In its 30th year of business, G&G continues to share its collaborative formula for success with its current and prospective customers, suppliers, and employees alike. Welcome to the Family. Learn more at www.gandg.ca.
About Callaway Golf
Through an unwavering commitment to innovation, Callaway Golf Company (NYSE:ELY) creates products designed to make every golfer a better golfer. Callaway Golf Company manufactures and sells golf clubs and golf balls, and sells bags, accessories and apparel in the golf and lifestyle categories, under the Callaway Golf®, Odyssey® and OGIO® brands worldwide. For more information, please visit www.callawaygolf.ca and www.OGIO.com.