Two Playoffs Highlight Heat-Shortened MJT Mini Tour At Cultus Lake
Details

Category: Inside Golf
Published: 2021-07-06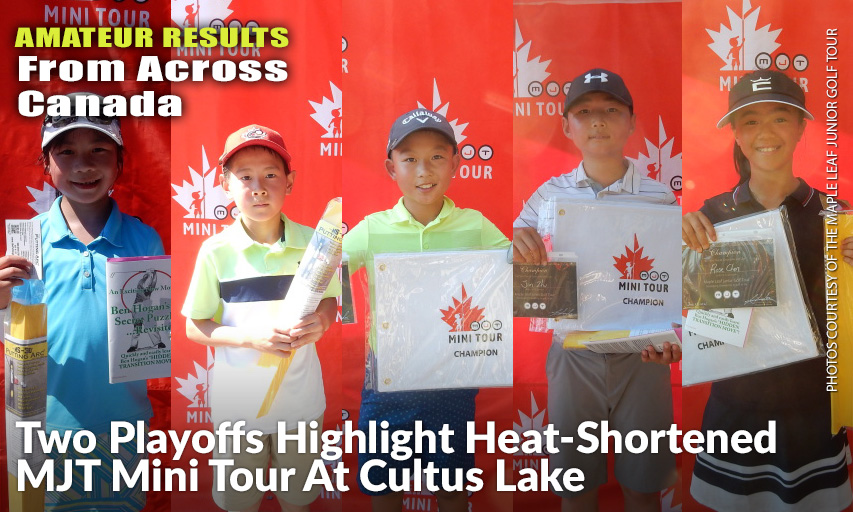 CULTUS LAKE, British Columbia — With temperatures soaring above 41 degrees Celsius, a field of talented young golfers between the ages of six and twelve competed for titles in six divisions on the Maple Leaf Junior Golf Tour at the MJT Mini Tour at Cultus Lake Golf Club in Cultus Lake, BC, June 27. Due to the unusually hot temperatures, the MJT Tournament Committee shortened the original 18-hole competition to nine holes for the players.
The MJT Girls 11-12 Division needed extra holes to determine a division champion. After nine holes of play, 12-year-old Rose Chen, of Langley, BC, and 12-year-old Yeeun Kwon, of Vancouver, BC, finished tied with a score of 34 (+2). Through four extra playoff holes, Chen's consistency led her to victory at Cultus Lake. "I had a lot of fun playing with Yeeun in the playoff," commented Chen.
A three-way playoff took place in the MJT Boys 9-10 Division between 10-year-old players Tiger Zhao, of Vancouver, BC, Ryu Shiina, of North Vancouver, BC, and Lucas Zhang, of Surrey, BC. After Shiina and Zhao tied with par after the first playoff hole, Zhang took home third place in the division. After four extra holes of play, Zhao emerged victorious picking up his second MJT Mini Tour win of the season. "I stayed positive and I had lots of fun," commented Zhao. Shiina had to settle for second place.
The low boys score of the competition went to 12-year-old Jim Zhu in the MJT Boys 11-12 Division. The Vancouver, BC, golfer has put on a string of impressive play over the last couple of weeks on the MJT, picking up wins at both Cultus Lake on the Mini Tour and at Hazelmere Golf and Tennis Club on the Junior Tour. Zhu recorded a nine-hole score of 33 (+1) to edge out victory over the 2020 defending champion, 11-year-old Tyson Valk, of North Vancouver, BC. "I feel great winning back-to-back," commented Zhu. "I've worked hard with the help from my coach and my family."
Only two shots separated the top three players in the MJT Girls 9-10 Division. Coming out on top with a score of 37 was 2020 MJT Mini Tour National Champion Kathleen Dunn, 10, of Surrey, BC. "The conditions were very hot," commented Dunn, who braved through the heat at Cultus Lake. "I was excited to win on my favorite tour." Nine-year-old Jenny Guo, of West Vancouver, BC, recorded a score of 38 to finish in second place while 10-year-old Satnam Gill of Surrey, BC, fired a score of 39 to finish in third.
Seven-year-old Jody Li, of Burnaby, BC, shot a great low round of 32. Li played very consistent golf making one birdie and one bogey in her nine holes. "I am very excited because this is my first time winning," commented Li, who earned her first MJT Mini Tour title.
Seven-year-old Ziping Chen, of Surrey, BC, edged out the victory in the MJT Boys 8U Division. Chen recorded a nine-hole score of 38 to win the division by one shot. "The key to my win was my putting," commented Chen, who saw some success on the greens at Cultus Lake. Eight-year-old Ray Chen, of Port Moody, BC, took home second place with a score of 39.
Full results can be viewed here. The Saskatchewan 12U circuit next heads to Chilliwack on July 15 for the MJT Mini Tour at Cheam Mountain Golf Course. More details can be found at www.maplejt.com.
---
About the MJT
The non-profit Maple Leaf Junior Golf Tour is Canada's number one-played Junior Golf Tour as well as the only national junior tour run exclusively by PGA of Canada Professionals and the 'Road to College Golf' in Canada. The organization is supported by valued Premier, Tournament and Product Partners. The MJT hosts close to 90 events across Canada, including free Ford Go Golf Junior Clinics, the MJT Mini Tour for 12U and multi-day events for competitive players aged 11-19 which also offer qualifiers for international tournaments. The program has annual awards, scholarships and incentives to help reward performance and participation throughout each season. MJT alumni include many Professional Tour players and PGA of Canada Professionals, as well as Canadian Amateur, National and Provincial Junior Champions. The MJT aims to develop champions, in golf and in life, promoting the game from grassroots through to the provincial, national, university and professional levels.