BēKEN Golf Releases Their New Product BēKEN, The Original Off-Fairway Golf Ball Marker To Help Your Golf Game
Details

Category: Inside Golf
Published: 2021-07-06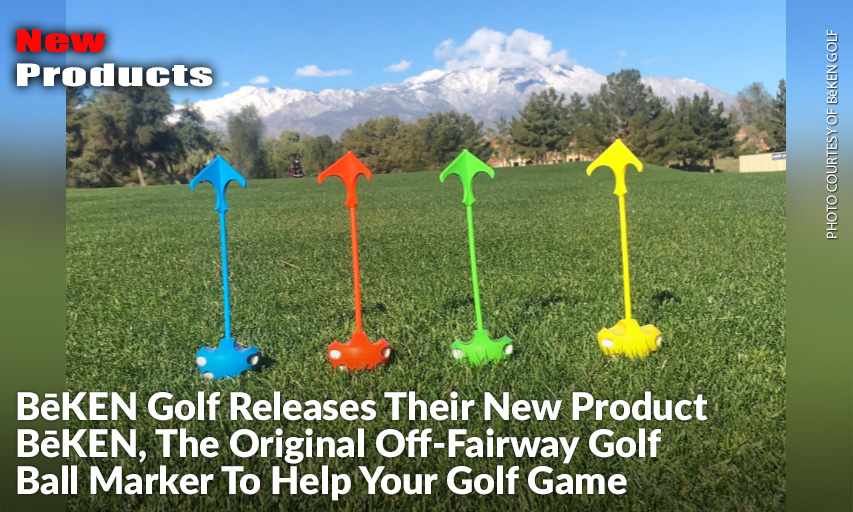 BēKEN Golf releases their new product BēKEN, the original off-fairway golf ball marker. No more wasting time searching for your golf ball that your partner already spotted on the course. The BēKEN is very easy to use and it is helpful for your golf game.
The BēKEN has fantastic features that include the choice of 5 bright colors from blue, green, yellow, orange, and pink for visibility and a 8-inch height to sit high above the grass. It has a weighted base to remain upright. There are two channels in the base to act as a club handle and cigar rests. It also has hooks for easy pick-up.
The BēKEN has multiple uses such as it acts as a highly visible golf ball marker for balls tucked under thick grass or leaves. It keeps club handles elevated, dry, and clean around the green. It prevents cigars from touching the green. It helps prevent leaving clubs around the green behind due to visibility. It is also a portable chipping target for practice.
The BēKEN has many benefits including it reduces time re-locating golf balls that have already been found. It reduces the likelihood of forgetting clubs set down around the green. It also assists in overall pace-of-play.
How To Use A BēKEN
Simply place or drop the BēKEN by a partner's golf ball so they can locate it without wasting time searching as you move towards your own ball. The BēKEN can also be placed or dropped around the green to elevate club handles or cigars and prevent leaving them behind. A BēKEN may also be used as a portable target for chipping practice.
A 2 pack is priced at $23.99 and a 4 pack is priced at $43.99. It is available at select stores and nationwide online. The BēKEN makes a great gift. To purchase a BēKEN, visit at: bekengolf.com.
---
About BēKEN Golf
The BēKEN is the original off-fairway golf ball marker. The BēKEN was developed by two friends who are average golfers after getting tired of searching for golf balls that their golf partners had already found. They realized that a lot of time was wasted not only in locating a golf ball, but also in re-locating a golf ball. When developing the BēKEN, local businesses in the western New York region, we're utilized from design to production, so when you purchase a BēKEN you are not supporting another large golf company, you're supporting a small business. BēKEN Golf is featured in national media and TV. For more information on BēKEN Golf, visit at bekengolf.com and follow @BeKENGOLF on Facebook and Instagram.