Shadow Ridge Golf Club Team Wins G&G Golf Company & Callaway Golf PGA of BC Pro-Assistant Championship
Details

Category: Inside Golf
Published: 2021-07-08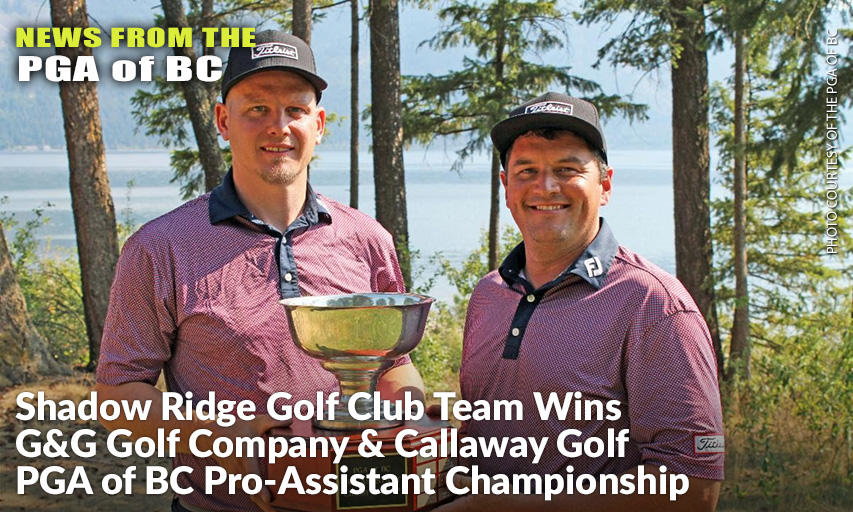 CHASE, British Columbia — The Shadow Ridge Golf Club team of James Presnail and Mark Kitts shot a final-round 59 in scramble play on Tuesday at Talking Rock Golf Course to capture their second title in the G&G Golf Company & Callaway Golf PGA of BC Pro-Assistant Championship.
Combined with a 3-under-par 69 during Monday's opening round of best-ball play, Presnail and Kitts finished at 16-under and hung on for a one-stroke margin of victory over Luke McKenzie and Kyle McMurphy (Eaglequest Golf Centre at Coquitlam).
The Pro-Assistant Championship is a 36-hole tournament in which Club Professionals (Head, Executive and Head Teaching Professionals) team up with another PGA of BC Professional affiliated at the same facility to compete against their colleagues.
Presnail and Kitts, who also won the Pro-Assistant title in 2018, made a late run to the top of the leaderboard by playing the final seven holes in 8-under-par, including eagles at the par-4 12th and par-5 16th holes. Despite the hot finish to their round, the Shadow Ridge duo didn't expect to find themselves in first place.
"On the front nine, I thought we were out of it," said Kitts. "Somehow, I holed one on 12 to get us an eagle and bounce back and make up for a few (missed opportunities). After that, it just started rolling. James started making putts.
"We never really thought we were going to win or be in it, but all of a sudden we're tapping in on 18 and we're somehow in the clubhouse with the lead. It was kind of a shocker."
Playing four groups behind the first-round leaders on Tuesday, Presnail and Kitts had a nervous wait to see if any other team could match their 16-under total. McKenzie and McMurphy had two looks at a 10-foot birdie on the 18th green to tie and force an alternate-shot playoff, but just missed and had to settle for runner-up honours.
"They hit a great shot in there but unfortunately didn't make it," said Presnail. "We were prepared to go out there and thought we would have to against those guys. We were already talking about who was going to (tee off) on 18 because it's a tough finishing hole here."
By topping record-size field of 49 teams for the title, Presnail and Kitts split the top prize of $2,600.
McKenzie and McMurphy were disappointed to come up a shot short but still took home $1,700 for second place.
"We both hit a lot of great shots and great putts and we didn't play ourselves out of it by any stretch, we just got beat by a team that shot 59," said McKenzie. "That's a great round and those guys were hot today."
McMurphy added that the experience of being at Talking Rock for the tournament helped take some of the sting out of the final result.
"Obviously I'm a little bit bummed to not hit a very good putt on that last hole to force a playoff, but all in all it was an awesome few days away and I have nothing but good things to say about Talking Rock," he said. "I love it here."
Perennial contenders Rob Anderson and Jamie Stevens (Kelowna Golf & Country Club) posted a final-round 63 to finish alone in third place at 14-under-par, earning $1,400. First-round leaders Russ Latimer and Greg Forbes (Black Mountain Golf Club) had a frustrating day on the greens and fell back to a fourth-place tie with Lindsay Bernakevitch and Mark Bicknell (Victoria Golf Club) at 13-under. Both teams collected $1,025.
CLICK HERE to view final results.
Presnail and Kitts became just the fifth team to win the Pro-Assistant Championship more than once. Shadow Ridge's Executive and Head Professionals, respectively, have found a unique chemistry together since Kitts arrived at the Kelowna facility in 2018.
"It's an interesting duo we've got here," said Kitts.
"I think it's a very special partnership, for sure," added Presnail. "We do it a little bit differently, I think, than most out there. We banter quite a bit and have a lot of fun."
This week's tournament was the first PGA of BC championship event of 2021 after restrictions related to COVID-19 resulted in an adjusted schedule. Not only have PGA of BC Professionals seen their opportunities to compete and congregate limited since March of last year, they've also been guiding the golf industry through a major resurgence in interest for the sport during the pandemic that has meant long hours and hard work for all.
"We've all been in a strange place for the last 18 months or however long it's been since this thing started. We all did our part and, luckily, we're seeing the light at the end of the tunnel," said Presnail.
"To be able to get out and play golf with our peers is something we all cherish in this business, and it means everything to be able to play golf with our friends here and hang out with them. It's been an amazing time here doing that."
Talking Rock Golf Course and the Quaaout Lodge have quickly become a favourite destination for the Pro-Assistant Championship, hosting the event three times since 2012. This year's tournament once again showed why it's a popular spot with PGA of BC Professionals, who raved about the resort's facilities from start to finish.
"It's amazing," said Kitts. "The facility here is beautiful, you get to stay on-site and it's very relaxed. You're just so comfortable here, so this is the ideal spot to play any kind of event."
The PGA of BC thanks host Executive Professional Adam Blair, Head Professional Nathan Grieve and the entire team of staff and volunteers at Talking Rock for their outstanding hospitality.
Further appreciation goes to the tournament's longtime title sponsors, G&G Golf Company and Callaway Golf, for their tremendous support and on-site presence at the event.
---
About G&G Golf Company
Based in Langley, BC, G&G Golf Company is a leading wholesale supplier to the Canadian golf and corporate promotional industries. Since Gord German founded the business in 1991, it has continued to evolve and to this day remains proudly family-owned, with daily operations being carried out by Brad and Jessica German. G&G offers over 20 top-quality brands, two national sales forces and a best-in-class customer-service team to support over 1,500 active accounts across Canada, the USA and Australia. In its 30th year of business, G&G continues to share its collaborative formula for success with its current and prospective customers, suppliers, and employees alike. Welcome to the Family. Learn more at www.gandg.ca.
About Callaway Golf
Through an unwavering commitment to innovation, Callaway Golf Company (NYSE:ELY) creates products designed to make every golfer a better golfer. Callaway Golf Company manufactures and sells golf clubs and golf balls, and sells bags, accessories and apparel in the golf and lifestyle categories, under the Callaway Golf®, Odyssey® and OGIO® brands worldwide. For more information, please visit www.callawaygolf.ca and www.OGIO.com.