Club Car Launches All New Shark Experience Features
Details

Category: Inside Golf
Published: 2021-07-17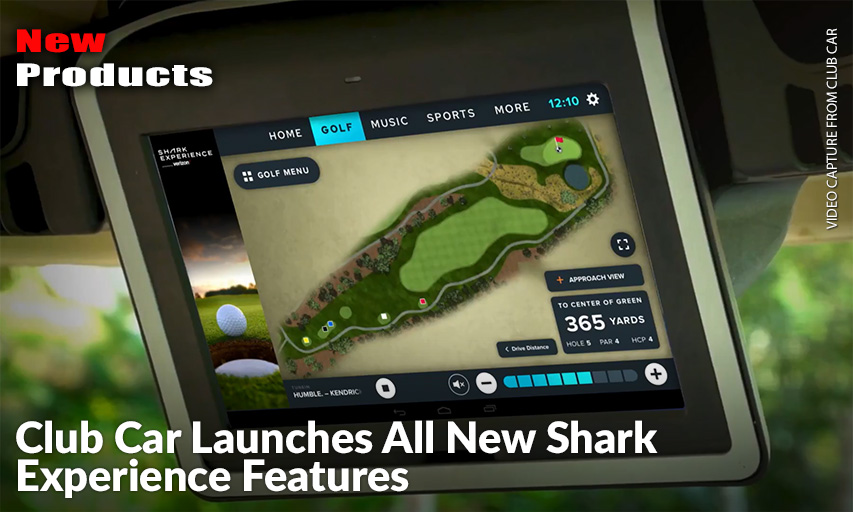 Club Car®, a global leader in golf, consumer and utility vehicles, today announced an all new user interface, new content and dynamic GPS yardage for the Club Car Connect with Shark Experience in-car entertainment platform.
In addition to the new content, Shark Experience now allows for easier screen assisted Bluetooth connectivity with any smartphone so golfers can enjoy their favorite music while out on the course.
"We are excited to continue to deliver new and exciting content for golfers through the Shark Experience." said Club Car Vice President of Connected Solutions Robert McElreath. "Our partnership with Greg Norman and Verizon continues to provide unique golfing experiences for players of all skill levels"
New for 2021 the Shark Experience has updated with two new content offerings with Shark Select and Shark Prime. The programing has been designed to simplify the product offering with easier content navigation while providing new and dynamic curated content for the golfer. From drive distance, and Bettorview to Yahoo news and finance, the all new Shark Experience user experience keeps golfers entertained and helps them dial in their game with enhanced GPS features.
"We will always challenge ourselves to evolve to deliver the best experience and newest content to our golfers through ongoing updates of the Shark Experience platform," said Greg Norman. "Our primary mission is always to support golf course operators with a new and differentiated experience, while enhancing the on course experience for golfers; we feel we have delivered just that with the recent genesis of the platform."
For over 13 years Club Car has been leader in the connected vehicle space. Visage Fleet Management is installed at over 1,500 courses worldwide and has supported over 150 million rounds. Shark Experience has been installed in 20,000 golf cars and the new Shark Experience features and user interface further advance Club Car's connected solutions.
For more information on how to add the Shark Experience or Visage Fleet Management to your course, visit www.clubcar.com or contact your local sales representative.
---
About Club Car
With over 60 years of experience of innovation and design in producing small-wheel vehicles, Club Car is a leading manufacturer of gas and electric golf, utility and personal transportation vehicles. Founded in 1958, the Club Car product portfolio has grown to include much more than golf cars, now encompassing vehicles for commercial and consumer markets, built with an uncompromised desire for superior performance. As an industry leader in electrification and sustainability, Club Car is proud to be on the forefront of environmentally responsible Zero Emission Vehicle (ZEV) technologies. For more information, visit www.clubcar.com.