MJT Clinic Sets Kids On Right Path Early On For Success
Details

Category: Inside Golf
Published: 2021-07-19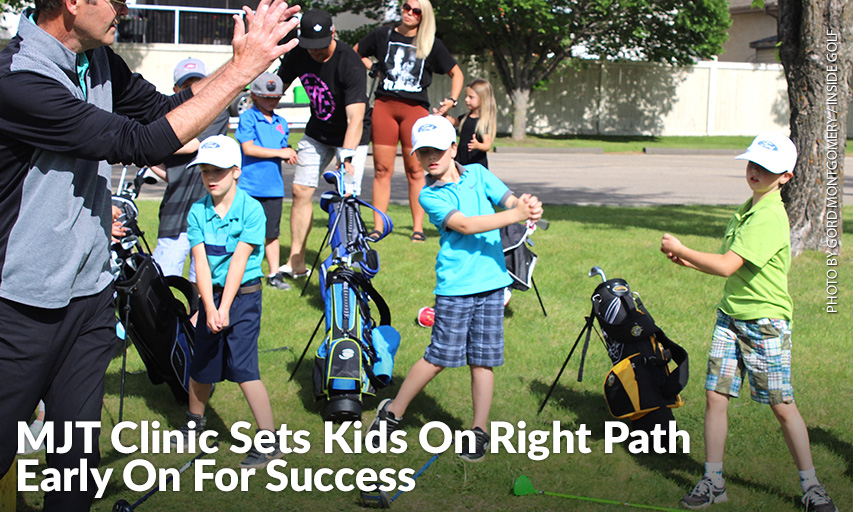 By GORD MONTGOMERY, Inside Golf
STONY PLAIN, Alberta — The younger someone starts an endeavour, the earlier they get vital hands-on experience the better they become. While not the written statement of the Maple Leaf Junior Tour (MJT) and their free 45-minute clinics for beginning golfers, it could well be.
Through the sponsorship of the Ford Go Golf Junior Clinic and some golf courses interested in growing the game from the ground up, this program has become hugely popular over the past while, said MJT's National Operations Director/Alberta Tournament Director, Trent Matson, as kids began lining up to soak up the knowledge passed along by golf professionals at the Stony Plain Golf Course.
"It's been a great relationship with Ford. We offer 10 to 12 clinics a year. We used to just do B.C. but we expanded into Alberta and Saskatchewan. Over the course of 18 years we've put through seven or eight thousand ….. no, pardon me, …. closer to 10,000 kids at the grassroots level. We're pretty proud what we've done at the club level."
These clinics are essentially for kids aged 6 to 12 with little to no experience in the game, so it's a matter of proper introduction to the game's essentials. The kids spend 20 minutes on the range learning about grip, stance and proper alignment before unloading the bucket of balls in front of them. From there, they head over to the short game area where they learn about putting and chipping.
"We're just trying to give them an idea. If they do get out to the golf course later on, what to do so they're not guessing at everything," Matson explained.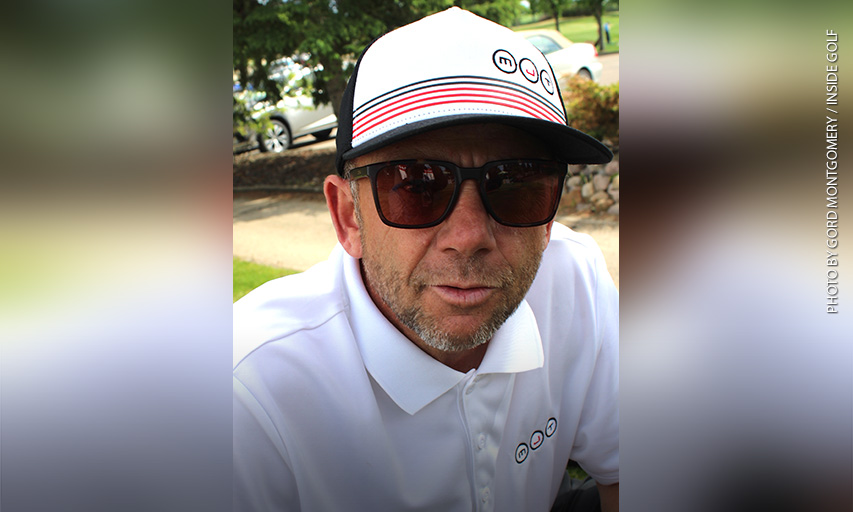 Trent Matson From The Maple Leaf Junior Tour Is Big On Having Kids Get Hands-On Experience In Golf At A Young Age And As Such, As Seen Somewhere Around 10,000 Of Them Take Advantage Of His Association's Ford Go Golf Junior Clinics Across Western Canada.
The lead instructor at the Stony golf course was one of their pros, Doug Ritchie, who interestingly enough grew up playing on the old Stony Plain GC, which was replaced with the present facility in the early 1980s. He said he wished he'd had this kind of opportunity when he was a kid and notes he doesn't want to overload his young students' minds with technical babble.
"You don't give the too much instruction. It's about balance," he began. "We're trying to draw out the swing of each individual. To start young is key. I remember when I was probably six or so, playing at the old Stony course on sand greens. That's why I fell in love with the game."
One of the things the Stony Plain Golf Course built its reputation on over many years has been their attention to youth golf. They were the front-runners of the Junior/Junior program under Gord Brayton and then Grant Cambridge many years ago. To this day they continue to groom strong young players which is vital to the industry, Ritchie agreed.
"It's huge," he began, noting kids can play any day of the week in Stony for $35. "And we've got the kids' holes (a short course of four holes where youngsters can swing away to their heart's content with their parents/guardians acting as caddies). The facility also offers a number of pieces of learning equipment for kids to help them not only develop skill, but a love for the game. "It's just to get them out there. If they get the enjoyment of the game, get hooked on it, they'll be out here for the rest of their lives loving the game," ended Ritchie.
The use of a local pro or two to help run these clinics is key to having the young swingers be-come more engaged in the game because they know someone associated with their local course, Matson noted.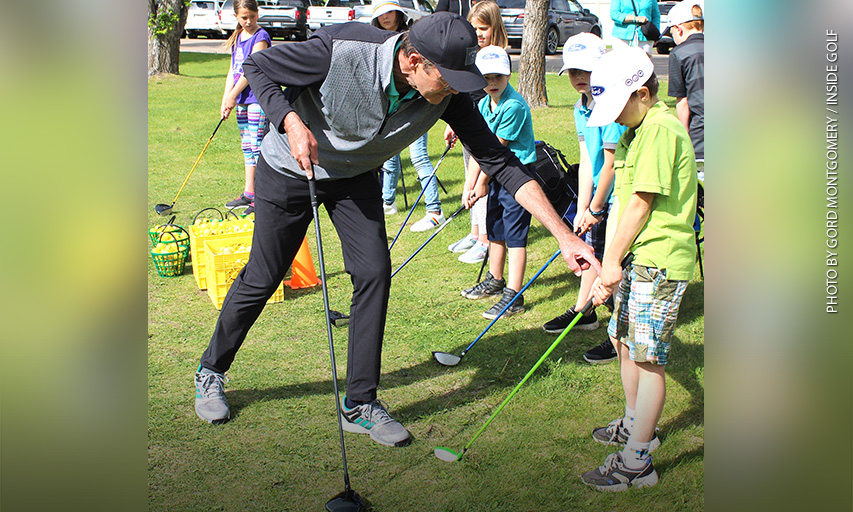 Here, Doug Ritchie Shows Some Of His Young Charges The Proper Swing Mechanics To Stay On Balance When Hitting A Shot. Needless To Say, The Kids Joined In With A Few Empty Handed Practice Swings.
"I think a kid who's from Stony Plain, comes out and meets Doug and Doug makes an impression. Then mom and dad come to Stony Plain to hit some balls (with their kids) and they see Doug. It's funny how the coaches remember the kids and they build a rapport."
While the idea of these clinics isn't to push the young participants into competition, there is no denying that many of those competing on the MJT Tour now, and in the past, did begin in this exact spot. And that pleases Matson to no end.
"We've definitely had kids start out at six or seven, come to the Ford clinics, and by eight, nine we do a mini-tour program which is our U13 program. The whole idea is to come, take a clinic, see a whole bunch of kids, 40 or 50 kids who are out there competing. A lot of parents take their kids, start them at the club level, and within the next couple of years we see them on the mini-tour. And they go right from there to the junior tour."
About getting kids started young in this game, Matson noted that not everyone is cut out for this game at a young age. "Yeah, it doesn't always take. It's not the most exciting sport. I think the key is, if they start at 6 or 7, and most have a mom or dad that golfs, I think it just gives them an idea. Hopefully it lights a fire under a few kids."
As for this day's activity, Ritchie put his teaching thoughts this way: "It's like a big ball of clay," that he's helping mould especially with the weight transfer process of the swing. "It's just getting the big picture. I don't want to be too detailed. It's balance and if they can do that, they can do their own thing."
Ritchie finished by saying if the kids in this program, or any others who weren't able to attend, are interested in taking lessons, they're more than welcome to set up an appointment at the Stony Plain Golf Course, because the younger one starts something the better they become, as proven by Ritchie himself.
The final Alberta stop for the Ford Go Golf Junior Clinic will be held at the RedTail Landing GC in Edmonton on September 11 and is sponsored by Nisku Ford. For information on that clinic, and/or to register, go to maplejt.com and follow the links.