370 Athletes To Represent Team Canada At Tokyo 2020
Details

Category: Inside Golf
Published: 2021-07-22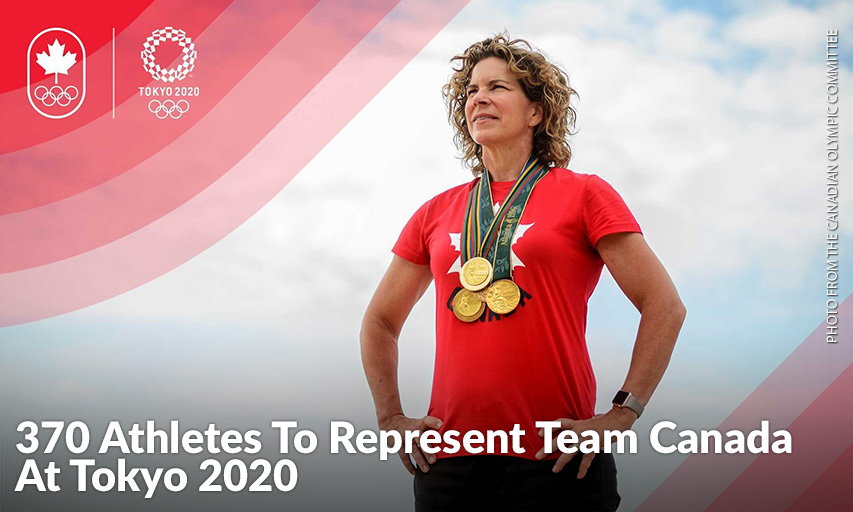 TORONTO, Ontario — The Canadian Olympic Committee (COC) announced that a Canadian delegation of 370 athletes and 131 coaches will be participating at the Tokyo 2020 Olympic Games. This contingent of athletes will be Canada's largest team to compete at an Olympic Games since Los Angeles 1984.
The Tokyo 2020 Olympic Games will officially open on Friday, July 23 and continue through Sunday, August 8. The competition will feature 339 events across 33 sports and 50 disciplines. This will be the second time that the Olympic Games will take place in Tokyo, which previously welcomed the world in 1964. 
The full list of Team Canada athletes and coaches with breakdown by sport and home province can be downloaded here. 
QUOTES
"This is a very special moment for these 371 athletes, who have faced some of the most challenging circumstances over the past 16 months to be named to Team Canada's Tokyo 2020 delegation. The fact that we have the largest Canadian team at a Summer Olympics in over 35 years speaks volumes to the focus and resilience of Canadian athletes and the sport community. While we are looking forward to watching them shine on the international stage, their glory will go beyond their accomplishments. This is about their journey to get to Tokyo and how they have inspired the nation."
– Eric Myles, COC Chief Sport Officer
"These unique times have forged a special Canadian Olympic Team. Even before Canada's incredible athletes get to their first competitions in Tokyo, I am extraordinarily impressed by their results. Despite the pandemic, through their creativity and perseverance, they have become the largest Canadian Olympic Team in three decades. In far less than ideal conditions, they have found a way to be faster and stronger than ever and I have no doubt that they are ready to reveal something special at Tokyo 2020. Their stories are ones that we can all be proud of."
– Marnie McBean, Three-time Olympic champion and Team Canada's Tokyo 2020 Chef de Mission
"With the Opening Ceremony just nine days away, it is an honour to be a part of this Team Canada. Every single athlete on this team has faced adversity, uncertainty and disruption, having to adapt and adjust to a new timeline and a new world. That they have come this far is a testament to their determination and perseverance. I am so excited that, after a year's delay, we will all have the opportunity to show Canada, and the world, what we have been working for."
– Rosie MacLennan, Two-time defending Olympic champion and Chair,  COC Athletes' Commission
TOKYO 2020 CANADIAN FACTS AND FIGURES
Total number of athletes: 370
Athletes who identify as female or are competing in women's events: 225
Youngest: Summer McIntosh, 14 (August 18, 2006), Swimming; Oldest: Nikola Girke, 43 (December 30, 1977), Sailing
Athletes who identify as male or are competing in men's events:145
Youngest: Cédric Fofana, 17 (September 15, 2003), Diving; Oldest – Mario Deslauriers, 56 (February 2, 1965), Equestrian 
Team sports – 8; the most in a non-hosted or non-boycotted Games
Sets of siblings:
Gabriela DeBues-Stafford (Athletics) and Lucia Stafford (Athletics) 
Halle Pratt (Artistic Swimming) and Cole Pratt (Swimming)
Claire Wright (Water Polo) and Emma Wright (Water Polo)
Children of Olympians:
Axelle Crevier, Water Polo (Mother Marie-Claude Deslières, Water Polo) 
Tali Darsigny, Weightlifting (Father Yvan, Weightlifting) 
Nicholas Hoag, Volleyball (Father Glenn, Volleyball)
Lynda Kiejko, Shooting (Father Bill Hare, Shooting)
Kai Langerfeld, Rowing (Father York, Rowing)
Summer McIntosh, Swimming (Mother Jill Horstead, Swimming)
Mariah Millen, Sailing (Father John, Sailing)
Jordan Steen, Wrestling (Father Dave, Athletics and Mother Andrea Page, Athletics) 
Ali ten Hove, Sailing (Father Martin, Sailing) 
Avalon Wasteneys, Rowing (Mother Heather Clarke, Rowing)  
Jillian Weir, Athletics (Father Robert, GBR Athletics) 
Provincial and territorial breakdown (by hometown):
Alberta: 28
British Columbia: 94
Manitoba: 6
New Brunswick: 1
Newfoundland and Labrador: 0
Northwest Territories: 0
Nova Scotia: 8
Nunavut: 0
Ontario: 170
Prince Edward Island: 0
Quebec: 58
Saskatchewan: 3
Yukon: 0
Athletes with hometowns outside Canada: 2
Athletes who previously attended a Games:
By type of Games:
Olympic Games (Summer): 143
Youth Olympic Games (Summer): 16
Olympic Winter Games: 2
By Olympic Games (Summer):
Los Angeles 1984: 1
Seoul 1988: 1
Athens 2004: 4
Beijing 2008: 17
London 2012: 34
Rio 2016: 133
By Youth Olympic Games (Summer):
Singapore 2010: 3 
Nanjing 2014: 8
Buenos Aires 2018: 5
By Olympic Winter Games:
Vancouver 2010: 1
Sochi 2014: 2
PyeongChang 2018: 1
Summer/Winter Olympic team members:
Georgia Simmerling (Vancouver 2010 – Alpine Skiing; Sochi 2014 – Ski Cross; Rio 2016 and Tokyo 2020 – Track Cycling)
Vincent De Haître (Sochi 2014 and PyeongChang 2018 – Long Track Speed Skating; Tokyo 2020 – Track Cycling) 
Olympic rookies: 226
Olympic medallists: 40
Most Olympic appearances: 5 (Nikola Girke, Sailing, will be competing in her fifth Olympic Games)