Newcomb Comes From Behind For Bupa Championship Playoff Win; Canada's Nesbitt Finishes Tied For 6th
Details

Category: Inside Golf
Published: 2021-07-28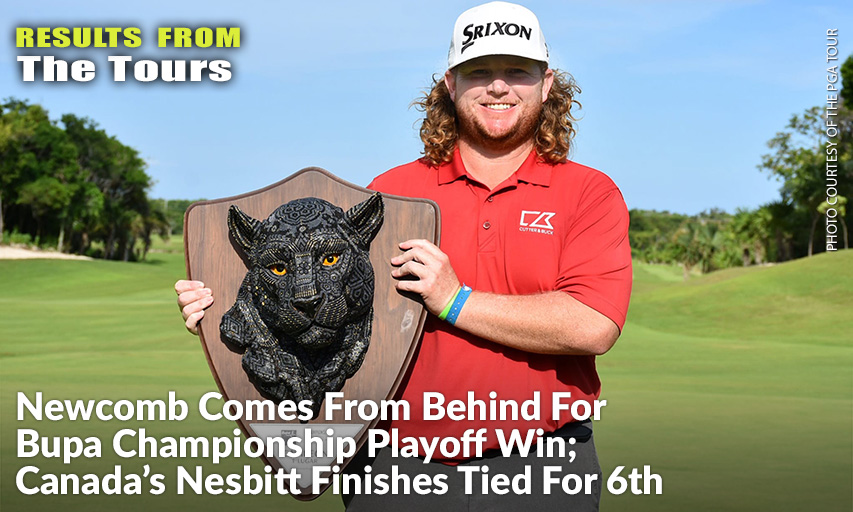 TULUM, Mexico–Kentucky native Patrick Newcomb edged Mexico's Oscar Fraustro on the second hole of a sudden-death playoff to win the PGA TOUR Latinoamérica season-ending Bupa Championship presented by Volvo. Trailing by two at the start of the day and playing together in the nex-to-last group, Newcomb and Fraustro pulled away from the rest of the pack with Sunday-low-rounds of 4-under 68 to finish regulation tied for first, at 5-under 283.
The next-best player was Frenchman Jeremy Gandon, who carded a 71 to finish solo third, three-shots behind. At 1-under, making it a group of five players in red numbers, 54-hole leader Andrew Alligood carded a 74 to tie for fourth with 36-hole leader Ben Cook, who posted a 73.
"I told one of my coaches who works on my putting, who has caddied for me quite a bit, that I needed nine good holes of putting. If I putt good for nine holes, I'll win this thing [Sunday]. On the back nine, I putted really nicely," said Newcomb, who charged to the top of the leaderboard with four birdies in a row from Nos. 11 through 14.
At that point Newcomb was leading by one, but Fraustro birdied the par-3 15th to pull even, the two essentially playing a match coming in. With the local making a 10-footer to save par on 17, the closing par-4 tested Newcomb's nerves. He hit a great approach shot, but the ball landed just off the green and rolled back into firm sand for a difficult up-and-down.
"I maybe hit one of the best shots of my life," Newcomb said of his 72nd-hole heroics. "It was special. I walked back there, and I was walking to the ball, I was upset. As I looked back up at the slope, I don't know—I guess it was my week—because I saw the place, the spot where the bounce, the spot where the second and third bounce had to be in the fringe, and it was going to roll right to the hole. I could have dropped a dime where I wanted to hit it, and I hit it right there. It's hard to do stuff like that when it's not your week."
On 18 for the first playoff hole, Newcomb hit what he felt was a good, downhill 18-footer, but his ball didn't—wouldn't—drop into the cup. "I've never had anything like that happen to me to win a golf tournament. A lot of the ball was over the hole. I couldn't believe it wasn't going to fall," the 31-year old said of his misfortune at the time.
One last walk down 18 would be enough for the Murray State University alum to seal the deal. His approach went past the green for a shot similar to the one he had at the end of regulation, but this time out of the grass.
"I didn't have to go as low, and I could use some loft. I landed it just a little too far," he said of a ball he hit 10 feet past the hole, on a similar line than the one he had a hole earlier. This time he sunk it in to save par and then saw Fraustro miss a three-footer that would have extended the overtime session.
With the Robert Trent Jones II-designed course at PGA Riviera Maya playing tough, as the week-long scoring average of 75.78 strokes proved, Newcomb managed his game well. He was the only player to shoot par or better in all four rounds, recording 16 birdies, nine bogeys and one double bogey. That double bogey-7 he made on No. 8 Saturday was his highest number all week.
"I kept it out of the jungle. I think I hit it in the jungle twice all week. I made only one double bogey all week, and that has to be a pretty good stat compared to everybody else in the field," Newcomb said looking at his impressive numbers on a tight course surrounded by heavily wooded areas and mangroves, giving players little margin for error. "I loved the place all week, and it worked out for me," he added.
The victory rewarded Newcomb with a sixth-place finish on the final Points List standings, which secured him an exemption into final stage of the Korn Ferry Tour Qualifying Tournament this coming December.
Five spots ahead of Newcomb, the Points List top spot belonged to Brandon Matthews, who won the Roberto De Vicenzo Award presented to the Tour's Player of the Year. The Dupont, Pennsylvania, native was the only two-time winner this season and proved to be a deserving Tour No. 1. Matthews earned 1,191 points in seven starts to finish 124 points ahead of Sam Stevens and 150 points ahead of Conner Godsey. Mexico's Alvaro Ortiz finished fourth, with MJ Maguire taking the fifth spot. The top-five players secured 2022 Korn Ferry Tour status, with Matthews having the distinction of earning exempt status for the entire season.
The players who finished in the sixth-through-10th positions on the Points List are exempt into the finals of the Korn Ferry Tour Qualifying Tournament. They are Newcomb, Alex Rocha (No. 7), Drew Nesbitt (No. 8) Jacob Bergeron (No. 9) and Andrés Gallegos (No. 10).
Following the completion of the Bupa Championship, the top 10 players on the Points List were honored in a season-closing ceremony.
Final PGA TOUR Latinoamérica Points List Top 10
| Rank | Player (Country) | Points | Wins |
| --- | --- | --- | --- |
| 1 | Brandon Matthews (U.S.) | 1,191 | 2 |
| 2 | Sam Stevens (U.S.) | 1,067 | 1 |
| 3 | Conner Godsey (U.S.) | 1,041 | 1 |
| 4 | Álvaro Ortiz (Mexico) | 888 | 1 |
| 5 | MJ Maguire (U.S.) | 860 | 1 |
| 6 | Patrick Newcomb (U.S.) | 830 | 1 |
| 7 | Alexandre Rocha (Brazil) | 797 | 1 |
| 8 | Drew Nesbitt (Canada) | 795 | - |
| 9 | Jacob Bergeron (U.S.) | 539 | - |
| 10 | Andrés Gallegos (Argentina) | 466 | - |
Key Information
With his win Sunday, Patrick Newcomb has captured four PGA TOUR-affiliated titles—with two coming on PGA TOUR Latinoamérica and two on the Mackenzie Tour – PGA TOUR Canada. His three previous wins came in 2017, at the Honduras Open on PGA TOUR Latinoamérica, and at the Cape Breton Open and the Syncrude Oil Country Championship in Canada.
Patrick Newcomb is a perfect 3-0 in PGA TOUR-affiliated Tour playoffs after his triumph Sunday in an extra session over Oscar Fraustro. On PGA TOUR Latinoamérica, he defeated Hank Lebioda to win the 2017 Honduras Open, and he used playoff success to edge Max Rottluff in 2017 at the Syncrude Oil Country Championship in Edmonton, Alberta, Canada.
Along with his two PGA TOUR Latinoamérica wins, Oscar Fraustro has a history of close calls on the Tour. Five times he has come in second, three of those coming in the Tour's inaugural season of 2012. In the Tour's maiden event, the Mundo Maya Open in Mexico, Fraustro lost in a playoff to Tommy Cocha. Here is a look at all of Fraustro's runner-up performances.
| Tournament | Winner | Margin |
| --- | --- | --- |
| 2012 Mundo Maya Open | Tommy Cocha | Playoff |
| 2012 Roberto De Vicenzo Invitational | Alan Wagner | 2 Strokes |
| 2012 Visa Argentina Open | Angel Cabrera | 4 Strokes |
| 2017 Brazil Open | Rodolfo Cazaubón | 6 Strokes |
| 2021 Bupa Open presented by Volvo | Patrick Newcomb | Playoff |
As runner-up Oscar Fraustro was the best of 15 Mexican players who played this tournament. The following are the positions and scores for the nine who made it into the weekend:
| Position, Score | Player |
| --- | --- |
| 2, 70-77-68-68 (-5) | Oscar Fraustro |
| T6, 77-68-70-73 (par) | Raul Pereda |
| T8, 74-75-70-71 (+2) | Rodolfo Cazaubón |
| T12, 75-71-73-72 (+3) | Juan Carlos Benítez |
| T17, 74-70-75-73 (+4) | Alvaro Ortiz |
| T23, 70-75-73-76 (+6) | Aaron Terrazas |
| T53, 78-72-78-79 (+19) | Isidro Benítez |
| T53, 75-75-83-74 (+19) | Gonzalo Rubio |
| 57, 71-77-77-83 (+20) | Jorge Villar |
The solo-third finish, for his first top 10 of the season, was big for Jeremy Gandon. Holding the 27th on the Points List at the beginning of the week, the 24-year-old from Charpey, France, went on to finish 14th. The 15 players who finished 11th through 25th on the Points List are now exempt through second stage of the Korn Ferry Tour Qualifying Tournament.
| Pos. | Player | Points |
| --- | --- | --- |
| 11 | Raul Pereda (Mexico) | 449 |
| 12 | Leandro Marelli (Argentina) | 439 |
| 13 | Rowin Caron (Netherlands) | 402 |
| 14 | Jeremy Gandon (France) | 383 |
| 15 | Ben Cook (U.S.) | 373 |
| 16 | Tano Goya (Argentina) | 365 |
| 17 | Rodolfo Cazaubón (Mexico) | 345 |
| 18 | Paul Imondi (U.S.) | 322 |
| 19 | Oscar Fraustro (Mexico) | 306 |
| 20 | Brad Schneider (U.S.) | 303 |
| 21 | Alejandro Tosti (Argentina) | 294 |
| 22 | Brendon Doyle (U.S.) | 268 |
| 23 | Piri Borja (U.S.) | 244 |
| 24 | Juan Carlos Benítez (Mexico) | 239 |
| 25 | Jorge Fernández Valdés (Argentina) | 238 |
The players who finished inside the top 60 on the Points List kept or earned their PGA TOUR Latinoamérica cards for the 2021-22 season. South Korea's Luke Kwon entered the week ranked 61st but had a solid performance, tying for 12th to move into the 47th spot. Oscar Fraustro made the biggest move. He moved into 19th place after entering the week as the 164th-ranked player. Slipping 10 spots, Sweden's Linus Lilliedahl, finished in the 60th position, only 16 points ahead of Colombia's Santiago Gómez, who finished 61st to lose his card.
| Pos. | Player | Points |
| --- | --- | --- |
| 55 | Manav Shah (U.S.) | 127 |
| 55 | Ryann Ree (U.S.) | 126 |
| 57 | Michael Perras (U.S.) | 124 |
| 58 | AJ Crouch (U.S.) | 123 |
| 59 | Anthony Paolucci (U.S.) | 122 |
| 60 | Linus Lilliedahl (Sweden) | 121 |
| 61 | Santiago Gómez (Colombia) | 105 |
| 62 | Ryann Ree (U.S.) | 105 |
| 63 | Ryan McCormick (U.S.) | 100 |
| 64 | Roland Massimino (U.S.) | 92 |
| 65 | Emilio Gonzalez (Mexico) | 91 |
Quotable
"It was a special week. The beginning of this week, I had in my head 10-under; 10-under you would probably win by a few. That's kind of what I thought. That was the number I was chasing. But you can't be too aggressive out here because it's so penal and so difficult. So I stayed very patient, very patient."—Patrick Newcomb
"It was very hot and calmer on the weekend. But it was windy those first two days, and you hit one loose shot, you're in the jungle and you're making 6 or 7 or 8 because the next shot's not that easy, either."—Patrick Newcomb
"Oscar played fantastic. I thought he was going to run away and hide. He was playing so well… I hate to see him miss a short one like that because he played so well coming down the stretch."—Patrick Newcomb
"My goal this week was to get to the final stage. I needed a solo fourth and some help this week, so I had to go out and win the golf tournament."—Patrick Newcomb
"I'm not young anymore. The more years you go and you're not at the Korn Ferry (Tour) or higher, you start wondering about things. The game has been so good, but I missed the second stage in '19, and in '20 I was playing really well when COVID hit. There was no Q-School last year, and it takes a year out of my hands when I'm not the youngest guy anymore out here."—Patrick Newcomb
"PGA Riviera Maya was amazing this week. It was so difficult. Every hole was so demanding. The course was in great shape, and the ball rolled nicely on the greens. It was so good out there. I think the setup and how everything was this week was fantastic. I would love to play here every day."—Patrick Newcomb
Final-Round Weather
Sunny and clear and one of the hottest days this week. The high 90. Light wind at 2-3 mph.