A Long Time Coming
Details

Category: Inside Golf
Published: 2021-07-29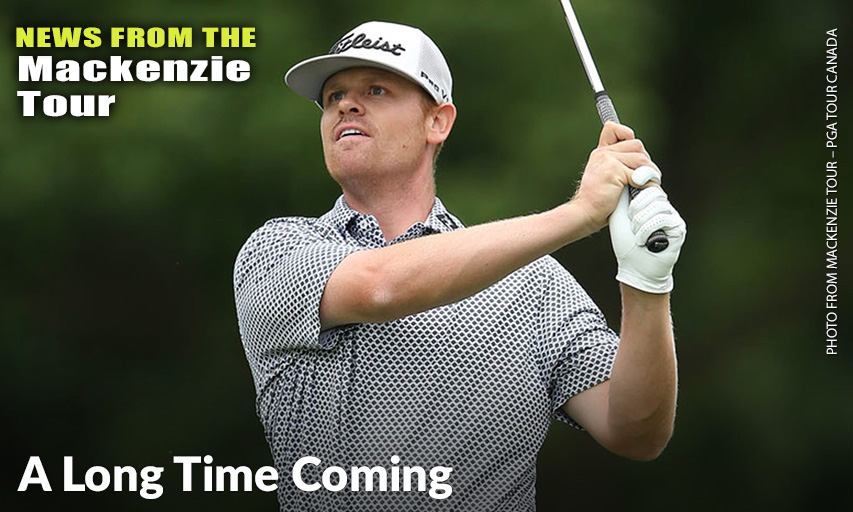 BLAINVILLE, Quebec — On an overcast London, Ontario, day, with light rain falling, Patrick Fishburn stood on the 18th green, where he tapped in for birdie, putting the final touches on his second consecutive, 6-under 64 that earned him a three-shot win at the Canada Life Championship. Thirty minutes later, after receiving the winner's trophy and the check for $40,500, Fishburn was safely inside the Highland Country Club clubhouse. There, Tour officials slipped a hockey jersey on Fishburn, the red-white-and-blue number emblematic of the Korn Ferry Tour membership he earned by virtue of his fifth-place Order of Merit finish. Life was good.
That was September 15, 2019.
When players tee off at Club de Golf Le Blainvillier's Heritage Course, 1 year, 10 months and 14 days—683 days if you want to get really specific—will have passed since a Mackenzie Tour player last made an official stroke.
Yes, the Mackenzie Tour – PGA TOUR Canada is back, the Mackenzie Investments Open the long-awaited season-opener, the first of eight 72-hole events on the 2021 schedule, touraments played in six provinces—Quebec, Ontario, Prince Edward Island, Saskatchewan, Alberta and British Columbia—over a two-month period. The Tour is open to players based in Canada, already in the country, the fields primarily made up of Canadians.
Action begins this week and will continue throughout the summer. After a one-week break between the Mackenzie Investments Open and the second tournament, the Osprey Valley Open in Caledon Ontario, it will be a sprint to the finish beginning at TPC Toronto at Osprey Valley—seven tournaments in seven weeks.
Players will then travel west to Saskatchewan to play the inaugural Elk Ridge Open in Waskesiu at Elk Ridge Resort the week of September 6-12, followed by Calgary's ATB Financial Classic (September 13-19) at Country Hills Golf Club, both long-time Tour partners. The season concludes with a pair of tournaments in British Columbia, the GolfBC Championship at Gallagher's Canyon Golf and Country Club (September 20-26) followed by the DCBank Open presented by Times Colonist at Uplands Golf Club (September 27-October 3).
Each field will feature 144 players, with a cut to the top-50 and ties at the 36-hole mark. The closing tournament, the Reliance Properties DCBank Open presented by Times Colonist in Victoria, British Columbia, will feature a 132-player field.
The top player at the conclusion of the season will earn full status on the 2022 Mackenzie Tour, while players in the second-through-fifth positions on the Points List will pick up conditional 2022 Mackenzie Tour membership. Finishers six through 10 will each earn a sponsor exemption into a 2022 Mackenzie Tour tournament.
"It's going to be fun and exciting to see what unfolds starting this week," said Scott Pritchard, Mackenzie Tour Executive Director. "Everybody associated with the Tour was certainly disappointed we couldn't play last year. We understand why we couldn't, but it felt odd not playing a Tour that has been a part of the Canada landscape since 2013.
"It's really gratifying to see everybody who put the the work in to give these players here in various parts of the country a PGA TOUR-sanctioned Tour to play," Pritchard continued.
"These players teeing it up all have the same goal. As is always the case, there will be breakout stars, some surprising and perhaps those we expected to play well. That's what makes the beginning of a season so interesting. We get to see which players are ready to make the next big move in their careers."
Field List: https://mackenzietour.com/entries/T20210714-483/  
---
Ten to Watch
In no specific order, here are 10 players to keep an eye on as the Mackenzie Tour – PGA TOUR Canada season gets underway this week.
Blair Bursey
Hometown: Gander, Newfoundland
The former Utah Valley State golfer had a strong finish to last year's summer series season, tying for ninth and tying for fourth in the back-to-back tournaments at TPC Toronto at Osprey Valley. He's made two career Mackenzie Tour starts, tying for 47th at the 2019 Mackenzie Investments Open in Montreal his best outing.
Evan Holmes
Hometown: Calgary, Alberta
Holmes had a win and a fifth-place finish in last year's Canada summer series of four tournaments, his victory at Bear Mountain highlighted by his opening-round 63. His performance earned him a pair of starts on this year's Forme Tour in the U.S.
Jamie Sadlowski
Hometown: St. Paul, Alberta
The former long-drive champion has played all over the world, most recently on the Asian Tour. He played on the Mackenzie Tour – PGA TOUR Canada most recently in 2019 after finishing third at the Tour's Qualifying Tournament. His best finish that season was a tie for 45th at the Lethbridge Paradise Canyon Open.
Marc Casullo
Hometown: Aurora, Ontario
His tie for sixth at the Bear Mountain tournament in the Canada summer series a year ago represented his best finish. He has also played on PGA TOUR Latinoamerica. Casullo played college golf in the United States, at Frances Marion in South Carolina.
Albert Pistorius
Hometown: Pretoria, South Africa
Pistorius, a veteran European Tour and Challenge Tour player, broke through in the summer series a year ago winning at TPC Toronto's Heathlands Course. He tied for second at the event at Bear Mountain's Valley Course and also had a seventh-place finish and a tie for eight—never finishing outside the top 10. He has conditional Forme Tour status this year by virtue of his tie for eighth outside Tacoma, Washington, in June. In two Forme Tour starts, he made one cut. 
Brendan Leonard
Hometown: Cambridge, Ontario
In 2018, Leonard made his first Mackenzie Tour cut, at the Mackenzie Investments Open when that tournament was held at Elm Ridge Country Club in Montreal. Last summer, in the four-tournament series held in Canada, Leonard made all four cuts, counting a sixth-place showing a a tie for ninth on his record.
Sebastian Szirmak
Hometown: Toronto, Ontario
Szirmak has played in 29 career Mackenzie Tour tournaments, playing two full seasons, in 2016 and 2017. His two best performances both came in 2016, when he had a pair of ties for 10th—at the Staal Foundation Open and the Cape Breton Open.
Etienne Papineau
Hometown: St-Jean-sur-Richelieu, Quebec
Still an amateur, Papineau was medalist at the U.S. Amateur qualifying tournament in Hamilton, New York, last week, earning a spot in the 121st playing of America's oldest amateur tournament. Papineau has won numerous Canada-based amateur titles and is currently 392nd in the World Amateur Golf Ranking and has reached as high as the 235th position.
Lawren Rowe
Hometown: Victoria, British Columbia
He's played the first three Forme Tour tournaments a year after making the cut in all four of the four events played in Canada. His top showings were fifth- and sixth-place finishes at the two opening tournaments at Bear Mountain.
Zach Anderson
Hometown: Nanaimo, British Columbia
Anderson made his presence felt immediately in the first event of Canada's 2020 summer series. With consecutive 68s, he was in contention until the end, settling for a second-place finish, two strokes behind winner Evan Holmes.