Miller Hangs On To Win Forme Tour Championship
Details

Category: Inside Golf
Published: 2021-09-13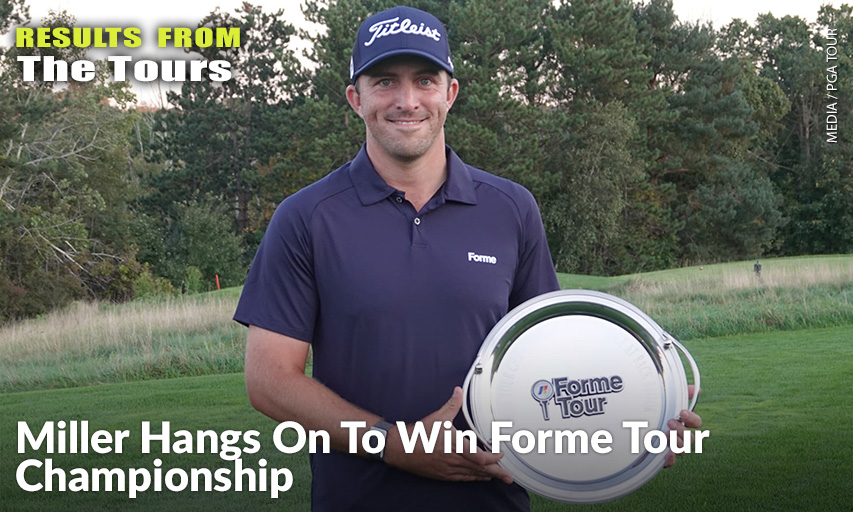 DALLAS, Pennsylvania — On the final hole of the final round of the final Forme Tour tournament of 2021, Brad Miller recovered from an errant drive, hit one of the top shots of his life after a recovery chip out and then made a five-foot par putt to seal the win at the Forme Tour Championship. It was Miller's first PGA TOUR-affiliated Tour title as he defeated Travis Trace by a stroke.
Holding a one-shot lead over Trace and standing on the 18th tee at Huntsville Golf Club, Miller hit his drive into the trees on the right. "That tee shot was giving me nightmares the whole week. I've been hitting this really nice cut driver the whole day — really the whole week. I tried to do it, and it just hung on a little too much at the end," Miller said of his wayward drive.
His tee ball was so far right that he hit a provisional, just in case. "Luckily there were a lot of people out watching, so they were able to find [the ball] pretty quickly." After chipping back into the fairway, Miller said he "got kind of lucky." He faced a 219-yard approach shot into the par-4 green. "That's a perfect 4-iron number. I can swing as hard as I can," he added. "I hit a little cut and hit it to four feet and made the putt." That was enough to secure the win.
The other winner was Trevor Werbylo. He waited behind the green as the drama unfolded, realizing he had locked up Player of the Year honors with his Points List win, taking the title by 36 points over Corey Shaun, thanks to his tie-for-17th finish this week. The first-year pro, who was still in college as recently as three months ago, will be eligible to play in all open 2022 Korn Ferry Tour tournaments. Joining Werbylo and Shaun in the top five were Turk Pettit, Andrew Yun and Mac Meissner.
Miller knew before the week that he had no chance of mathematically moving into the top five. The best a win could do was get him to No. 6, something he accomplished with his 65-64-68 performance and the opportunity to bypass the first stage of the Korn Ferry Tour Qualifying Tournament. After the second rain delay of the week, Miller began wondering if officials would reduce the tournament to 54 holes. His suspicions proved correct.
"When we got the text that it was 54 holes, instantly, final-round jitters start. That's normal, expected. But I played solid," Miller said.
Miller ultimately felt the turning point in the round came when he birdied both back-nine par-5s (Nos. 12 and 14) while Trace was making pars. The two traded pars the rest of the way.
"This is my biggest win so far," said the 31-year-old Baltimore native who played collegiately at the University of Richmond. "I'm a little older. It's taken me through more of a process. Everybody is coming out of college, and with the way it's set up now with PGA TOUR U., that they start here, a lot of them are going to do well on the next level and eventually make their way to the TOUR — and that includes myself."
---
Key Information 
Final Points List Standings
| Pos. | Player (Country) | Points |
| --- | --- | --- |
| 1 | Trevor Werbylo (U.S.) | 981 |
| 2 | Corey Shaun (U.S.) | 945 |
| 3 | Turk Pettit (U.S.) | 802 |
| 4 | Andrew Yun (U.S.) | 781 |
| 5 | Mac Meissner (U.S.) | 635 |
| 6 | Brad Miller (U.S.) | 638 |
| 7 | Philip Knowles (U.S.) | 622 |
| 8 | Samuel Saunders (U.S.) | 500 |
| 9 | Clay Feagler (U.S.) | 494 |
| 10 | Jeremy Paul (Germany) | 485 |
Thursday night, knowing Huntsville Golf Club was unavailable for play Saturday and considering the two weather delays in both the first and second rounds, Forme Tour officials made the decision to reduce the Forme Tour Championship to 54 holes. Following the conclusion on the second round early Friday morning, officials notified players of the change. 
The cut came early Friday morning, at 3-under, with 73 players qualifying for the final round.
Brad Miller felt the 13th hole was pivotal in his win. After making a birdie at the par-5 12th, he missed the green pin high to the right, while Trace was 30 yards over the green. "We both should have made bogey," he said. "Mine was a much easier shot." Trace chipped to 10 feet and drained his putt for par, forcing Miller to feel like he needed to make his from seven feet. "We still had [five] holes left, but that was important. I was able to make birdie on the next hole, and we parred in from there."
While still an amateur, Brad Miller was in a playoff for a spot in the 2011 U.S. Amateur. Playing at the qualifier at Piney Branch Golf Club in Upperco, Maryland, he holed out from the fairway for eagle to earn his playing spot. Comparing that shot with his 4-iron approach, his last full swing of the Forme Tour Championship, Miller thought about it. "I can't think of all the shots I've hit. That was pretty good at Piney Branch, but under the circumstances, this one today I would have to say was at least top two."
With his second-place finish, Travis Trace moved from No. 74 to No. 17 on the Points list, allowing him to bypass the first stage of the Korn Ferry Tour Qualifying Tournament and immediately qualify for the second stage for players finishing between the 11th and 25th positions on the Points List. Of those players not finishing in the top 10, Trace, IanHolt (18th) Keller Harper (19th), and Wil Bateman (21st) all moved into the top 25.
Points List Finishers, 11-25
| Pos. | Player (Country) | Points |
| --- | --- | --- |
| 11 | Luke Schniederjans (U.S.) | 430 |
| 12 | A.J. Crouch (U.S.) | 421 |
| 13 | Carson Young (U.S.) | 419 |
| 14 | Joseph Harrison (U.S.) | 764 |
| 15 | Brian Carlson (U.S.) | 380 |
| 16 | David Pastore (U.S.) | 376 |
| 17 | Travis Trace (U.S.) | 375 |
| 18 | Ian Holt (U.S.) | 371 |
| 19 | Keller Harper (U.S.) | 356 |
| 20 | Joey Savoie (Canada) | 355 |
| 21 | Wil Bateman (Canada) | 329 |
| 22 | Lukas Euler (Germany) | 329 |
| 23 | Matt McCarty (U.S.) | 319 |
| 24 | Carter Jenkins (U.S.) | 316 |
| 25 | Kyler Dunkle (U.S.) | 312 |
Keller Harper had the round of the day, shooting an 8-under 63. He was actually 10-under for the day. Thursday, Harper was on the ninth tee — his 18th hole of the day — when officials halted play for the afternoon. He returned to the tee this morning, put his approach shot on the par-5 on in two and then made a 24-foot eagle putt. 
Twelve players posted three rounds in the 60s this week: Quade Cummins, Blake Elliott, J.J.Grey, Ian Holt, MacMeissner, Byron Meth, Brad Miller, Bryson Nimmer, Jeremy Paul, Corey Shaun, Trey Shirley and Travis Trace
Will Bateman stayed hot, after shooting a second-round 62 that he completed early Friday morning. He played his 18th hole, No. 9 at Huntsville Golf Club and made a par-5. In his final round, the Canadian eagled No. 12 for a second consecutive day and went on to turn in a 5-under 66 to finish alone in third. 
Corey Pereira shot a final-round 66, moving up 38 leaderboard positions into a tie for 21st, but he dropped four spots on the Points List, just missing the top 25, ending 26th. Pereira had seven birdies and two bogeys on the final day and finished with a birdie on his final hole of the tournament. 
Quotable
"I wasn't paying attention to what anybody else was doing. I had an idea. I knew I was one up on Travis, but I had not idea if anybody got to 7(-under), to what they needed to shoot." –Brad Miller
"The goal every week is to play as good as you can and maybe win. The finality of [the win] I knew exactly what it meant." –Brad Miller
"It's very exciting. It obviously means a lot as far as Q-School goes for the Korn Ferry (Tour). It was just an awesome week at a really nice course. It's an awesome course. I love the course." –Brad Miller
Final-Round Weather
Mostly sunny and cool in the morning. Warmed in the afternoon, with a high of 68. Wind NW at 10-12 mph.