Patience Pays Off For O'Rourke At Royal Colwood
Details

Category: Inside Golf
Published: 2021-09-22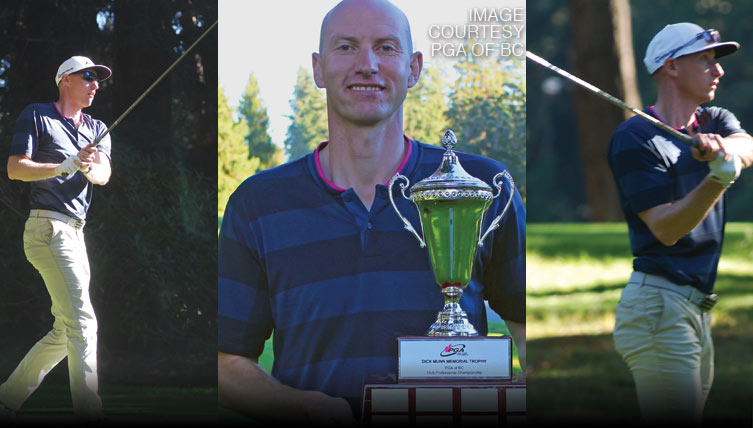 Padraic O'Rourke stayed patient and earned his first PGA of BC tournament victory at the challenging course on southern Vancouver Island...
After posting one of only two sub-par scores in the first round of the 2021 Nike Golf PGA of BC Club Professional Championship presented by Oakcreek Golf & Turf LP, the Director Of Golf at Fairmont Chateau Whistler both sought out and received advice from a few of his fellow professionals.
And that advice of how to approach playing the second and final round had a common theme...
"Andrew Smart from Nicklaus North gave me a call and said 'Just be super patient out there'.
Kevin Stenson (from Cheam Mountain Golf Course) sent me a text last night saying to... 'just keep patient out there.'
I actually called A.K. (Alan Kristmanson Director of Golf at Whistler Golf Club) myself because - as an Olympian - he has a lot of experience and I asked him about playing with the lead and he said 'Just stay patient, you'll be fine. Just hit it to the middle of the green and play your game.' "
Easy to say but maybe not so easy to do when you have tee'd it up in more than 25 PGA of BC sanctioned events since coming to BC in 2013 and having come oh-so-close before.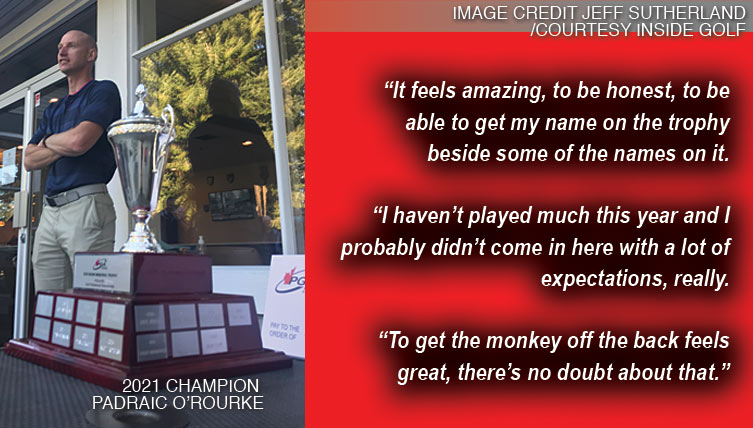 One thing different this time was that the long-hitting, left-hander was not coming in with the same level of expectation, a result of not having played much tournament golf this season.
"Previously I just put too much expectation on myself but this year I've played the least golf I've ever played. I did not even play the PGA of BC Championship at Rivershore... we were just too busy and I couldn't get away. There was a stretch in the summer where I did not play for three weeks."
But a recent decision to change his preferred shot shape led to a 65 during the Whistler Open earlier this month and put him in a better frame of mind.
"I had been trying to get away from drawing the golf ball and I just hit baby fades. When I get my hands low and I commit to it, I don't hit it to the right (a left-handed draw), so I get that flare up to the left which is fine. I did have a good round in the second round at Whistler GC and I had a lot of confidence out of that... But it takes a while, when you are used to hitting a draw and you are trying to hit a fade, the visuals are very different."
He also had a definite game plan for the demanding A.V. Macan design... hit as many greens in regulation as possible.
"After playing a practice round on Sunday, I knew the golf course was going to be tough. You look at the scorecard and you think you are going to shoot 65 and then you get out there and the greens are just so tough. My chipping - to be honest - has not been very good. I knew I would have to hit a lot of greens. Today, I think I hit 15 or 16 and yesterday I hit 17. I definitely managed my ball."
The greens are really the defense of the golf course and with them stimping at well over 11 for the entire tournament, putting was at a premium.
O'Rourke spoke about that in talking about his first hole of the second round, "It starts on #1. Today, I was aiming 10' left of the pin and ended up 30' right and was left with a downhill putt that I just breathed on. Luckily I rolled it down to an inch but the greens are just so difficult.
Another adjustment was playing at sea level.
"I think it's the Island air," he noted. "I was having to add 10 yards to what I normally hit. I normally hit my wedge 145 and it was going closer to 135."
The result was two birdies and one bogey in round one and three birdies and two bogeys in round two for back-to-back one-under 69s and a two-under total. Interestingly, that was the same two-round total posted by Gordie Scutt during the 2016 PGA of BC Championship held at Royal Colwood.
When the dust had settled, O'Rourke had a five-shot victory but it did not come easily. After the first round, he was tied with the defending champion Brad Clapp from Ledgeview Golf Club and at one point in the second round, Point Grey Golf & Country Club's Dave Zibrik made a run with four consecutive birdies to get within one shot. You can see the full tournament report from the PGA of BC Communications & Marketing Manager, Eric MacKenzie HERE.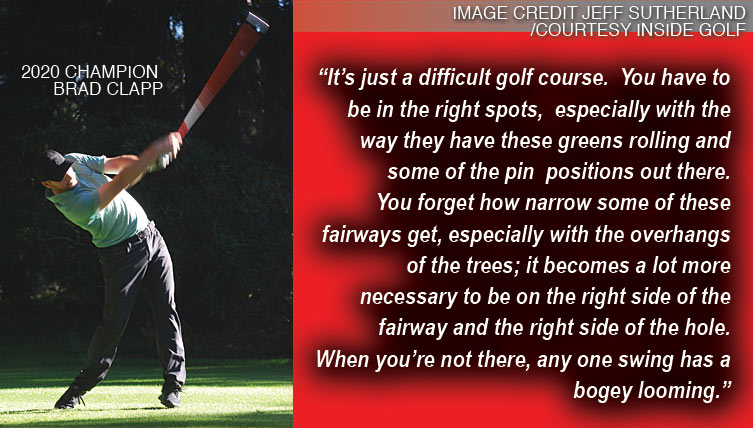 The 2020 Golf Professional of the year for British Columbia PGA of BC also credits his coach Brett Saunders for his success. Saunders, who heads the Morgan Creek Performance Golf Academy, also coaches Alena Sharpe (See Saunders bio HERE).
"In my opinion, he's the best in Canada. I started taking lessons with him a couple of years ago. We work on a few things, more so my putting. It's quite technical but for the swing, there is not a ton of stuff really. To make a swing change is tough and I don't really have the time but even a quick text from him can help."
O'Rourke is also able to draw on the experience of having played some of the best - and most challenging - golf courses in the world from Pine Valley (where he worked for two years) to Cypress Point to Saint Andrews which are his top three favourites. Having grown up in Ireland, he not surprisingly has a soft spot for the courses from his home country and actually is involved with a travel company Lyons Links that brings groups to play the best Ireland has to offer.  You can find out more about their services HERE.
 See the full tournament results HERE
Seen In The Fairway...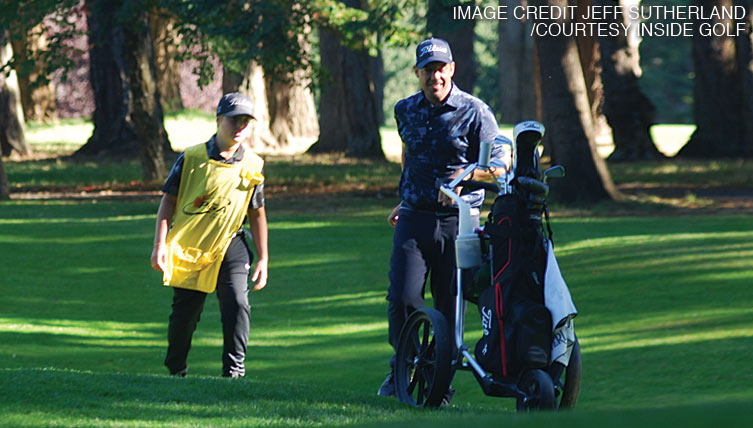 It was great to see some caddie bibs with the competitor's names on the fairways highlighted by the father and son duo of Jesse Crowe of Overlander Golf & Events Centre and his 13-year-old son en route to a T2 finish. (see image above)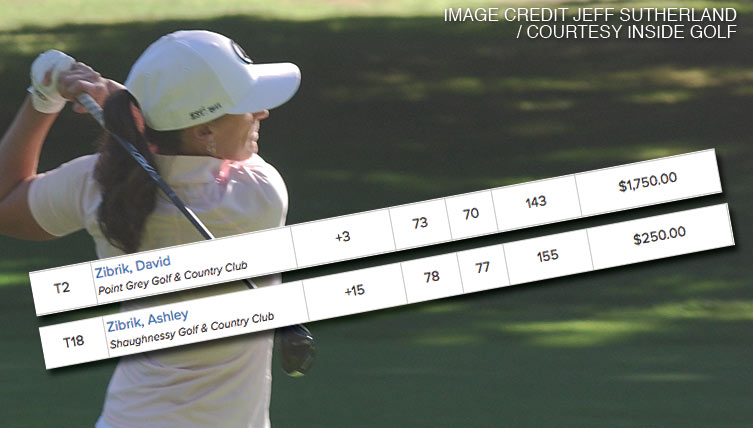 Dave Zibrik's late charge to finish tied second may have earned him $1750 but for total "household" earnings, the Zibriks plural came in second alone as Ashley Zibrik shown above (Shaughnessy Golf & Country Club) came T18 earning $250...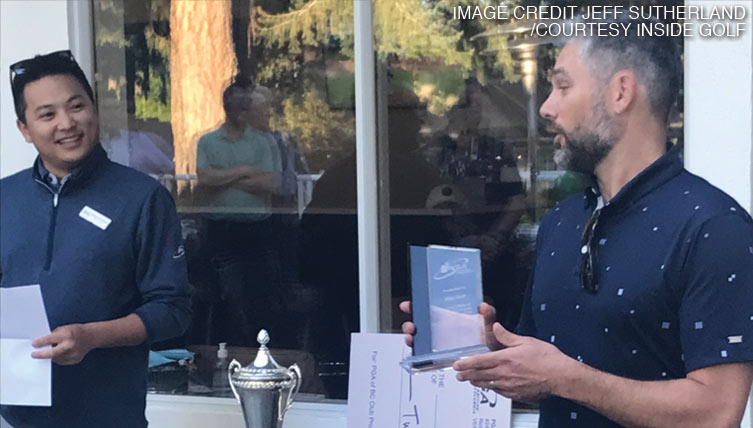 It was good to see Nike Golf as Title Sponsor. Nice to see them come on board (PGA of BC Executive DirectorDonald Miyazaki shown (L) and Nike/Mint Green rep shown (R) ...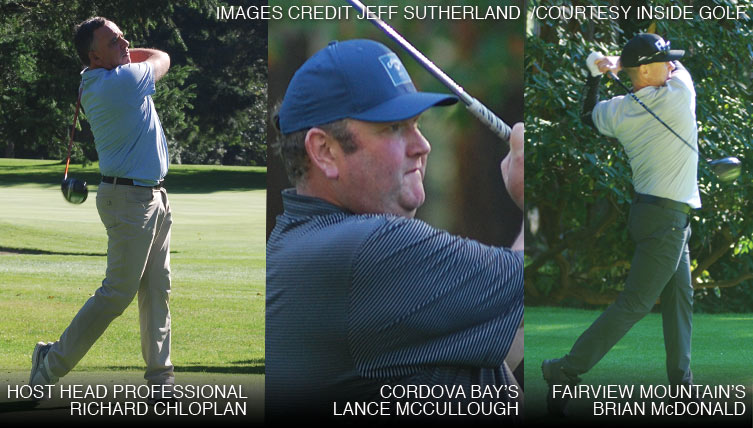 The tournament - open to Executive and Head Professionals - drew more than 60 competitors from across the province.
Chip Shots... The tournament-low round was posted by Jared Siminoff (Crown Isle Resort & Golf Community) who rebounded from a 79 to shoot a stellar 68 in the second round that moved him inside the top 10...
Mark Kitts (Shadow Ridge Golf Club), who captured the title in this event two years ago, recorded an eagle in the first round after holing-out on the par-4, 13th.