Coal Creek Golf Resort Takes A Mulligan On 9th Hole Design
Details

Category: Inside Golf
Published: 2021-09-29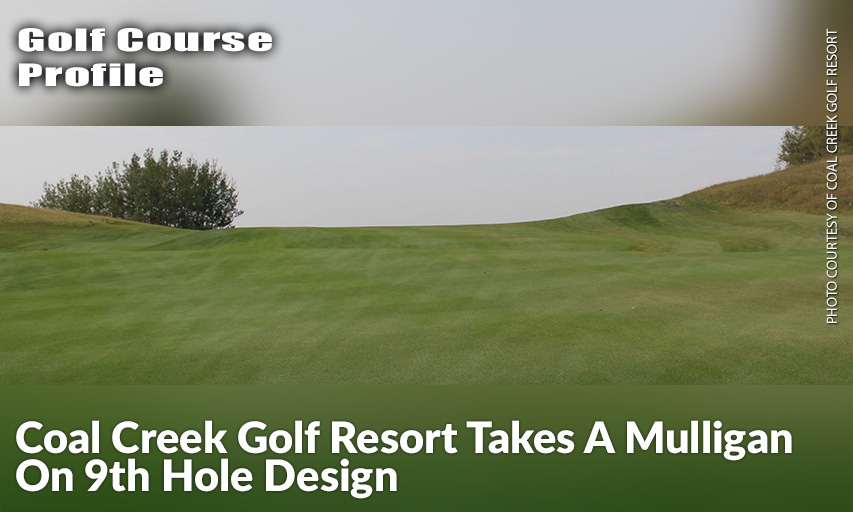 By GORD MONTGOMERY, Inside Golf
RYLEY, Alberta — While a gem may seem perfect to some people, not everyone sees that particular jewel in the same light. Case in point: The somewhat arduous, at least to some, ninth hole at the phenomenal Coal Creek Golf Resort.
Ever since it opened in 2012, this outstanding layout has had rave reviews ... except when it came to one troublesome spot on the course. That particular area was the closing hole on the front nine, a par 4 test of 414 yards off the Blue tee; 378 from the White; and 326 from the forward deck. While it was a difficult hole to start with as the opening volley was a blind shot, it was made even tougher as it landed on a left-to-right sloping fairway that sent good drives into oblivion. And that, for most golfers, was a pain.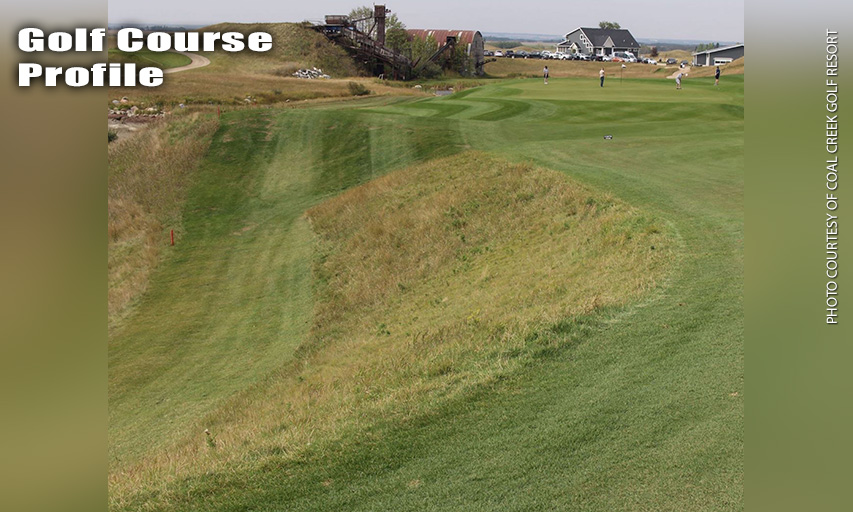 Even When Getting Closer To The Ninth Hole At Coal Creek, Trouble Still Lurked To The Left Side Of The Tricky Fairway, Meaning You Really Had To Stay Right Or Risk A Large Number On Your Scorecard.
Now though the course is undertaking renovations on that hole, a design mulligan if you will, which while not shortening its length will make for a somewhat less intimidating tee shot. With the change, it's felt this particular gem will then shine even brighter in the future.
"I think the biggest reason is we listen to a lot of our customers and (learned) if there was a weak link on the golf course, it was probably hole nine. From a difficulty perspective it was maybe too harsh," explained the course's head professional Jerry Lukasewich. "It was just unfair because of the way the ball would usually kick," which meant when your drive came to rest, more often than not it was hiding in the fairway-bordering fescue grass or even further down that slope and into a hazard. "We're going to make it — it's still going to be a difficult hole — but we're going to make it more fair."
The hazard will remain but the hole becomes more playable for Average Joe and Jane Golfer who tee it up here and shake their heads in frustration after being perhaps unfairly penalized.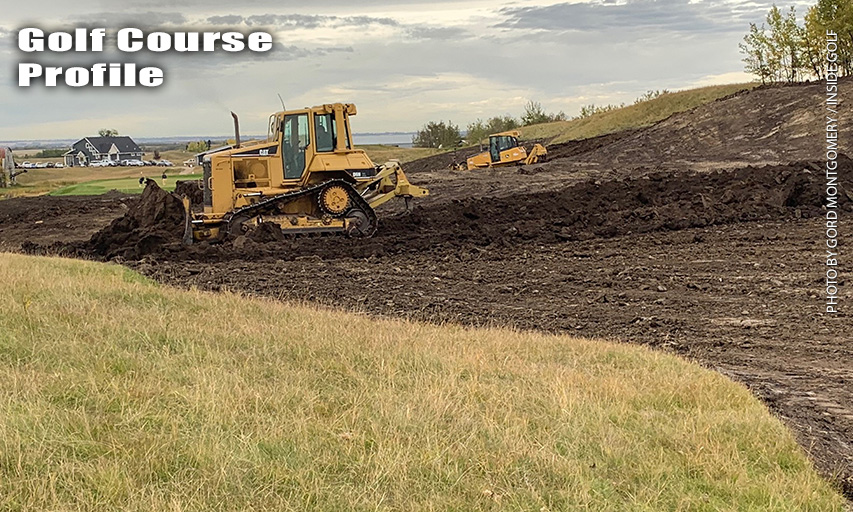 The In-House Reno Work Has Seen Two Cats Hard At Work Levelling Out The Landing Area On The Hole, Which Hopefully Will Speed Up Play As Well As Making It A Bit Less Stressful For The Average Player.
"The fairway as it is now is sort of two-tier," Lukasewich continued. "So now, the construction is going to lower the level about six feet which will actually widen the fairway. We'll also make it level so everything doesn't feed left and into the hazard."
With the dirt that's removed, the left side of the fairway will likely be built up a bit. "From what I've heard they're going to make it somewhat like a bowl," Lukasweich said of the envisioned end design. "Even if you hit it a bit left, it will collect and be fed back down into the fairway which is different from what it does now. If you hit it left now, it was gone down into the hazard."
While many are excited about this change, there are some that aren't as thrilled, as is the case with any sort of change in anything in this world.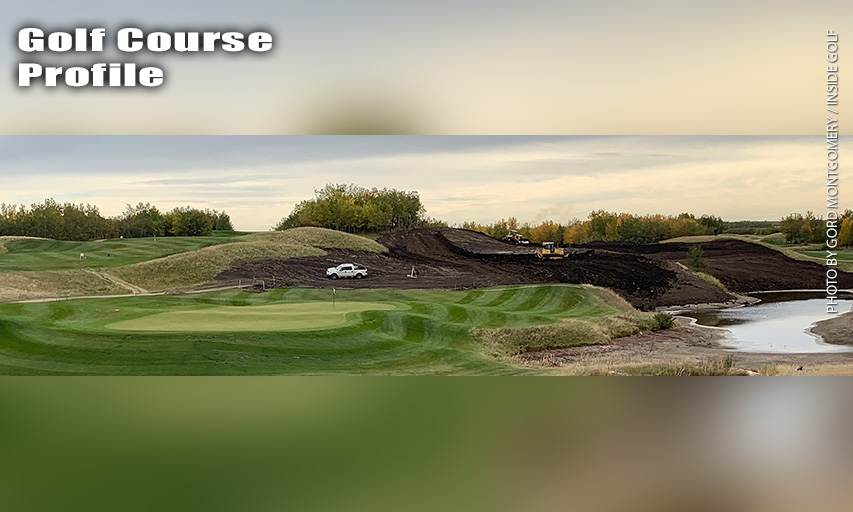 This Photo, Taken From the Back Tee On The Sixth Hole, Shows The Savage Contours Slowly Being Taken Out Of Play On Hole 9 Which Should Further Enhance The Shine Of This Rural Gem Known As The Coal Creek Golf Resort.
Lukasewich went on to say that there wasn't one single fact that called for this reno work taking place.
"There were a few reasons, not only from listening to our customers but we knew that from a pace of play standard this would also help alleviate some of the holdups on hole nine because, even for a person that doesn't hit the ball very far, their second shots were still collecting to the left. Also, one of the reasons was it was somewhat of a blind tee shot. If you didn't know the hole you didn't know where to hit it because it was a very tight landing area. What's going to happen also is the sightline from the tee will be way better. You won't be able to see the green but you will be able to see the tipple (the area where coal mining trucks emptied their loads on the former mining site on which the course is constructed) and the old plant that was there. That gives you a sort of line to where you need to hit. This will speed up play, make the hole more enjoyable. There's lot of reasons for the change."
Even with this major change to the hole, the distances won't change at all. The tees as they exist stay in place and the green, a tricky gent in its own right also remains as is. For now, the ninth and 12th holes become par 3 tests in order to allow this work to be done safely. Both holes will play out to around 100 yards or so for now, making Coal Creek a par 70 for the time being.
While it's late in the golf season, this construction mulligan has already begun and for all the right reasons.
"If we get it all completed we're going to sod the hole before freeze-up so that way it will heal way quicker. We should be a month, a month and a half quicker in the spring getting back on the hole," if all goes according to plan. The in-house work is being done in consultation with the course architectural firm, Puddicombe Golf.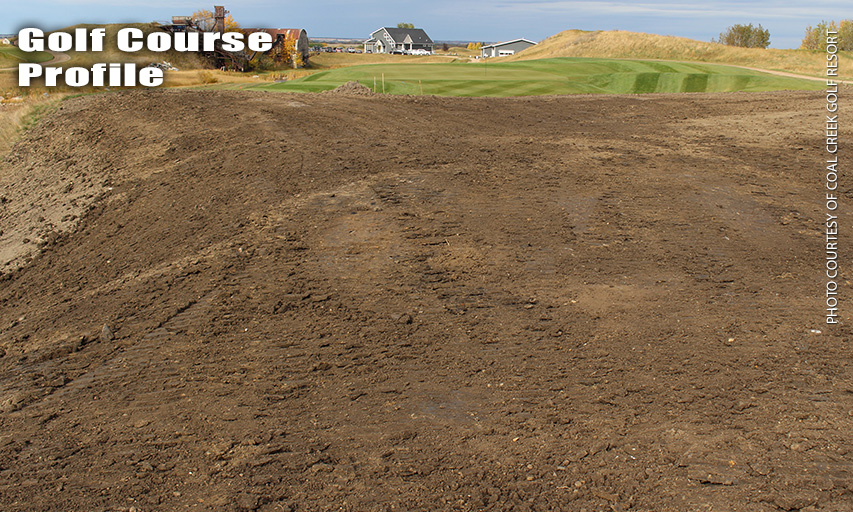 With The Levelling Work Now Done On The Ninth Fairway At Coal Creek, The Sightline From That Tee Box That Was Once Obscured By A Rise, Is Now Wide Open, Thus Being A More Inviting Tee Shot For Players Of All Levels.
For the most part the reception to the upcoming change has been mostly positive. "Yeah, I think that's the overall consensus ..." the pro noted, before adding, "... there are still some of the, probably better players who are saying 'Don't change it, because it's a challenge.' But, we've got to look after not only the better golfer but we are a public golf course so we have to take care of the interests of all the golfers."
So, while this stern, almost impossible to pass test of accuracy and length is going by the wayside, it's not going to turn into an easy birdie, or par, for that matter going forward
"It's still going to be a difficult hole but it's just not going to be as extreme as it was," ended Lukasewich.