L.A.B. Golf To Launch DF 2.1 Putter In Pink
Details

Category: Inside Golf
Published: 2021-09-30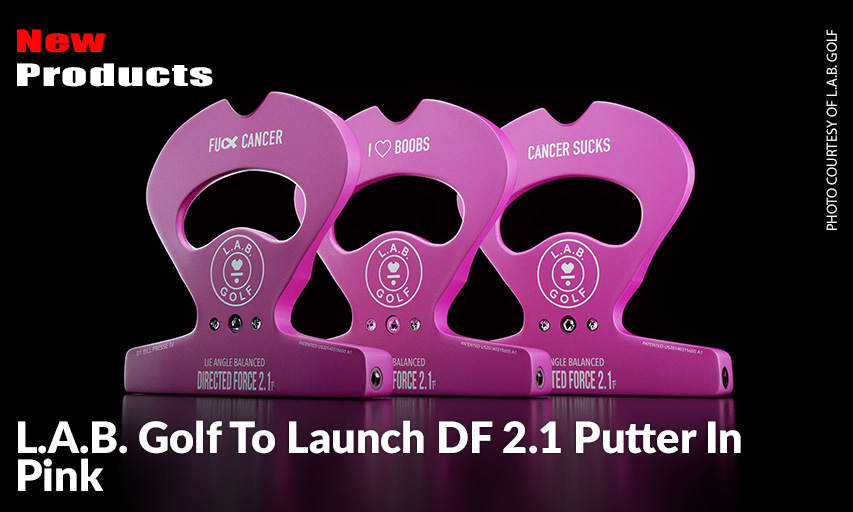 RENO, Nevada — Beginning October 1, L.A.B. Golf will offer its popular DF 2.1 putter in a new pink finish to raise awareness for Breast Cancer Awareness Month. The company will donate $100 for each putter sold to support the Oregon Cancer Foundation, a 501(c)(3) non-profit organization.  
"As an Oregon-based company, we wanted to do something to support our community," said L.A.B. Golf CEO Sam Hahn. "Nearly everyone knows someone who has battled cancer, and we're excited to further the ongoing education, support, and financial assistance the Oregon Cancer Foundation offers to our community during Breast Cancer Awareness Month and beyond."
DF 2.1 Pink will be available with the company's extensive custom options: 36 different alignment markings, as well as a wide range of lengths, lie angles, upgrade shafts, grips, and headcovers. Golfers will also have the choice of three customer laser etchings to be placed on the bottom or the back of a DF 2.1 Pink putter.
DF 2.1 is L.A.B. Golf's most popular putter and recently earned a top-5 ranking in GolfWRX's 2021 Members Choice: Best Putter. Over the last 12 months, L.A.B. Golf sales have more than doubled as golfers around the world have seen how much more fun putting can be when they switch to a zero-torque putter.
Pricing and Availability
DF 2.1 Pink (starting at $650 USD) is only available at labgolf.com starting October 1. The stock shaft is the Accra x L.A.B. Golf (white), a carbon fiber putter shaft co-developed by L.A.B. Golf and Accra to improve the feel and stability of its putters.
Those wishing to make a direct donation to the Oregon Cancer Foundation can do so by visiting oregoncancerfoundation.org.
---
About L.A.B. Golf
Rolling a golf ball into a hole shouldn't be complicated. Yet for golfers around the world, putting is the most challenging part of the game. L.A.B. Golf was created to simplify things. The company believes it's possible for all golfers to be excited about putting.
L.A.B. Golf putters and its Press Grips are available at labgolf.com, PGA Tour SuperStore, Club Champion, and other fine golf retailers. 
For more information on L.A.B. Golf™, visit labgolf.com.