Shop Indoor Golf Introduces DIY Golf Simulator Enclosure
Details

Category: Inside Golf
Published: 2021-10-06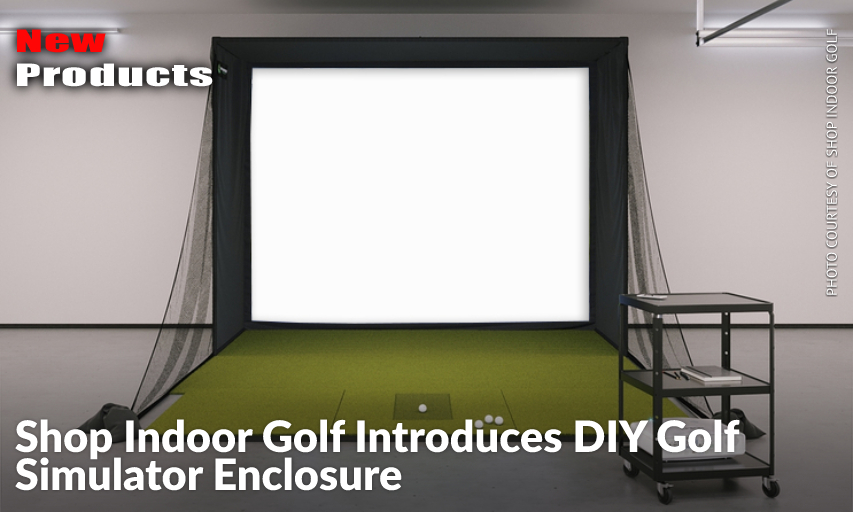 DALLAS, Texas — Shop Indoor Golf, home to the largest selection of residential and commercial indoor golf equipment online, is introducing a line of Golf Simulator Enclosures for the Do-It-Yourself types, with the new DIY Enclosure Kits, available in 3 different sizes. These DIY Enclosures come with everything included in the SIG8, SIG10, and SIG12 Simulator Enclosures except for the pipe framing that will need to be purchased separately. This allows the buyer a cost-savings option so that they can complete the Simulator Enclosure with the materials that fit in their budget. The recommended pipe frame is constructed of 1-inch EMT pipes, found at most hardware and home improvement stores.
"With more and more people adding indoor golf studios into their homes, garages and businesses, it's important for us to offer a variety of 'Do It Yourself' and 'Done For You' products at different price points," said Rene Delgado, founder and president at Shop Indoor Golf. "The DIY Golf Simulator Enclosure Kit is an affordable and easy-to-build option, that includes the very best of our premium enclosures other than the pipe frame, that can be purchased at a hardware store. We know there are a lot of DIY indoor golfers that want to build studios and enclosures on their terms and this kit allows for that."
The DIY Enclosure Kit is available in three different sizes, including the SIG8 at 8-feet by 8-feet, the SIG10 at 8-feet by 10.5-feet, and the SIG12 at 9-feet by 12-feet. Resources, like installation manuals and videos, are available for the complete build-out of each enclosure. The DIY Kit will include:
The SIGPRO™ Premium Impact Screen: In independent, head-to-head testing conducted by the team at MyGolfSpy, the SIGPRO Premium Screen outperformed what has been the industry's most popular impact screen on the market. The results proved the durability of the new SIGPRO screen is superior to the competition, while also delivering reduced sound and bounce back. Finished with double stitched black vinyl edges and grommets, the screen mounting is a breeze and can be done using the included ball bungees.
SIG Surround: This heavy-duty black vinyl material creates an enclosed and high-end finish to the golf simulator. The fabric sidewall panels and ceiling panel protect and contain.
Side Barrier Netting and Sand Bags: As added protection for errant shots, the side netting extends outward with the help of weighted sand bags.
Canopy Fittings and Connectors: Steel fittings and elbows to construct all frame joints and corners. To be used with the 1-inch EMT pipes that are purchased separately.
Ball Bungees: A bundle of 6-inch black ball bungees is included that will secure the impact screen and surround panels to the enclosure frame.
Buyers can order the DIY Kits at ShopIndoorGolf.com at prices ranging from $1,499.99 to $1,999.99, depending on the size of the enclosure. Shop Indoor Golf also offers free shipping on all orders and easy, instant financing. More information on Shop Indoor Golf's full line of products is available at ShopIndoorGolf.com.
---
About Shop Indoor Golf
Shop Indoor Golf offers the largest selection of residential and commercial indoor golf equipment online. The company is dedicated to bringing customers the best indoor golf entertainment at the best prices guaranteed, including a wide assortment of golf simulators, launch monitors, indoor putting greens, golf nets, and other home golf equipment. Shop Indoor Golf is based in Dallas, Texas, and ships to the lower 48 states. The company is focused on delivering quality products and the best customer service and prices. More information is available at www.ShopIndoorGolf.com.