Let The Sun Shine In: Alberta Golf Cart Company Set To Roll Into Market With Solar-Powered Rides
Details

Category: Inside Golf
Published: 2021-10-11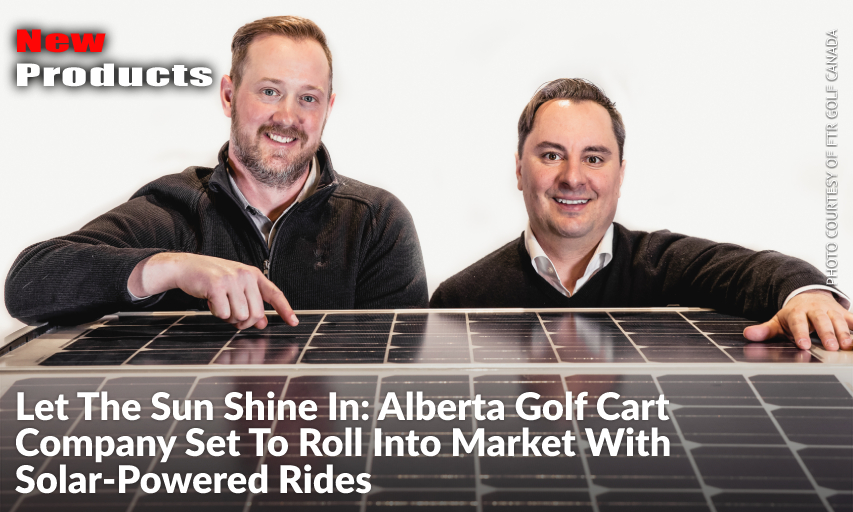 By GORD MONTGOMERY, Inside Golf
WAINWRIGHT, Alberta — For entrepreneurs launching a 'new' product there's no better time to hit the marketplace than when what you've created is in short supply and high demand. That's exactly the scenario for FTR Golf Canada, who find themselves in an enviable position heading into the 2022 buying season for golf courses.
Speaking from his factory in the small Alberta town of Wainwright, located east of Edmonton, Garrett Fraser, who is a CPGA professional as is his partner Sean Mills, explained that the company's newly minted solar powered golf carts are hitting the fairways just as their bigger, more well-known competitors are pulling product back from the Canadian marketplace.
"We're definitely the industry disruptor," he began. "We've definitely found a new way to utilize current technologies that are available in ways to utilize an electric golf cart," as they prepare to launch a four-wheel power cart that lasts longer per charge as well as costing less to maintain and operate. "We're offering a Canadian option that has never been available until now."
With more people playing golf in the past two years and the influx of single-rider carts beginning to gain traction in the industry, Fraser was asked why his company saw this as the prime time to launch their vehicle.
"I think where it started was taking a ride on a fleet cart at a golf course and realizing that there's a lot more value that could be offered to the course owner/operator. The idea of optimizing a cart with technology that's currently available was the start of it. The idea to disrupt the industry was to offer a cost-competitive option that was Canadian manufactured."
These carts are built specifically to handle the demands put on course transportation that can be dished out by the general public. In speaking to why this product is different from the usual driven-hard-and-put-to-rest-wet golf cart seen at most public golf facilities, Fraser launched into an explanation of why he feels his product is different, and better.
"What we did is offer the largest lithium battery cell that's available on the market today and then we coupled that with a couple of technology pieces. We have a worldwide partnership with a company, SolarDrive, who designed and implemented a solar roof panel for golf carts. Then on the technology side, on the motor control itself, we optimized the IT and the algorithms on that motor control so that the cart can have a large, extended range."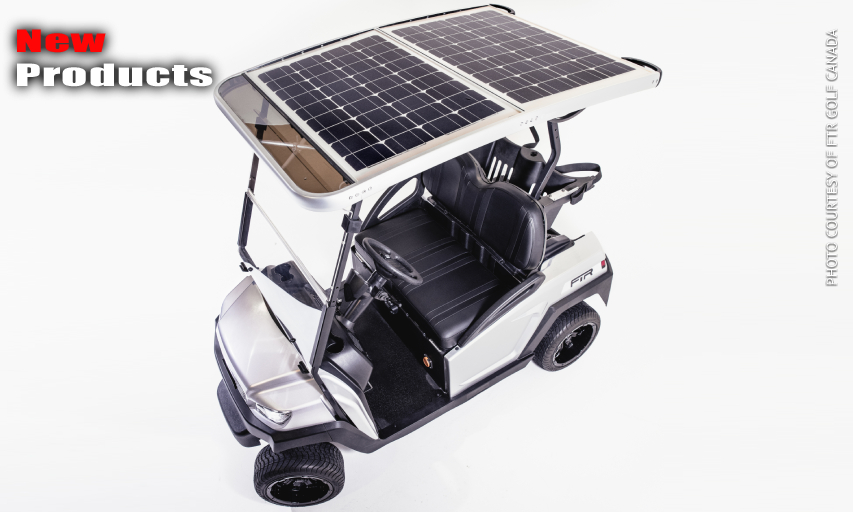 The Roof Top Solar Panels, Which Provide The Energy Needed To Motor These Stylish Carts Around For An Extended Period Of Time, Are Constructed & Provided By Manufacturing Partner Solar Drive.
And that, Fraser continued, is where his company hopes to make inroads in a highly competitive, and yes lucrative, market. He noted that this innovation also helps course operators cut down on expenses due to how these carts regenerate their power. As well, the Alberta-built carts carry "quite an extensive warranty."
"To a golf course owner, the ability to have a golf cart that charges while it drives, charges while it sits, and then it's optimized to go a very long distance over a number of golf rounds, it just initiates a lot of cost savings for the course operators. For a personal golf cart owner too, if you want a 2-seater or a 4-seater for yourself, it gives you the opportunity to have a low-cost product."
While costing less to operate given the need to not charge the battery as often, there is also the upfront purchase price savings that could mean a huge ROI for course operators. Fraser noted a particular ride offered by another cart company, with a lithium battery, retails in Canada for around $19,000. A similar model produced by FTR Golf Canada will drive onto the fairway at about $5,000 less.
Another plus on the FTR Golf Canada side is storage of the carts' power source once the golf season comes to a close. With older electric carts, the batteries need to be removed, maintained, and stored in a safe manner during downtime. With their vehicle, says Fraser, that's not necessary.
"Our batteries can operate in plus-50 (C) and can be stored all the way down to minus-50 (C). That gives you the ability to put this cart away in cold storage — it only loses two (2) percent (power) per month while stored, so when you pull it out in the spring, it's sitting at 88 percent, and it's ready to go."
But wait. There's more to this new kid on the block story. Besides the onboard entertainment system that includes standard built-in Bluetooth stereo with two speakers, AM/FM AUX and USB connections, a premium phone holder and two USB chargers, recent technology advances also come into play.
"Why can't a golf cart understand how to drive on certain terrain better, use the motor better, more efficiently?" he queried. To that point, the company will be addressing how that works with the public in the very near future.

The FTR Carts Provide Golf Course Operators & Their Customers With The Latest In Technology, Including Built-In Bluetooth Speakers, USB Ports & A Stylish Look Among Other Things.
Now, back to the start of this article and why this feels like the right time to hit the marketplace. You see, in this case there is an upside to some shortages in the golf industry world which will likely hit this country hard beginning in 2022.
"The last few months, (major cart companies) have made an announcement that they will not be able to provide any carts for the Canadian market for the entire 2022 season," said Fraser. "They have no manufacturing capabilities (at present) to provide product to Canada," because of demands from the U.S. and Europe. "We have the capability, a manufacturing partnership already confirmed, so we can fulfill any orders that come in this fall and have them ready for the Canadian market May 1st."
"One of the biggest challenges is bringing on early adopters," continued Fraser. "For us, it's about (courses) dealing with a Canadian company, dealing with PGA professionals who have operated golf courses, managed golf courses, went through those issues, those concerns (of over-used, worn-out rides). We couldn't ask for a better opportunity for us to walk into, and being a Canadian company and being able to offer product to Canadians that you can't source anywhere else in the world right now."
FTR is offering fleet delivery time of around 100 to 120 days which is a typical timeline. "That gives us the time to make sure things are done right," coinciding with the fact that this company, and their new market disrupting product, will strike the Canadian golf market at what appears the right time. For more information, contact FTR Golf Canada at ftrgolf.com.