Maude-Aimee Leblanc Earns LPGA Membership
Details

Category: Inside Golf
Published: 2021-10-11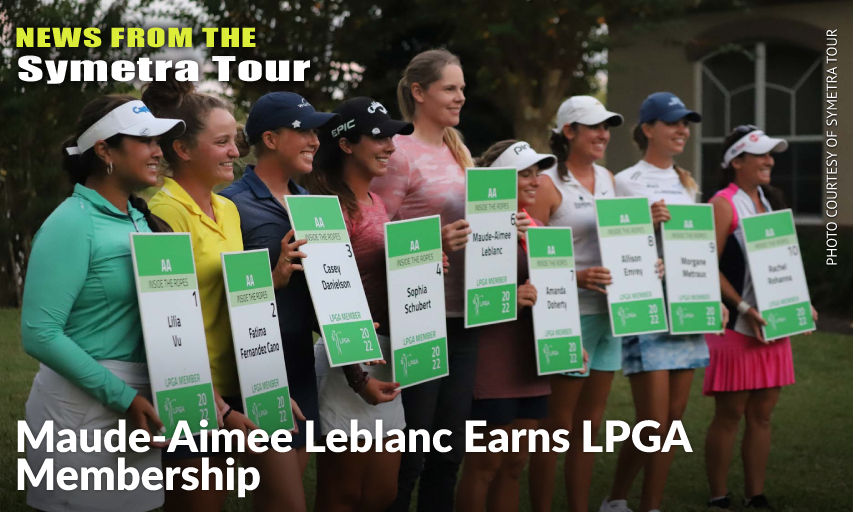 DAYTONA BEACH, Florida — The Symetra Tour annually awards LPGA Tour Membership to the top players on the Race for the Card money list, and the conclusion of the Symetra Tour Championship ushers in the 2021 graduating class.
From 1999-2002, the official qualifying tour of the LPGA handed out three cards. Then from 2003-2007, that number increased to five before 10 were distributed starting in 2008. Since the inaugural year, total of 172 players have graduated to the big stage including the top 10 from this season.
No. 6 Maude-Aimee Leblanc (Sherbrooke, Quebec, Canada) - $94,188
Two years ago, Maude-Aimee Leblanc announced her retirement from professional golf on social media, saying, "I decided to retire from professional golf forever. Over time, I realized it wasn't my dream." It is safe to say the coronavirus pandemic rekindled that competitive itch for Leblanc and established a new set of dreams, some of which she chased down as a Symetra Tour graduate.
Leblanc played the weekend 15 times in 18 starts this season with 14 top-25 finishes including nine top 10s. She recorded a season-best result of runner-up on three occasions. The 32-year-old Canadian led the Symetra Tour in par-5 scoring (4.600), was second in scoring average (70.060) and in par-4 scoring (3.982), and fifth in average driving distance (285.190 yards). Leblanc first earned LPGA Tour Membership through her finish in the 2011 LPGA Final Qualifying Tournament.
Leblanc on earning 2022 LPGA Tour Membership: "It's pretty surreal. A couple years ago, I wasn't sure if I would ever play competitively again. To be here, getting back my LPGA Tour card after probably the best season in my career, there's no words to describe the emotions. The journey has been grueling and this game knocks you down, but I'm proud to see what all my perseverance and hard work accomplished."