The Perfect Gift For The Golfer Who Has Everything — Except A Deep Wallet
Details

Category: Inside Golf
Published: 2021-11-22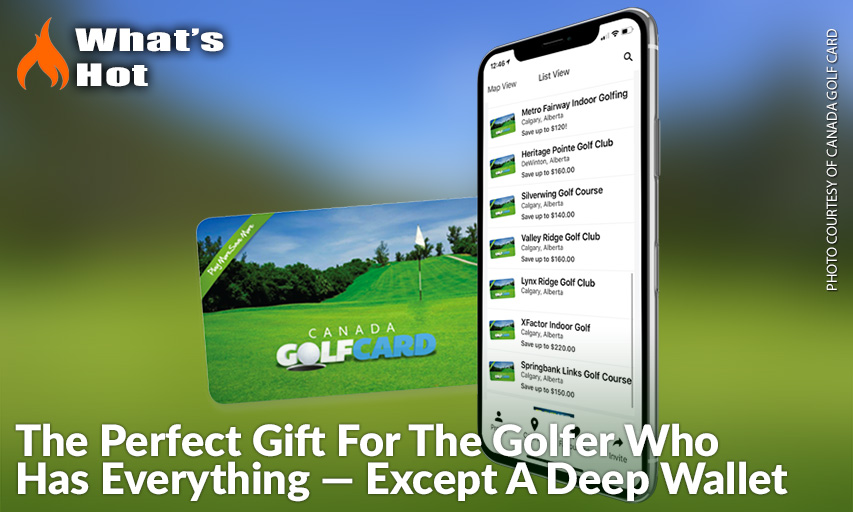 By GORD MONTGOMERY, Inside Golf
EDMONTON, Alberta — If you're desperately searching for a Christmas gift for the golfer in your life who appears to have everything, other than a building wallet to pay for ever-rising green fees, than we perhaps have a suggestion for you. And even though this idea helps the golfer's pocketbook it won't hurt yours either.
The Canada Golf Card is a money-saving concept where for a single purchase price, a golfer receives untold financial benefits after swinging into action. With hundreds of golf courses, indoor centres, and driving ranges attached to the Canada Golf Card at venues all across Canada, the U.S. and Mexico, the savings that are driven the golfers' way can be immense.
Simply put, each course involved offers four special deals. They can be anything from a 2-for-1 green fee to a free power cart with two green fees to pro shop savings. Speaking to where and when this idea took hold, one of the company's directors, Jeff Ivanochko, said they've been in business for almost a decade and have seen phenomenal growth, both from consumers and courses taking part.
"This is our ninth year. We noticed the golf books out there were more of a regional project. Apps were just getting out and we said we needed a national program rolled into one (platform). There was a gap in the space with no Canadian golf pass - it was more regional stuff. Golfers like to travel and move around to different courses and we wanted to bring a product that worked for the consumer but also a product that worked for golf courses."
Putting this card to use is simple. After choosing a course to play, a golfer calls them up (course phone numbers and map directions are available through the app) to book a time. The green fees are paid at the course, not online, and there are few restrictions attached to using the Canada Golf Card app. When you arrive at the course, simply show them your phone with your personal code (or a self-printed hard copy version if you wish), the offer is downloaded by the course, and you're teeing off in short order.
"Unlike traditional platforms where you usually have to pre-pay or you're pre-paying a third party and you may not know where they are; or when you get to the golf course there may be a problem because that third party didn't communicate (properly) with the golf course. With our members, you book like you ordinarily do over the phone. You show them your phone and the offer comes off the phone. The times are based on availability (not predetermined times that are often allotted to online tee time sellers). If you call and they're full, you can't get on. The golf course doesn't have to designate tee times. It's just based on availability."
If you've perhaps never heard of the Canada Golf Card, that may put you in a minority of golfers. Ivanochko noted that over their company's tenure, they've seen phenomenal growth, and use, of this idea. That's borne out by the fact that almost 50,000 people now use this program in total, with 35,000 of those using the app to tee off at the included courses.
"We're growing exponentially every year. Golf is not a cheap sport and people are looking to golf more and this is a program that increases rounds per player. Instead of (being able to only afford) two or three rounds, now they can play five or six rounds."
As for where you can play, well, that depends on where you are. With travel and tourism finally picking up across this country and to the south of Canada, there are a huge number of places to tee it up. In Alberta there are 191 courses listed; B.C. has 140; Saskatchewan and Manitoba have 89 between them; Ontario offers up another 147 places to whale away; and further east from Quebec to Prince Edward Island there are 16 more, including 13 in Nova Scotia. Then there's the United States where Washington state has 36 tee off areas; Arizona offers up nine places to play; California has 21; Nevada chips in with another 10, while Oregon has three including one of the Bandon Dunes courses and so on and so on. In other words, you wont' have trouble finding a place to test your skills.
"We like the travel market. I'm going to Mexico and I'll be using the card there," said Ivanochko "It's not just Canada. It's a travel card. Last year we were at 750 courses and yes, we are expecting that to grow."
Besides helping golfers find great deals, the Golf Canada app is also a useful tool for course owners. Said Ivanochko, "The Canada Golf Card Marketing Platform is unlike anything else on the market as it is a free platform for courses to join so they can promote to one of the larger golfer databases in the country. This platform was designed from the beginning to make sure we grow the game of golf and make sure we are good for the golf courses' bottom lines. It's a smart marketing platform for golf courses with great features like adding bonus offers, sending push notifications, selling memberships and increasing pro shop revenues. It grows their bottom line and does not take away from it compared to traditional programs on the market."
There are no limitations to when golfers can use the card can at the course of your choice, as long as tee times are available. Each card has four offers and once they're used, your benefit for that particular spot is finished, "But obviously you have (a lot) of other courses to use your card at," Ivanovich noted, agreeing no one should run out of places to golf during the season.
Over the past while the app added a free GPS range finder and a scoring history tab is being added for the 2022 season and other new features are on the way. The card also provides for hotel discounts at select properties.
Now, about that hard-to-buy-for golfer in your life and a gift they'll find useful every time they tee it up. The Canada Golf Card costs only $73.45 (GST included) but there are discounts available through the Alberta Motor Association and is in play from January 1 until December 31. For more this product, go to their website at canadagolfcard.com.