B.C. Brothers Look To Break Into Golf Accessory Business
Details

Category: Inside Golf
Published: 2021-11-29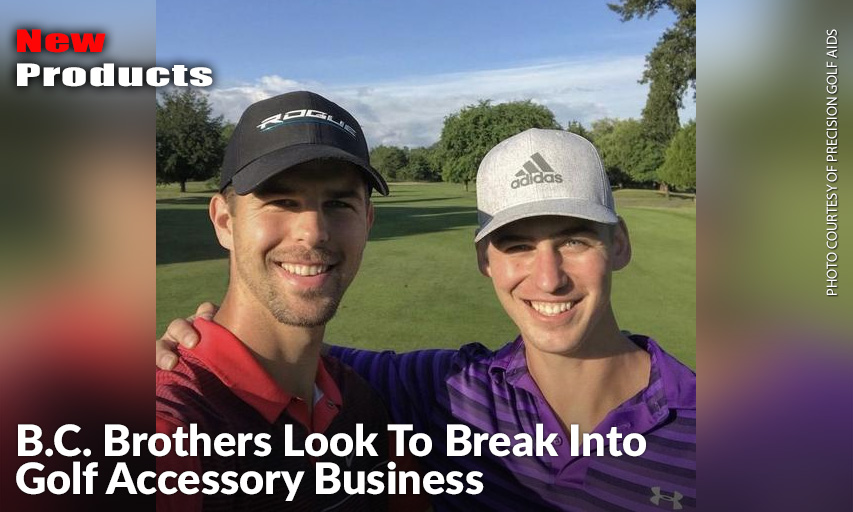 By GORD MONTGOMERY, Inside Golf 
LANGLEY, British Columbia — Being an entrepreneur, or in this case a golfpreneur, isn't easy especially in the case of Jaime and Gordon Jarvis' new business. Then again, it's somewhat of a cakewalk compared to their upbringing. Early in their lives the brothers faced daily difficulties as their mother battled drug problems and the boys dealt with the struggles that lifestyle brings upon a family. Now though, they're all bound and determined to make a go of it in the golf industry after undertaking a new venture in supplying golf aids to courses, and individuals.
To date Precision Golf Aids has been focused on direct-to-consumer sales. That though will hopefully be expanded in the coming months, and years. "We've kind of ventured off into accessories for golf courses," explained Jaime in a phone interview. "We've successfully gotten into two golf courses and have two on the 'to-buy' list," as they haven't yet started purchasing for the 2022 season. "We've only been around three months so this is super fresh, super new, so we are getting some traction."
An interesting twist to this new enterprise is that it's not solely focused on bettering this family's prospects. They are reaching out to help others as they grow, by promising to give back to others through a national sport outreach program.
"A huge part of why we're doing this is to give back, to help kids get into sports because for us growing up that was something that we really needed."
As to their business model, COVID-19 did play a role as Gordon, who is a golf coach, saw the growth in the game and the brothers figured this was the time to jump in. "The passion he has for golf, I have for business, so this just sort of made sense," commented Jamie.
As rookies in the retail golf world, the brothers reached out to other companies and found they were willing to offer advice in helping them get their feet on the ground. Since there are multiple businesses selling golf aids, the Jarvis brothers need to come up with a unique way to stand apart from the crowd. And, they think they've found that.
"Right now, we've just been cold-calling which I feel is a lost art; not many people do that anymore," Jaime noted. "Just telling them our story, what we're trying to do. We know we're not going to compete with a lot of the bigger companies …. we're just coming in as the new guys. We're a couple of brothers and our mom (who has been clean and sober for three years) is helping out too, doing some sales. We're just trying to build a business, see what we can do, and have fun! We;re pretty scrappy. We'll do whatever we have to," in order to be successful.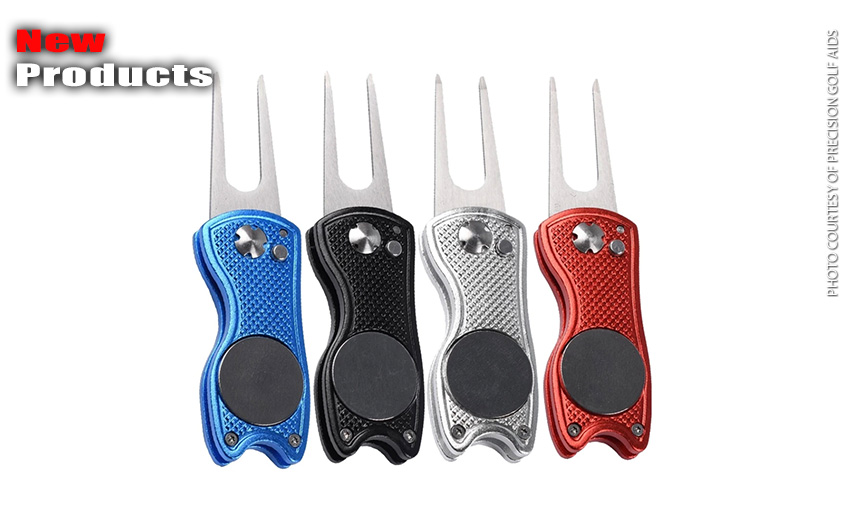 Some Of The Products The Brothers Carry Include A Must-Have For Every Golfer, Divot Repair Tools, But They Also Offer Training Aids To Help Not Only With The Full Swing But Putting Help As Well.
For right now, Precision Golf Aids is handling a small amount of product, but even so, Jaime feels you have to start somewhere. At present their inventory includes things such as putting and swing aids, a putting matt and a 3-line ball marking device, and divot tools.
As to their charitable goals, they'll donate 10 per cent of total sales to Jumpstart in order to help kids have a better life through sport. And their young lives, and they help they received back then, play a huge part in this matter.
"The reason we like Jumpstart is all their administration fees are covered by Canadian Tire. That means if you give $10 to Jumpstart, the $10 goes (to getting kids into sports). It doesn't go to advertising, hard costs. Knowing every penny we donate to Jumpstart goes to kids is important. Without getting too personal, we had a crazy upbringing. I remember being five, six years old and living with our mom who battled addiction. I remember walking through the house opening the fridge, seeing there was no food. Opening cupboards and seeing there was no food. The only meal we got was through the Boys & Girls Club, their breakfast, where they give us milk and cereal. That was the only meal we got that day."
So in the long run, by becoming entrepreneurs in order to help themselves, this family unit will in fact be helping others get into sports which may even include a golfer or two along the way.
For more on this start-up company, or to view their products and perhaps place an order, go to www.precisiongolfaids.com.