At Wigwam Resort, There's Golf... And A Whole Lot More
Details

Category: Inside Golf
Published: 2015-12-19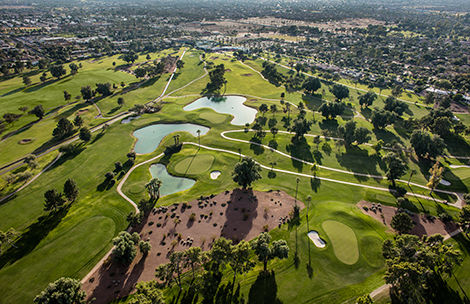 by Gord Montgomery - While on a family vacation, someone's significant other at some point and time has more than likely uttered the phrase, "Man can't live on golf alone, dear."
 Well, if that in fact is true, then I have some other options to consider — tennis, baseball, NASCAR, hockey, basketball, football, fighter jets and yeah OK, more golf.
You see, in the greater-Phoenix, AZ area, there is no better home away from home than to set up shop at the wonderfully appointed Wigwam Resort in Litchfield Park, in the West Valley.
The resort, recently renovated to the tune of $16M (US$) is situated only 25 minutes west of Sky Harbour Airport and affords a family, or a conglomeration of buddies for that matter, everything they need for a (golf) vacation of a lifetime.
The Wigwam (meaning "gathering place") is right next door to the spring training camp sites of seven MLB teams; the home to the NFL's Arizona Cardinals and the NHL's Coyotes; the NBA's Sun; the Phoenix International Raceway; and right on site there is a world-class tennis facility.
And golf? You want golf? There are 54 holes on property plus when you stay at the Wigwam Resort you have access to another three great courses in the area, including two desert tracks.
The Wigwam property itself encompasses over 440 acres of land tailored to perfection. All told, there are 331 casitas, which includes 72 suites and two ultra-exclusive Presidential casitas, spots that are great for staging large family groups or a mega-buddy blast. 
Among the available rentals are The Adobe collection containing 241 units surrounded by flora and citrus trees. These rooms start at 480-sq. ft. and all feature walk-out patios and are located close to the main hotel amenities.
There is also the Oasis Collection with guest rooms and suites starting at 600-sq. ft. All are surrounded by pools, colourful gardens and private lounge areas.
As well, the Fairway Collection beckons those with golf on the mind. These overlook the Patriot Course and start at a spacious 550-sq. ft. All the rooms are within easy walking distance of the pro shop and the first tees at both the Gold and Patriot courses. The rooms include a patio, and a wet bar for quenching your thirst as you relive the shots made, and missed, on your round(s) that day.
With regard as to how The Wigwam can set you up on the best buddy-golfing jaunt ever, Mark Conn, the resort's Golf Sales Manager says leave it in his hands to take care of essentially all your sporting needs while on property.
"We don't have what we call a 'set rate,' because it's all customized, set through me," he began about golf outings. "It's based upon occupancy. Really, everything is customized dependent on how many nights you want to stay, the room type, how many days you want to play golf. There is an advantage to that because if we're not at full occupancy, I can offer a nice discount to help those on a budget."
The Wigwam does offer a promotional deal called 'Tee It Up', a package that includes a daily breakfast allowance for each person. As well, the golf pricing is based not on a per round basis but rather per day meaning the number of holes you can play at the resort is unlimited.
"The thing with us having three courses, you can set a morning tee time and say you have eight guys and four don't want to play in the afternoon, the others can and there's no difference in the rate. Having three courses we can offer that because we have plenty of options for golfers."
As well, Conn can set up rounds off-site at the Biltmore (another parkland design) or at two desert courses, the Verrado Golf Club, a top-10 public course in the state designed by Tom Lehman and the Golf Club of Estralla.
"The Biltmore is closer to the airport and you can drive here after playing," Conn noted about getting that first round in after your plane lands on arrival day, especially in January and February when daylight hours are shorter. "The same thing works on departure day. Say you've got a three o'clock flight. Tee it up at 8 a.m. and then go catch your flight. The two Biltmore courses are included in our package prices. There are no premiums.
"The reason we have the other two courses involved in our package (again at no additional premium) are because people coming (from winter destinations) want to play a desert course and it's a nice change of pace. They're very nice courses."
Now, about getting away from golf. The West Valley is ripe with things to do of a sporting nature, including those Spring Training destinations. While the Wigwam doesn't necessarily set up junkets to these locales, they are close by with three parks within 15 minutes of the resort. However, Conn can set you up with tickets to another sport.
"One of the most popular things I arrange is golf during the day and a hockey game at night. We do have a relationship with the Coyotes where I can get special pricing on tickets and I can do that that before you get here."
Another sport is NASCAR and the track is close by, although the schedule isn't as busy as hockey or baseball. Conn explained there are spring and fall stock car races plus the open-wheel Indy circuit that will return this year in April.
"What we really like to hit on," Conn said in closing about the sporting options available while you're located at the Wigwam Resort, "is you come here, you stay here, you play here."
Restaurants
Besides all that, the Wigwam Resort is truly a place where once you're settled in, you never have to leave the property. One is the easy-going restaurant, Red's (great golf course food including the Jesse Burger and the BLT). This is a great spot to hunker down for the night with great food, some liquid refreshment and partake in TV sports on any of the 14 screens.
The Wigwam Bar, the social hub of the complex and located in the main complex, serves breakfast, lunch and supper and provides atmosphere with outdoor fire pits.
Finally, there is the upscale Litchfield's which pays tribute to the local farming community with its exquisite farm-to-table cuisine with locally sourced produce. The food and service here are top-notch and not to be missed.
Spa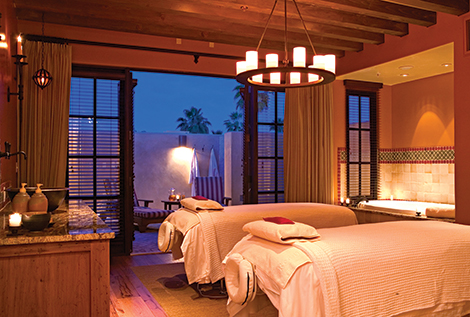 One of the most popular spots on-site is the Elizabeth Arden Red Door Spa, whether you're looking to relax tired muscles after a day of golf, tennis, or you just want a bit of pampering. The spa, set in a comfortable Southwestern-style decor, is 26,000 sq. ft. of pampering that includes such luxuries as aromatherapy and Desert Hot Stone massages in 15 treatment rooms. There are also  three couples' suites, a co-ed lap pool, four hair and manicure stations and five pedicure stations. All the skincare products used are available for purchase on-site.
Recreation activities
If you're looking to swat some balls larger than the ones found on a golf course around, the tennis club with an on-site pro is the place to head. The area provides guests with eight concrete courts plus one rubber-flex stadium court. If you don't bring your gear with you, fear not as the resort has equipment rentals including ball machines, locker rooms and shower facilities and a fully-stocked pro shop. As well, private lessons can be arranged.
There is also a full fitness centre at Wigwam, meaning you can work off all the food you enjoyed the day before. The centre has fully certified staff on hand and classes are offered for all sorts of different movements including yoga, water aerobics and boot camps.
There are also a number of outdoor activities including a skating rink (plastic "ice"), bocce and volleyball courts, ping-pong, biking and hiking. There are also year-round activities at the resort including nature walks to cooking classes to wine tasting.
As well, if you're into high-flying antics, head down the road a short way and take in the air show, compliments of the air forces from several different nations. While there is no access to the base itself, you can sit on the shoulder of the roadway outside the base and watch the amazing, and noisy, comings and goings.
All in all, the Wigwam Resort is a one-stop vacation spot for the entire family who may be looking to simply kick back and relax or to stay as busy as possible during their "down time" because, yes dear, there sometimes really is more to life than golf.
For more on this great resort, go to wigwamarizona.com.
About the writer: Gord Montgomery is a retired sports editor of two weekly newspapers in the Edmonton area and is a member of the Golf Journalists Association of Canada. He is now in his eighth year of writing for Inside Golf. He can be reached at This email address is being protected from spambots. You need JavaScript enabled to view it.. He's also on Twitter at @gordinsidegolf.
alt
The Main Lodge At Wigwam Resort In Litchfield, AZ - All Images Courtesy Facility
alt
alt
Litchfield's Restaurant Serves Great Locally Sourced Food And Offers Top-Notch Service
alt
Treat Yourself At The Elizabeth Arden Red Door Spa
alt
There's Plenty Of On Site Ways To Relax And Kick Back After A Hard Day On The Golf Course, The Tennis Court, The Volleyball Court....Well, You Get The Idea