PXG Is Pleased To Announce Its 2022 Aloha Capsule Collection
Details

Category: Inside Golf
Published: 2021-12-15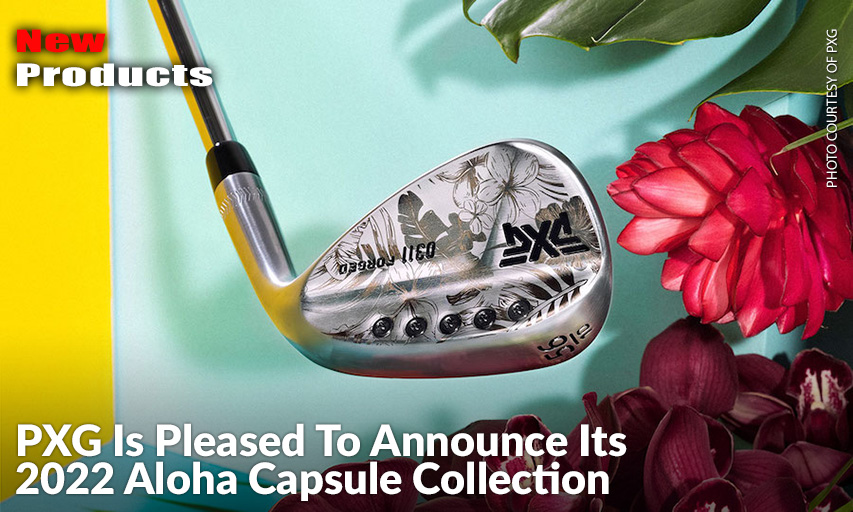 PXG is pleased to announce the launch of its 2022 Aloha Capsule Collection. For the 4th iteration of this collection, the detailed Hawaii-inspired floral print has been reconceptualized in PXG's classic black, white, and grey hues, bringing a sophisticated style to this annual capsule. The 2022 Aloha pieces are sport fashion focused, with a modern twist that is synonymous with the brand.
This collection consists of 13 ready-to-wear styles and accessories that will carry you throughout your day – on and off the golf course. The unique aloha pattern was developed by PXG Apparel to celebrate the start of the PGA TOUR in Hawaii and incorporates multiple hidden golfer "Easter eggs" throughout the design. The line ranges from a women's classic patterned bomber jacket, to a flare skirt with side panel details, to a men's printed athletic board short and men's performance polos with printed trim at the collar. Designed to integrate seamlessly into one's wardrobe, the contemporary print helps bring the lively Aloha spirit to everyday activities, no matter where they take you.
This collection also features a special-edition custom PXG 0311 Forged Wedge. The striking, laser-etched pattern adds island vibes and versatile performance to every golfer's short game.
For this campaign, PXG collaborated with photographer Grace Bukunmi to capture the essence of Aloha through the use of vivacious colors that juxtapose the collection's palette. Bukunmi, much like PXG, has an affinity for Hawaii and wanted to illustrate the collection's bold, refined beauty, by capturing images in a tropical setting that pays homage to the Hawaiian landscape.
---
About PXG
Founded by American entrepreneur and philanthropist Bob Parsons in 2014, PXG produces some of the world's finest golf clubs and apparel. PXG Apparel was established in 2018, with Renee Parsons as the President and Executive Creative Director of Apparel, offering customers seasonal sport fashion designs for any endeavor. PXG has an unrelenting commitment to performance excellence founded on the premise of unlimited time and resources dedicated to research and development – an unusual approach with a groundbreaking end game.