SQAIRZ Launches Limited Edition Men's & Women's Golf Shoes
Details

Category: Inside Golf
Published: 2021-12-15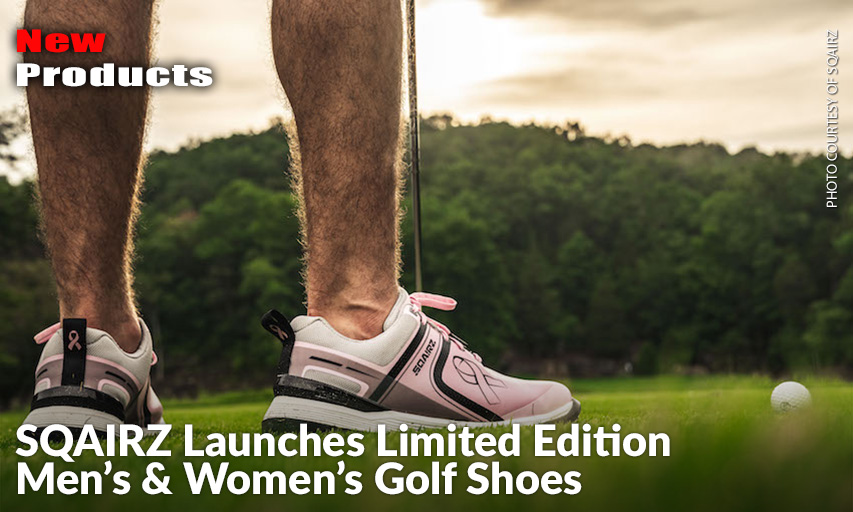 WINDHAM, New Hampshire — SQAIRZ, the fastest growing golf shoe company, has announced the arrival of their PNK Golf Shoes to support the American Cancer Society (ACS) after months of delays due to the global shipping crisis. These limited edition men's and women's golf shoes are emblazoned with the breast cancer awareness ribbon and a portion of sales from these shoes will be donated directly to the ACS.
These new limited edition SQAIRZ golf shoes are available now, and if ordered by December 21, 2021 can be delivered in time for the holidays at sqairz.com.
The PNK Golf Shoes were originally intended to launch in September 2021 to coincide with Breast Cancer Awareness Month which takes place each October, however, due to the global shipping crisis delivery of the PNK Golf Shoes was delayed by almost two months with delivery happening in December 2021 instead.
When asked about the launch of the PNK Golf Shoes and the delay caused by the global shipping crisis, the CEO and Founder of SQAIRZ, Robert Winskowicz, replied, "Although we are two months beyond breast cancer month, these shoes represent a challenge that can strike families at any time without warning and the fight against breast cancer takes place every day."
He continued, "Cancer is an extremely personal issue for me because I lost my brother and it's so important to me that SQAIRZ is doing something to aid in the fight. In fact, you'll see John Daly, who is battling bladder cancer, wearing SQAIRZ SPEED™ PNK Golf Shoes at this year's PNC Championship on December 16th in Orlando. We are supporting the American Cancer Society with these great golf shoes to raise awareness and funds for research and we appreciate everyone who buys a pair and joins the fight."
---
About The American Cancer Society
The American Cancer Society is a nationwide voluntary health organization dedicated to eliminating cancer. Established in 1913, the society is organized into six geographical regions of both medical and lay volunteers operating in more than 250 regional offices throughout the United States. They are a nonprofit organization, therefore they cannot endorse any commercial products. The American Cancer Society has invested more than $5 billion in cancer research since 1946 in an effort to find more effective cancer treatment treatments, uncover factors that cause cancer, and improve cancer patients' quality of life.
About SQAIRZ
SQAIRZ is the fastest growing golf shoe brand and the first golf shoe designed to increase distance, balance, stability, and speed. SQAIRZ®'s patented toe design, spike positioning, specially placed comfort padding, STA-PUT laces, and other performance innovations have been proven to improve golfers' positioning, biomechanics, comfort, balance, and stability. These innovations help golfers to consistently achieve greater accuracy as well as increased ground force connection and swing speed for greater distance. For more information, visit sqairz.com or connect with the company on Instagram, Facebook, Twitter, and YouTube.