Indi Golf Relaunches Two Putters For The 2021 Holiday Season
Details

Category: Inside Golf
Published: 2021-12-15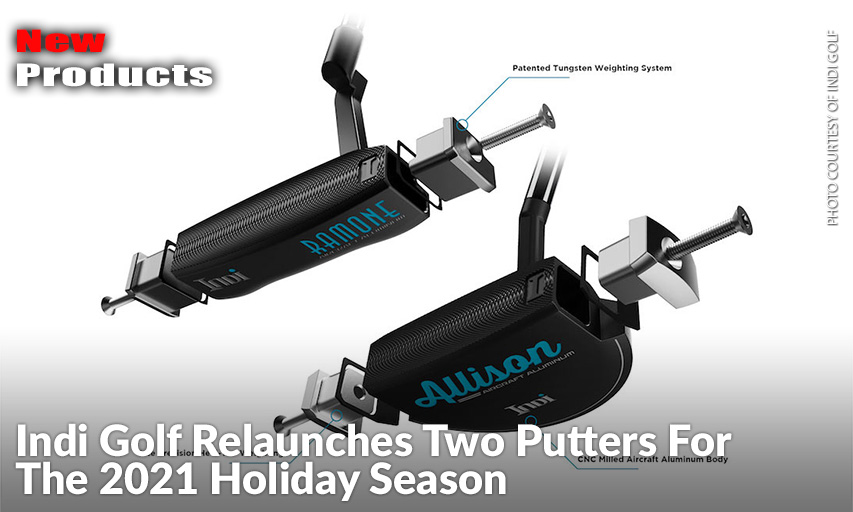 CARLSBAD, California — Indi Golf, designer and manufacturer of high-performance golf clubs, announces the relaunch of newly redesigned Allison and Ramone putters for the upcoming holiday season. Building on the innovation and performance of the first generation of Indi Golf putters, the company is proud to introduce the second generation for 2021. The same innovative thinking and relentless attention to detail, power these refreshed designs to achieve unmatched results on the green for golfers of any ability.
The unique design and performance features that made Ramone and Allison an unalloyed success are back with a cleaner look. Golfers will notice the attractive graphic design, precise alignment features, and new Orbit Mill face texture. The same multi-material construction combining a fully CNC milled aluminum alloy head for exceptional feel with Indi Golf's patented heel and toe mounted tungsten weights gives players the consistent speed and line they expect from Allison and Ramone. Both putters combine these performance, alignment, and forgiveness attributes to deliver the best putting experience in golf.
"These putters still represent the culmination of all we learned from the past three years, as well as the painstaking development and testing regimen that goes into all Indi Golf products," explained Rob Lang, President of Indi Golf. "With the new graphic design on Allison and Ramone players get a refined, modern aesthetic that fits in with the design language of our wedges. We know everyone will fall in love with these putters and make more putts, or we'll refund their money."
Ramone and Allison are available stock in 33, 34, and 35 inch lengths with the Lamkin deep etched putter grip. Allison is offered in face-balanced and slant-neck versions. Ramone only comes in the standard plumber's neck hosel with one full shaft overhang. Both models come in matte black finish. Through the Indi Customs Shop our club builders can create an individualized putter to any golfer's specifications. Indi putters conform to the rules of golf. Also see the offering of Indi Golf's Jett putter, and our award-winning wedges.
---
About Indi Golf
Headquartered in the heart of the golf industry haven of Carlsbad, CA, Indi Golf is a developer, global seller, and manufacturer of premium wedges and putters.  At Indi Golf, we respect the sport of golf and have a deep desire to grow the game by bringing its enjoyment to players of every background, experience, and ability.  Each individual golfer connects with the sport in his or her own way, and it is our goal to give golfers top quality products that will perform to the highest level, unlocking pure enjoyment for the game.
For more information about Indi Golf, visit www.indigolfclubs.com.
Twitter: @indi_golf
Facebook: @indigolfclubs
Instagram: @indi_golf