Not Everyone Seems To Mind The Saudi-Pebble Beach Trade-Off
Details

Category: Inside Golf
Published: 2022-01-13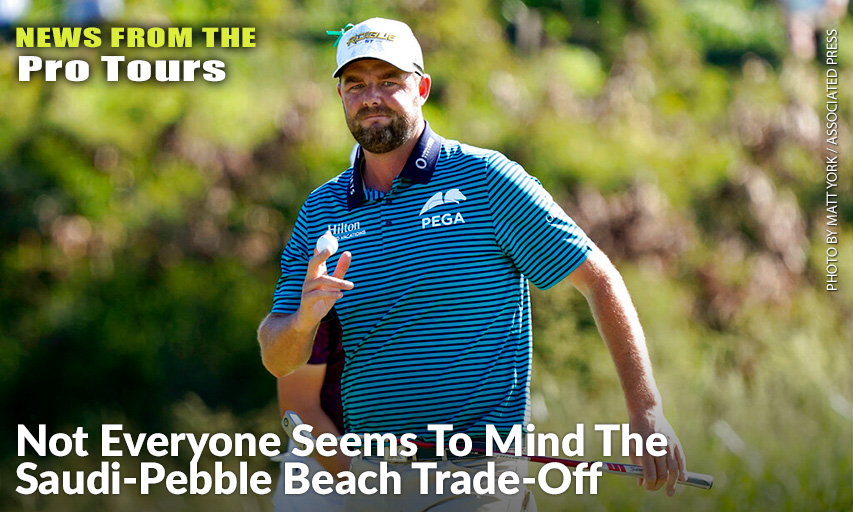 By DOUG FERGUSON, Associated Press
KAPALUA, Hawaii — Adam Scott was among the first batch of players the Saudi International announced as playing its Asian Tour event next month, and now he no longer is on the list.
The means he won't need a conflicting event release from the PGA TOUR, nor will he be required to play the AT&T Pebble Beach Pro-Am twice over the next three years, the stipulation for PGA TOUR members going to Saudi Arabia.
A Saudi tournament spokesman said only that Scott's playing schedule has changed, and he will only play Abu Dhabi and Dubai before preparing for "the big block" of PGA TOUR events.
Some other players going to Saudi Arabia to collect handsome appearance money from the government's Public Investment Fund did not seem bothered by the strings attached to getting a release.
"We're not getting our arms twisted to go" to Saudi Arabia, Marc Leishman said. "We've been offered what we've been offered, take it or leave it. So I took it."
He hasn't played the Pebble Beach Pro-Am since 2011, meaning the Aussie will be required to go at least twice in 2023 through 2025.
"It's not the worst place in the world to go," Leishman said.
Tony Finau was a runner-up in the Saudi International last year and is returning. He played Pebble Beach in 2017 and 2019, meaning he would be required to play once over the next three years.
"I'll be back at Pebble in the next couple years and looking forward to it," Finau said. "Pebble's a special place, a golf course that I think we all love. Great champions come off Pebble, it's a place where you want to win."
The mystery is Xander Schauffele, who played Pebble his rookie season in 2017 and hasn't returned. He is on the list to go to Saudi, which is Feb. 3-6, the same week as Pebble Beach. As for returning to the Monterey Peninsula?
Schauffele's team argues that it's unfair to punish him when Pebble was never on his schedule.
"It's sort of one that's still being ironed out," Schauffele said. "I've had my reservations about playing at AT&T, so it's definitely a tricky one to handle that situation. So we're still navigating that with my team and we'll kind of see what happens."
Meanwhile, he'll be plenty busy early in the year. Schauffele, the Olympic gold medalist, plans to go from Torrey Pines to Saudi Arabia, then come straight back to play the Phoenix Open and Genesis Invitational at Riviera.
"We'll put my body through the wringer and my mind through the wringer, but I'm looking forward to the challenge," he said.