Keirstead, ParaGolfCanada Looking To Grow The Game Via Overlooked Population
Details

Category: Inside Golf
Published: 2022-01-13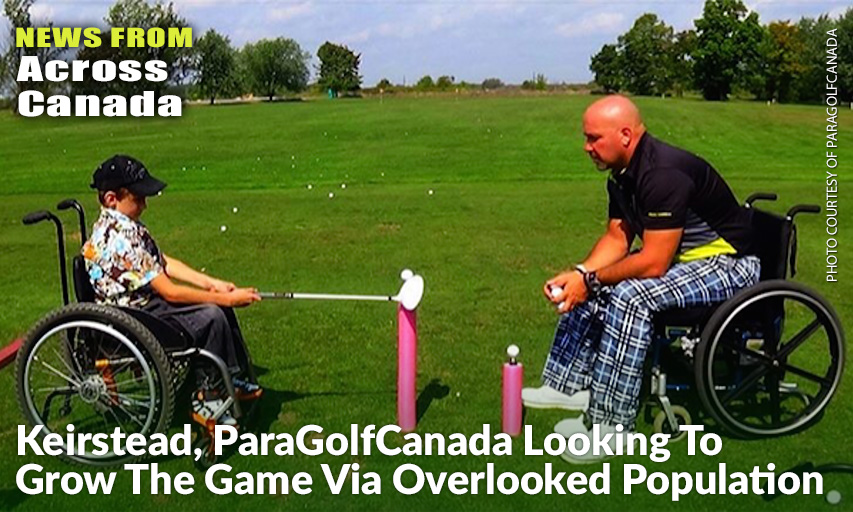 By GORD MONTGOMERY, Inside Golf
Even with the influx of new, and returning, golfers to the scene over the past two years, Todd Keirstead is looking to bump those numbers up even more — in a special way.
Keirstead, the CEO and founder of ParaGolfCanada is hoping to introduce an often ignored, but very capable segment of society to golf clubs around the country. His goal of diversifying golf's playing population is simple when you come right down to it: Bringing those with physical and/or cognitive disabilities into the mainstream playing population.
Keirstead, speaking from his home in Ontario in a phone interview, pointed out he's been a CPGA professional for over 20 years and for almost that long he's been a trick shot artist and golf entertainer who has travelled the world in that capacity. What he's found during those jour-neys is a segment of society that is fully capable of playing golf as well as just about anyone, if they're given the chance. But those opportunities are unfortunately few and far between.
"Back in 2014 I did an instructional/entertainment demonstration at a veteran's hospital outside of Tampa, Florida. It became apparent that a lot of the shots I was hitting for pure entertainment value were actually emulating the wounded warriors that were in attendance," Keirstead said of what started him down this road. "Part of the shtick I was doing, I was hitting golf balls blindfold-ed; there were guys that were affected by mustard gas in the Vietnam War and lost their sight. I was swinging with one arm showing the correlation between golf and tennis; there were individ-uals that lost an arm in the theatre of war. Standing on one leg, single leg amputees. Hitting golf balls off my knees, double leg amputees," and so on.
"That turned the light bulb on that these trick shots I hit over the years were actually motivating and inspiring to these guys because I was showing them maybe they couldn't golf the way they used to, but there was an adaptive way for them to get out and play the game."
That launched Keirstead into growing the game in his own way, by helping anyone with a disa-bility enter, or re-enter, this playing field. "The big push has always been grow the game, grow the game, grow the game. This clinic opened my eyes to the easiest demographic to get back into he game of golf who thought they'd lost it due to their limitations."
Keirstead first began with an initiative called Bring Back The Game for those who had never ex-perienced adaptive golf before. He got backing for this endeavour from major companies such as TaylorMade and adidas. In 2017, when the Invictus Games took place in in Toronto, he was front and centre, going face-to-face with Prince Harry at St. George GC and speaking to him about the benefits of adding golf to the association's list of sports.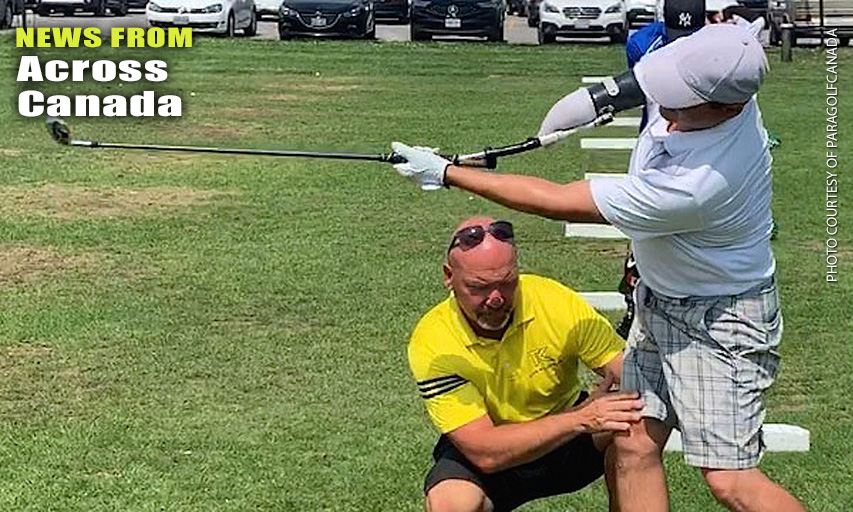 As A Longtime CPGA Professional, Keirstead Has The Ability, And Knowledge, To Help Sharpen Anyone's Game.
Following that Keirstead was hired by every branch of the U.S. military to travel to 45 of their bases around the world "doing almost a Bob Hope USO tour," to do his instructional and trick shot platform as well as continuing his work with wounded veterans. Those junkets came to a grinding halt with the COVID-19 lockdowns but that, in turn, propelled him into launching some-thing he'd been pondering.
"ParaGolfCanada had been a vision of mine for the last six years so this year was the time to roll it out." At present, he has 300 members spread across the country and now he's looking to bring together all the seperate bodies, such as Blind Golf Canada, Canadian Amputee Golf As-sociation, and Special Olympics that all do strong work in supporting disabled persons in sporting avenues.
"Nobody's really sitting at the same table when it comes to the provincial and national governing bodies. What I wanted to do was bring everybody together, not to take away from what every-body is doing, but let's sit at the same table …. instead of working in silos."
After putting together a team of the best disabled golfers, and pounding on some big name cor-porate doors, ParaGolfCanada is beginning to see those swing open in support of this idea of including this part of the population in the sport in an everyday manner. To that end, he's set up a three-tier development program to further foster the growth of the game. Those include the Grassroots level, the Development program, and a National team.
So far, Keirstead noted, he hasn't faced a lot of hurdles in getting his idea teed up, and off. "In-clusion and diversity is a big hot-button topic right now. The only things that are going to stop you from being on the golf course are the same things whether you're a seated wheelchair golfer or an able-bodied golfer — pace of play and course conditions. If you can keep those two things going you'll be allowed on any golf course."
While not everyone with a disability can always play a full 18 holes, they can, and will, play as much as possible, the proponent of this idea explained. "If say, you'd had a stroke and could only hit 15 shots in a round, you hit those. But you're out there, driving in the cart, hitting shots, you're having the social interaction of the game of golf. It may only be 15 shots but it's the camaraderie they get to have with their friends again which they thought they could never get."
In order to change the landscape of the public golf facility and who accesses it, there is a simple solution to including an ignored segment of society involved on a local basis. That's a matter of courses simply opening up spots in league play.
"Why don't we integrate a handful of our ParaGolfCanada members into your men's day? Into your ladies' day? We can start making connections. We don't want 30 tee times but if you can offer five or six green fee tickets for one day, now we have the audience for a night that holds, say a hundred golfers. Now we get those hundred golfers experiencing adaptive golf where at present we don't have an audience."
In looking ahead in regard to the acceptance of his idea, Keirstead said, "I honestly believe golf will be a Paralympic sport very soon but I think the big thing is getting the buy-in from the pro-vincial and national stakeholders," and he feels, once that'd done, then inclusive golf is going to bring about a new wave of players hitting the local links across the country, and soon, the world.
For more on this message go to paragolfcanada.com.