Whiskers Introduces 42 New Colours, Patterns To Its Golf Shoelaces Range
Details

Category: Inside Golf
Published: 2022-02-15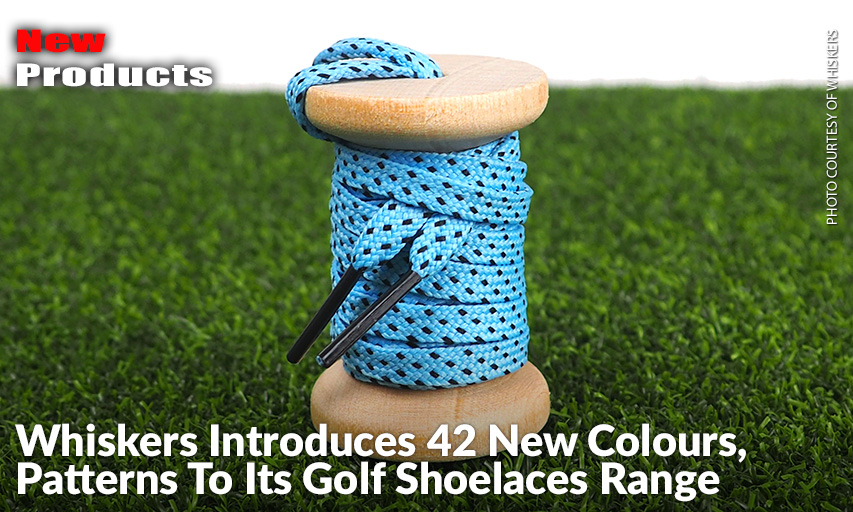 DELRAY BEACH, Florida — Whiskers, maker of men's and women's premium, golf-specific shoelaces, has introduced 42 new colours and patterns to its collection.
Among the releases are turquoise, mint green, Vegas gold, guava and lavender, as well as neon laces in blue, green, orange, pink and yellow.  They join popular solid laces in navy, Carolina blue, pink and re=d.  Navy-light blue, orange-white, berry-black, green-blue and purple-pink are top-selling patterns.
Whiskers' Made-in-the-USA golf laces coordinate in style and colour with trendy footwear and apparel brands.  Crafted with ultra-durable poly-nylon tech weave and high-grade aglets, they are available in multiple styles, flat and oval shapes, and 30- to 45-inch lengths on a single spool ($15) and in three ($40) and five ($60) packs.
Augmenting strong sales online and in "Top 100" pro shops nationwide, the brand boasts a growing legion of PGA and LPGA Tour players – including major tournament winners – wearing its laces.  The company is also outfitting Tour caddies, celebrity golfers and social media influencers.  Many favor Whiskers golf laces in colours of their favorite college and professional sports teams.
Whiskers is re-imagining a category that's been long overlooked yet is now an essential part of premium wardrobes.  Personalizing and dressing up shoes in fashionable and fun ways – without being too loud – mirrors today's "individualism" frenzy.
"It's like wildfire that golfers are matching laces, and subtle pop, to the colour of their attire every round or two," says Kyle Groth, CEO of Whiskers.  "Golfers are finding that changing laces is easy, fun and allows them to show some refined self-expression."
In November 2021 Whiskers entered the $84B annual golf economy that saw rounds climb more than 20% since 2019 with millennials – who especially relish the very self-expression that Whiskers laces promote – representing one of the fastest growing golf segments.  Sales of golf equipment, apparel and accessories measurably rose in 2021.
In addition to golf, Whiskers designs and manufactures laces for dress and casual shoes, sneakers and boots.  Overall, the company is creating a movement that aims to establish itself as the world's most iconic, inspirational, aspirational and ubiquitous premium footwear accessory.
The popular brand has earned rave reviews from major fashion and lifestyle media, as well as customer testimonials.  Widely recognized as a "here-to-stay trend," Whiskers laces are becoming collectors' items and are available on scores of websites, select specialty shops and at www.whiskerslaces.com.
Whiskers also manufactures statement-making socks in various colours and designs which merchandise superbly with its laces.  The substantially growing annual global sock market is forecast to reach $24B by 2025.
---
About Whiskers
Founded in 2018 and based in Delray Beach, Florida, Whiskers designs, manufactures and sells premium, bespoke and on-trend shoelaces a la carte.  The company, led by serial entrepreneurs and veterans of Nike and Crocs, is rallying off a growing behavior of self-expression, colour pops and Made-in-the-USA preference.  Disrupting ordinary shoelaces at regular shops, drug stores, supermarkets and in new shoes, Whiskers boasts more than 50 colours and patterns for men's and women's sneakers, casual and dress shoes, boots and golf shoes.  Made of ultra-durable poly-nylon weave with an appropriate amount of stretch, high-grade aglets withstand tough conditions and are slim wrapped to fit skinny eyelets.  Retailers and online shoppers find Whiskers' upscale, eye-catching packaging of colourful laces on sustainable, wooden spools extremely attractive.  At $15 for one pair, $40 for a set of three and $60 for a set of five, Whiskers is affordable luxury.  The company also manufactures socks in colours and designs matching the laces.
More information: www.whiskerslaces.com, www.whiskersgolf.com, This email address is being protected from spambots. You need JavaScript enabled to view it., 561-692-6207.